High-Speed T3 E3 Signal Analyzer for Channelized and Unchannelized Solutions
Welcome to the latest issue of GL's Newsletter, providing insight into our USB T3 E3 Analyzer, a versatile solution designed to monitor and generate traffic over T3 and E3 networks. All timeslots of all constituent T1 and E1 lines can be viewed and controlled. Users can analyze or emulate common telecom protocols including ISDN, CAS and SS7 traversing the T3 E3 networks.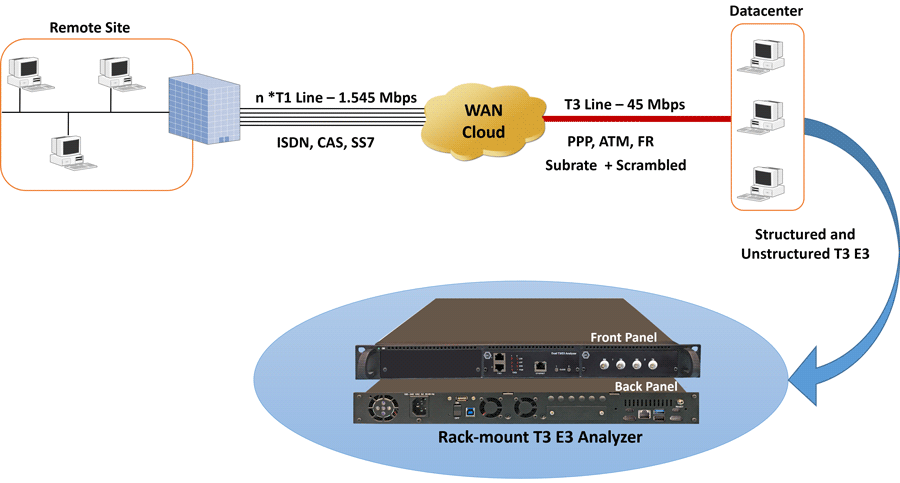 Overview
T3 and E3 network infrastructure remains highly used throughout the modern world. GL's T3 E3 Analyzer is a versatile tool that handles signaling, voice, and data in full T3 (DS3) or E3 data streams. It can drop and insert T1 (DS1) or E1 and analyze HDLC, ATM, Frame Relay, and PPP Protocols. This analyzer is equipped for both Unchannelized (Unstructured) and Channelized (Structured) T3 E3 Traffic.
Channelized: In this form, T3 (DS3) includes 7 T2s (DS2), and each T2 has 4 T1s (DS1), totaling 28 T1s or 672 voice channels. Similarly, an E3 includes 4 E2s, with each E2 having 4 E1s, totaling 16 E1s or 480 voice channels. Channelized T3 carries 28 T1 signals, each at 1.544 Mbps, while channelized E3 carries 16 E1 signals at 2.048 Mbps
Unchannelized: Here, there are no T2s, T1s, E2s, or E1s within T3 or E3. Most of the capacity is used for data, with some overhead. T3 and E3 can transport data, packetized voice, and video, including protocols like ATM, PPP, HDLC, and Frame Relay
A T3 line can transmit data at speeds up to 44.736 Mbps, while an E3 line operates at 34.368 Mbps within the Plesiochronous Digital Hierarchy (PDH). The channelized option in the T3 E3 Analyzer directly accesses all the channels within a T3 or E3 line, whether it is 2x28 T1s, 2x21 E1s, or 2x16 E1s, allowing for emulation, analysis, and monitoring on a single PC. This includes support for various T1 or E1 framing formats, physical layer alarms, and payloads.
Similar to other GL products, the USB T3 E3 Analyzer is controlled by a Windows® PC via a USB connection. The software has an easy-to-use Graphical User Interface where users can configure test parameters, start and stop tests and view real time data and graphs. GL also offers T3 E3 probe and rack-mount variants, combining the USB-based T3 E3 Analyzer hardware unit with a Single Board Computer pre-installed with all software and licenses. This setup is ideal for field testing (probe version) or high-density lab testing (rack-mount version).
The T3 E3 hardware platform with associated T1 E1 Send Receive Server and Channelized T3 analyzer software can transmit T1 E1 frames over T3 E3 lines and capture, record, and monitor multiple T1 or E1 channels over Channelized T3 or E3 links. It can perform analysis of various signal types including voice, digits, tones, fax, modem, and raw data.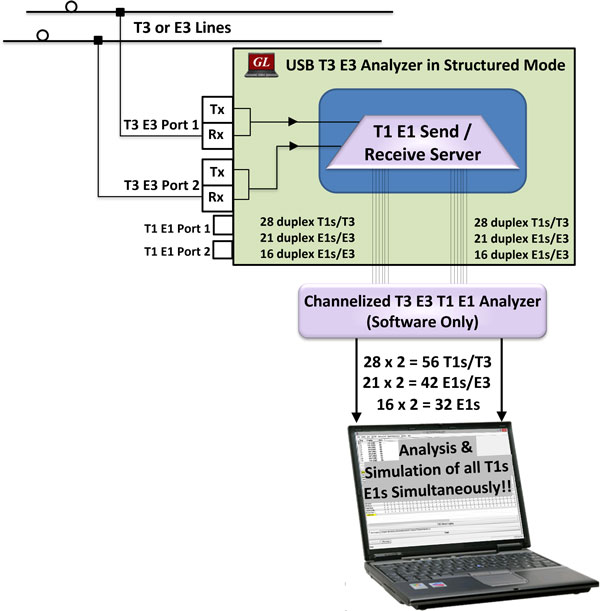 ---
Main Features
Portable light-weight T3 (DS3)/E3 analysis platforms with dual data stream capture capability
Multiple interfaces for analysis (T3 (DS3)/E3, T1 E1) to support a wide array of testing scenarios
Controllable from a Windows® PC through a USB 2.0 control interface
Software Selectable T3 (DS3) and E3 interface along with T1 and E1 Drop and Insert
Dual T3 (DS3)/E3 Receivers and Transmitters for non-intrusive and intrusive testing of both eastbound and westbound signals at the same time
Flexible clocking - internal, recovered (from T3 E3, T1 or E1) and external
Scripting and Automation through GL's Windows Client Server (WCS) approach
WCS clients are available for Windows® and Linux® operating system via console/terminal Command Line Interface and accessible remotely through SSH
WCS commands can be issued in Python scripts running in Windows® or Linux®
Includes HDL File Conversation utility to convert ethereal format file (*. pcap, *.cap, and *. pcapng) to GL's file format (*.hdl) and vice-versa
Unchannelized (Unstructured) Testing
Analysis and simulation of ATM, PPP, HDLC, and Frame Relay protocols
Transmit/Verify HDLC frames with user-defined headers
Support for Scrambling and Subrate with DSU vendors' algorithms for T3 interface, including Digital Link, Larscom, Verilink, and Adtran
Channelized (Structured) Testing
Drop and Insert Functionality
Utilizes the Dual T1 E1 ports on the hardware
Multiplexes and De-multiplexes T1 (DS1)/E1 signals (Drop and Insert)
Receivers for bidirectional monitoring with Dual T1 (DS1)/E1 drop
Transmits multiplexed externally inserted or internally generated T1 or E1 streams into T3 (DS3)/E3
Conducts stress tests on M13 (E13) multiplexers and 3/1 Digital cross-connect systems
Dual channel drop and insert of T1 or E1 signals from any one of the T3 (DS3)/E3 signals
Offers options for broadcasting or loopback of individual T1s/E1s received from T3 (DS3)/E3
BIT Error Rate Test (BERT)
Perform BERT on T3 E3 channels simultaneously
Support BERT through WCS commands
T1 E1 Tx/Rx Server Software
Transmit T1 E1 frames over T3 E3 lines using the T1 E1 Transmit Server
Receive T3 E3 data with the T1 E1 Receive Server, which demultiplexes it into T1 or E1 channels
Send/Receive 28 T1 Channels per port from T3 signal
Receive 21 E1 Channels per port (G.747 Mapping) from T3 signal
Receive 16 E1 Channels per port from E3 signal
Supports monitoring of framed and unframed T1 E1 (Rx Only)
Simultaneous analysis of all 56 T1s (1.544 Mbps each) or 32 E1s (2.048 Mbps each)
Analysis of Fractional T1s and E1s, N x T1s or N x E1s
Analysis of any combination of DS0s (64 kbps each) within the T1s or E1s, totaling 1,344 DS0s for T1 or 1,024 DS0s for E1
Supports Protocol Analysis for all structured protocols including HDLC, ISDN, CAS, and more
Monitors T1 E1 Alarms, Payload, and Framing structure

Back to Newsletter Index Page