High Speed OC-3/12 and STM-1/4 Test Platforms for
Channelized and UnChannelized Applications
03rd, May 2019
Welcome to another May2019 issue of GL's Newsletter providing information and insight into our High Speed OC-3/12 and STM-1/4 Analysis and Emulation Platform referred to as LightSpeed1000™. GL's LightSpeed1000™ hardware platform (PCIe Card and USB Pod) is capable of OC-3/12 and STM-1/4 wire-speed processing on optical ports for functions such as BERT, Recording, Playback, Monitoring of Channelized and UnChannelized applications, such as Asynchronous Transfer Mode (ATM), Packet over SONET (PoS), and Channelized Applications for embedded T3s, E3s, T1s, and E1s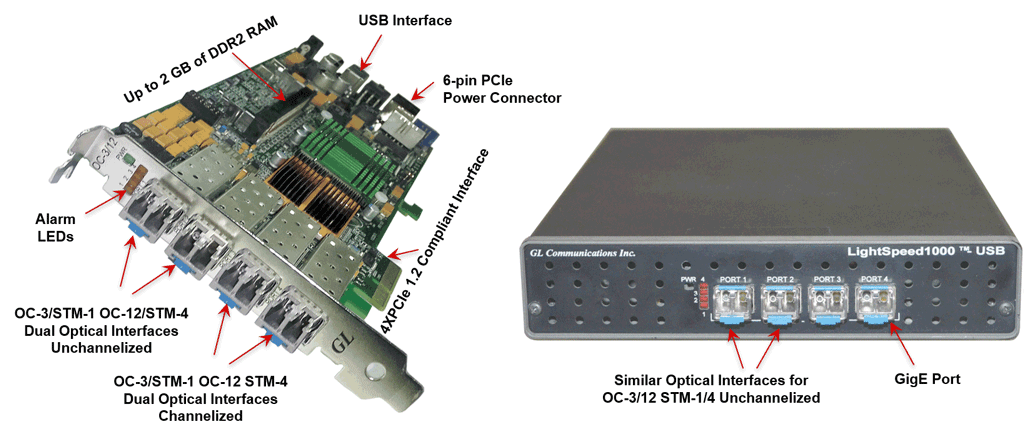 Overview
GL's
LightSpeed1000™
comes with all the necessary software for capturing, monitoring, emulation and analysis of protocols  over SONET-SDH links, with a price tag that compares very favourably with similar test instruments at 3 times the price. LightSpeed1000™ - with optical ports supports Channelized SONET and SDH mapping of T1/E1 framed signals. In this mode, LightSpeed1000™ supports direct access to all 336 T1s (or 252 E1s) channels on an OC-12/STM-4 line per port for analysis and simulation -all within a single PC. Main advantage is that any of the T1/E1 or DS0 test requirements can be met without resorting to electrical access.
GL Communications has the following variants of OC-3/STM-1 and OC-12/STM-4 Analyzers:
Quad OC-3/STM-1 and OC-12/STM-4 PCI-Express card (Windows® 10, 64-bit is Supported)
Two ports out of the 4 ports are meant for SONET/SDH UnChannelized data. The remaining two ports are meant for SONET/SDH channelized data carrying many independent unframed/framed T1, E1, T3, and E3 streams.

Portable OC-3/STM-1 and OC-12/STM-4 Unit (Windows® 10, 64-bit is Supported)
The pod consists of 4 optical ports out of which the first two ports are Unchannelized and the last port is used for Gigabit Ethernet (GigE).
The card's multiple connectivity using PCIe, Gigabit Ethernet (GigE), and USB makes it suitable for many applications. The hardware is firmware FPGA based making it easy to upgrade in the field for application versatility.

A unique feature of the card is the capability to capture, transmit and process at wirespeed to/from applications and hard disk on all interfaces. An API Toolkit allows users to develop specialized applications.
---
Enhanced Portable Solution (LightSpeed1000™)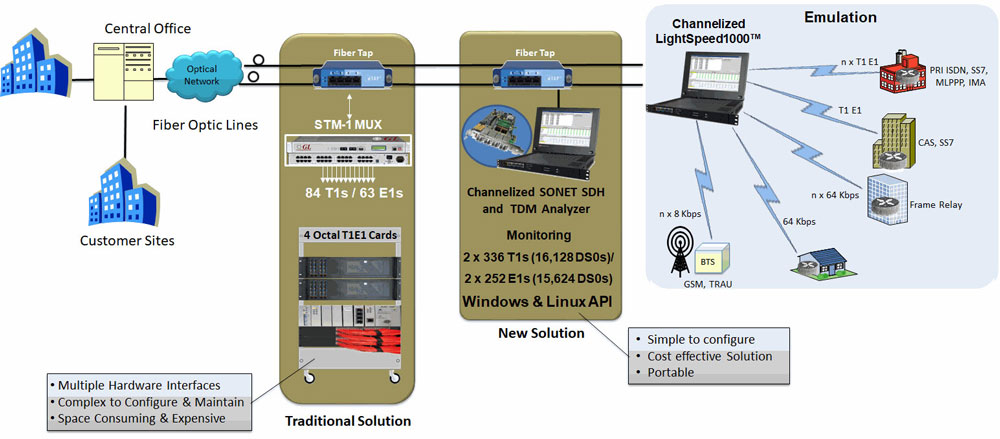 Channelized T1 E1 Emulation and Analysis
The above image depicts 2 solutions for testing channelized OC-3/STM-1 lines. The traditional solution shows an external multiplexer and demultiplexer hardware providing the channelized information to multiple T1 E1 access cards such as GL's Octal T1 E1 cards for analysis and emulation. This traditional solution requires an external hardware multiplexer, multiple PCs with T1 E1 access cards, and numerous cables adding to the cost and complexity of the entire solution.
Now, a simpler solution is provided using GL's Channelized LightSpeed1000™ board, which supports direct access to all or user-defined 2 x 336 T1s or 2 x 252 E1s per card for analysis and simulation – all within a one pc. With this hardware, any combination of DS0/64 kbps, fractional T-1/E-1, and N x T1/E1 interface definitions (a total of 126 E1s or 168 T1s – each port supporting 84 T1s or 63 E1s) can be accessed.
---
Important Features
Allows to configure the number of T1 E1 channels to be Multiplexed or Demultiplexed to /from OC-3/12 STM-1/4
2 Channelized OC-3 STM-1/OC-12 STM-4 SONET/SDH interfaces per Lightspeed1000™ card
2 Unchannelized OC-3 STM-1/OC-12 STM-4 interfaces per Lightspeed1000™ card
Channelized ports act as terminal multiplexers and demultiplexers
Allows direct access to anything and everything on SONET/SDH - Framing and Payload, including structured traffic (DS0, T1, E1, STS-1, DS3 etc) or unstructured traffic (ATM, PoS, etc)
Scans the received STM-4/STM-1 traffic and identifies the mapping, tributary type (T1/E1), equipped/unequipped status of the tributaries
Broadcasts the selected T1/E1 channel data on all the 252 E1's or 336 T1's
Supports any combination of DS0/64/56/16/8 kbps fractional T1/E1, and N x T1/E1 interface definitions (a total of 252 E1s or 336 T1s – in each port)
Pluggable SFPs allow Single-mode (SM), and Multi-mode (MM) fiber optic non-intrusive tap
API for Microsoft® Windows® and Linux operating Systems to develop user specific applications
Key T1 E1 specific features -

Comprehensive protocol analysis and emulation - HDLC, SS7, ISDN, CAS, PPP, Frame Relay, ATM and more
Analysis of DS0s for frequency, power level, spectral display, listen to channel
GL's proven WCS high level remote interface
All protocols analyzers can be used with GL's NetSurveyorWeb™
---
Applications for Direct T1 E1 within SONET SDH
Almost all the basic applications and optional applications supported by T1 E1 analyzers are also supported by Channelized LightSpeed1000™. For example, capturing and transmitting an entire raw OC-3/STM-1, and OC-12/STM-4 RAW signals simultaneously, or performing ISDN, or SS7 analysis, can be performed using the software accompanying the channelized LightSpeed1000™.

For more information, please refer to Channelized SDH/SONET Mappings to T1 E1 on LightSpeed1000™ and UnChannelized LightSpeed1000™ web page.

Please review the above and give us a call if you are interested in the above Product/Software or for any other applications listed in our website. We would be happy to discuss your testing needs and we look forward to hearing from you.

Warm Regards,
Shelley Sharma
Phone: 301-670-4784 x114
Email: info@gl.com

Back to Newsletter Index Page