High-Density Bulk Call Generator for TDM, IP, Wireless Networks
13th, Dec 2019
Welcome to the latest issue of GL's Newsletter providing information and insight into our automated, scripted, multi-user, multi-protocol, high capacity
Bulk Call Generators
.
Message Automation and Protocol Simulation
(MAPS™) platform is the basis for all signaling protocols and for traffic generation - whether voice, tones, digits, fax, data, or video. It covers legacy PSTN, next generation VoIP, and Wireless equipment, interfaces, and networks (depicted below). Interfaces can be Analog, TDM, IP/Ethernet or Wireless.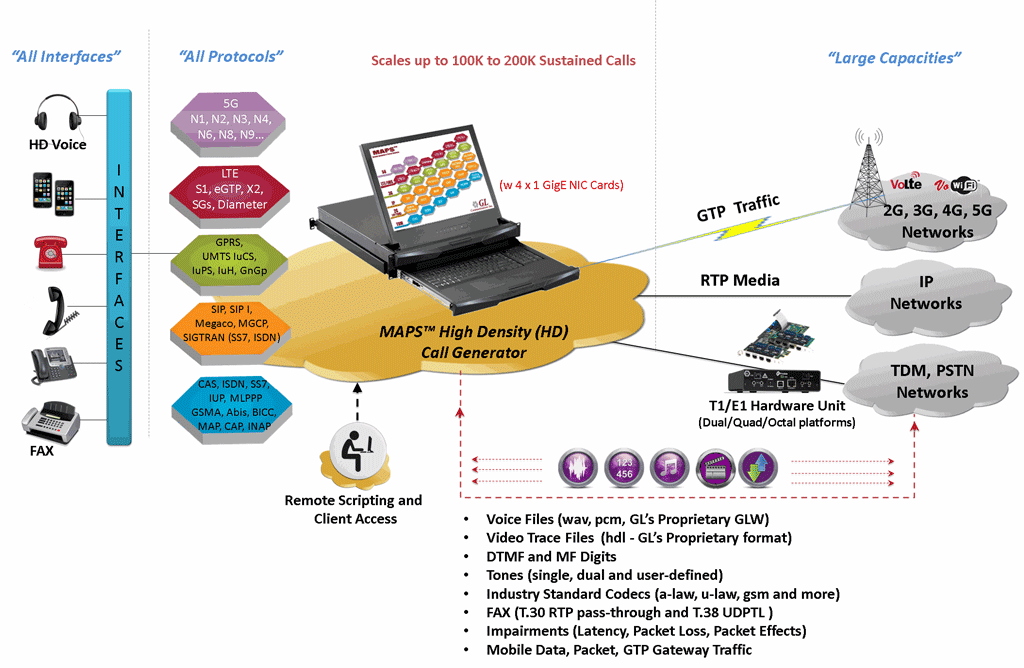 Overview
Testing network performance with high call volume is extremely important to Wireless Carriers, Internet Service Providers, and Equipment vendors.
To ensure that quality of experience does not degrade with call intensity, volume, protocol, or traffic
That heavy loads, and stress do not degrade stability or scalability of the network, during pre- and post-deployment
That advanced features and services are not compromised due to call intensity or call volume
Stress and loading processes can help test and simulate worst case scenarios and provide confidence that the network will continue to function under such conditions.
Bulk Call Generators
require an advanced network appliance which can generate and sustain high volume of calls with heavy traffic. If VoIP, then packets must be generated and output with high precision timing, zero packet loss and in the proper order.
Listed below are some of GL's Bulk Call Generators for various technologies: TDM, IP/Ethernet and Wireless:
| TDM Platforms | IP/VoIP Platforms | Wireless Platforms |
| --- | --- | --- |
| MAPS™ CAS, MAPS™ FXO FXS MAPS™ APS | MAPS™ High Density (HD) (SIP, SIP-I, MEGACO, MGCP, SIGTRAN, MAP, CAP, INAP, BICC) | MAPS™ High Density (HD) (GSM, UMTS, LTE, IMS, 5G) |
| MAPS™ SS7, MAPS™ ISDN | PacketExpert™ 10G/1G | PacketLoad for GTP traffic |
| MAPS™ MAP, CAP, INAP, BICC | | |
GL's Message Automation & Protocol Simulation (MAPS™) is a protocol simulation and conformance test tool that supports a variety of protocols such as SIP, SIP I, MEGACO, MGCP, SS7, ISDN, GSM, MAP, CAS, LTE, UMTS, SS7 SIGTRAN, ISDN SIGTRAN, Diameter and others. Along with automation capability, the application gives users the unlimited ability to edit messages and control scenarios (message sequences).
MAPS™ High Density (HD) is an advanced bulk call generator used to simulate high volume calls with traffic. The HD version is a special purpose 1U hardware platform capable of high call intensity (hundreds of calls/sec) and high volume of sustained calls (tens of thousands of simultaneous calls/1U platform). Multiple 1U platforms can generate and sustain 100,000 to 200,000 calls all controlled from a single Master Controller. This network appliance provides a modular and flexible solution to generate real voice calls using industry standard voice codecs. For comprehensive information, user can refer to the Signaling and Traffic Simulator and High-Density Traffic Generator web pages.

Support Wide Variety of IP Protocols and Voice Codecs
20,000 Calls per 1U Server Chassis
Scales up to 100k to 200k Simultaneous Calls with Multiple Rack-mounted Server Chassis
Voice Quality using MOS and E-model (R-factor)
With GL's advanced bulk call generator appliances MAPS™ Server with PacketLoad and RTP HD Server high volume of calls with packet data (HTTP, PCAP) or RTP (Voice/SMS) traffic can be simulated.
| | |
| --- | --- |
| The supporting MAPS™ application also provides useful statistics to verify the simulated mobile data/voice/sms traffic. Users can customize the statistics for the generated stateful TCP/HTTP, and PCAP Replay and other Mobile Data traffic and plot the statistics graphically in Bar/Line/Pie charts form. RTP voice quality metrics (R-Factor, LMOS, C-MOS, Loss, Delay) for the received calls are also calculated and are reported to MAPS™ application. | |
---
Applications
Load PBX, Switch, Gateways/Routers
Test IVR, Voice Mail, VoIP phones
Generate/Accept tens & thousands of calls
Voice, Fax, Digits, Tones, Data, Video traffic generation
Automate Regression testing
Feature testing
Remote operation
Scripting: Python, TCL, CLI, TestShell, HP ALM
Voice, Data Quality, Quality of Service
---
Easy to Use Bulk Call Generation Features within MAPS™
Bulk Call Simulation allows quick configurations to easily create different test scenarios with scripts and profiles. These tests can be run simultaneously or sequentially (queue up tasks in succession). In addition, the Load Generation feature further allows the bulk calls to be generated with different statistical distribution patterns such as Uniform, Ramp, Sawtooth, Fixed, Normal, Step, and Step-Sawtooth distribution.
Configure Stress/Load Testing parameters such as Call per second (CPS), Max Active Call, Minimum and Maximum Call Rates, Start Call Rates, and other parameters. Call duration also can be randomized using similar statistical distribution. Infinite number of calls can be generated by specifying '*' (which indicates infinite calls) for Total Calls parameter.
MAPS™ also includes extensive statistical and graphical features to help visually analyze the bulk call generation. Several important call parameters such as Total calls, Active calls, Completed calls, Passed/ Failed calls, and Calls/sec are logged in the statistics. Graphs for Call Success Ratio, and Call Status are plotted in real-time.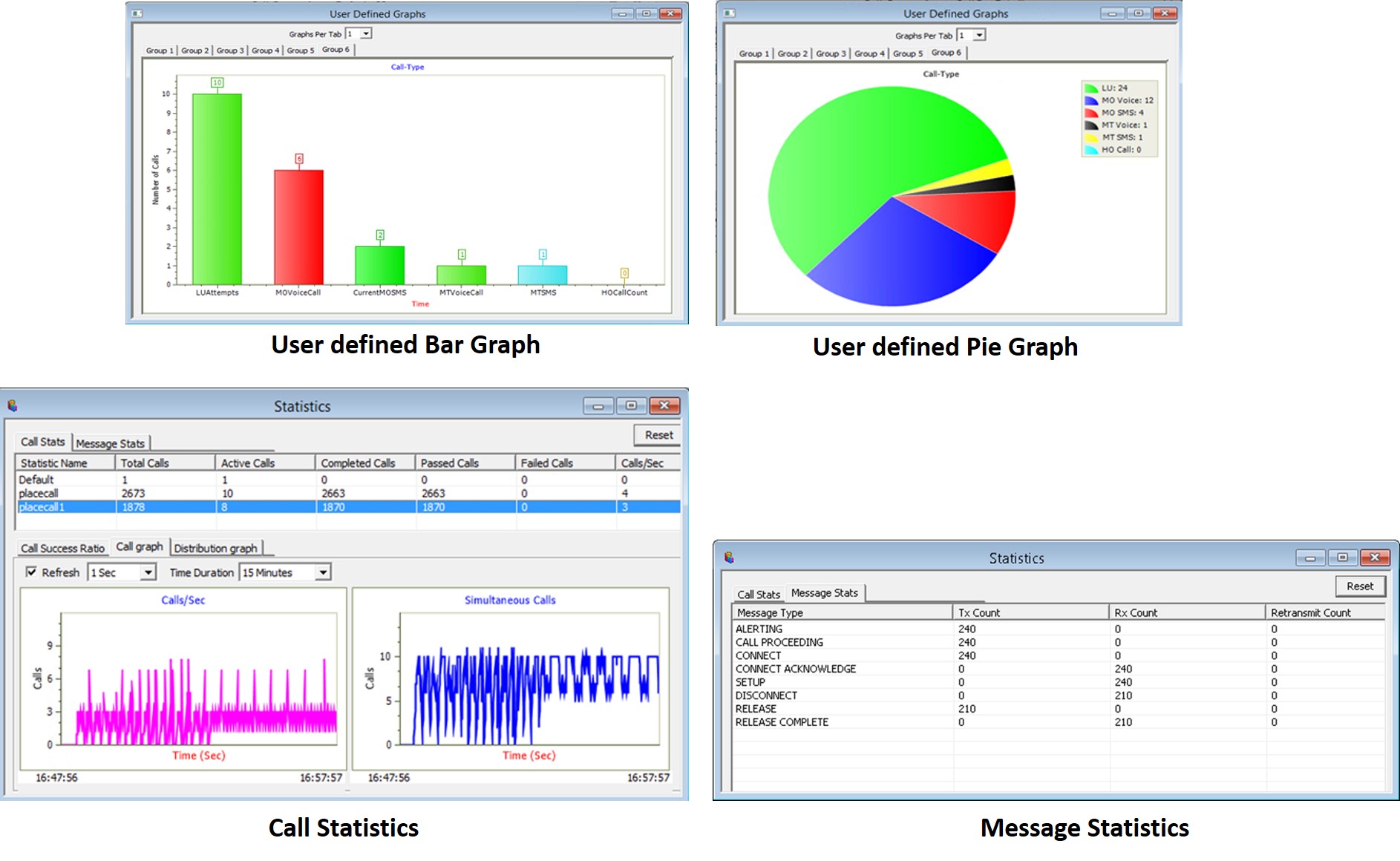 Bulk Call Generation for Load and Stress Testing

For comprehensive information, please refer to the HD Bulk Call Generator for TDM, IP and Wireless Networks web pages.

Please review the above and give us a call if you are interested in the above Product/software or for any other applications listed in our website. We would be happy to discuss your testing needs and we look forward to hearing from you.

Warm Regards,

Shelley Sharma
Phone: 301-670-4784 x114
Email: info@gl.com

Back to Newsletter Index Page