GL's High-Density 16 port T1 E1 Analysis Tool
Welcome to the latest issue of GL's Newsletter providing insight into our high-density T1 E1 analysis tool called tScan16™. This solution has 16 Receive-only T1 E1 ports optimized for high performance voice and data capture, monitoring, and analysis.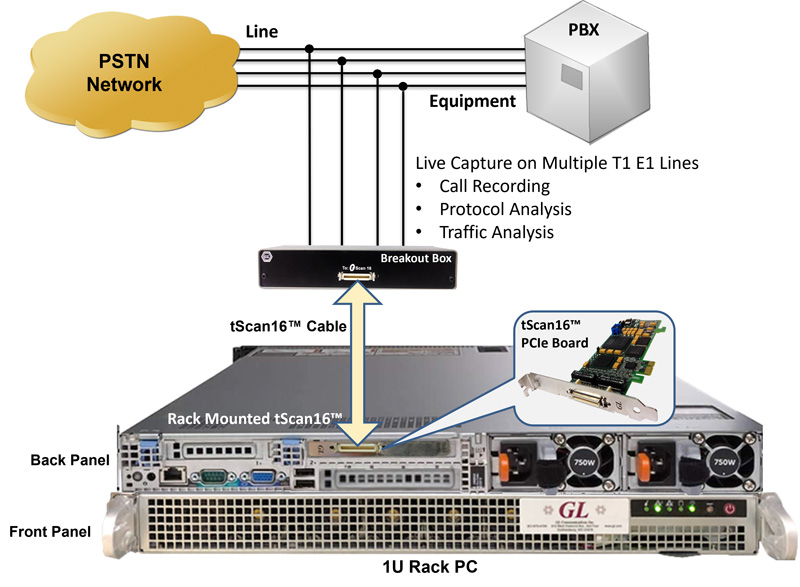 Overview
GL's tScan16™ provides greater density, increased ports, and reduced power as compared to other TDM analysis tools on the market. The boards (with Direct Memory Access) are significantly faster, more efficient, and well-suited for High-Density Cabling.
The tScan16™ consists of a PCI Express board housed in a host Windows® computer. Customers can use their own computer or GL can provide the PC as a rackmount (1U) or portable (Lunchbox) PC. Also included is the 16 port Breakout box for connecting to the TDM network under test. GL provides the necessary cable to connect the Breakout box to the PCI Express board. If customers elect to purchase the PC from GL, then GL will perform the full hardware and software installation giving the customer the ability to rapidly deploy the solution and perform analysis.
tScan16™ T1 E1 analyzers supports both 32-bit and 64-bit applications. 64-bit support improves the performance of the associated protocol analyzers such as ISDN, ISUP, GSM and allow users to monitor hundreds to thousands of signaling links simultaneously and continuously. Also, provides improved processing and response time for Statistics, Call Data Records, Search, and other such functions.
The enhanced Call Capture & Analysis (CCA) application allows better processing and response time for multiple instances of CCA applications for long test runs. Similarly, all basic Intrusive and Non-Intrusive applications such as BERT, Monitoring Applications, Oscilloscope, Spectral Display etc. provide better processing and response time for multiple instances of monitoring and simulations windows.
The tScan16™ Breakout box is used to receive the T1 E1 traffic on 16 ports for the tScan16™ application. It consists of 8 pairs of Line and Equipment RJ45c ports. Users need to connect straight cables to Line side and Cross-over cables to Equipment side to receive the signals from both Line and Equipment.
---
Key Features
Software selectable 16 Rx Only T1 E1 interfaces
PCI Express x1 Lane/Board
Convenient high-density Cabling
Monitor T1 E1 line conditions such as frame errors, bipolar violations, alarms, frequency, power level, and clock (or frame/bit) slips
Analysis of ISDN, SS7, Frame Relay, Multilink Frame Relay, PPP and Multilink PPP, HDLC, and many more protocols
All protocol analyzers include frame length in protocol statistics selection choice for data link layer
Comprehensive analysis of Voice, Data, Fax, Protocols, and Digital signals, including Echo and Voice Quality testing
The data (Signaling, and Traffic Call Data Records) collected at probe-level are stored into a relational database (Oracle) using Open Database Connectivity. With the use of NetSurveyorWeb™ application, the real-time and historic call data records can be accessed using simple web browser interface for remote or local monitoring
Call Recording, Analysis, and Monitoring for hundreds to thousands of calls in one platform

Back to Newsletter Index Page