GL Enhances Voice Quality Testing Software
Welcome to GL Communications' latest newsletter providing information and insight into our enhanced Voice Quality Testing solution. In this newsletter, we are highlighting the important features added in the latest VQuad™ software version 10.3 release.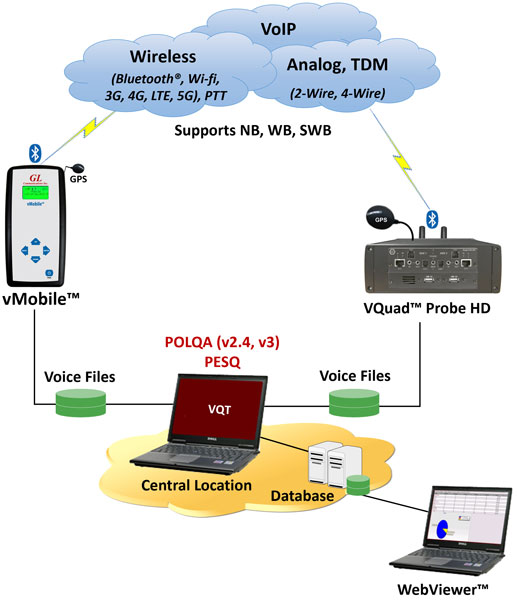 Enhanced VQuad™ Features
VQuad™ CLI (both Windows® and Linux) are updated with Audio analysis features to test doubletalk, dropouts (voice gap), recorded voice files analysis, P56 analysis, line current and voltage.
The new Calibration function allows the user to adjust the Outbound Audio from Near side of the call while viewing the Level at the Far-end of the call. This method of calibration is better suited in that the Outbound volume is only adjusted.
Add delay at both near-end and far-end for RTD (Round Trip Delay) testing 4-Wire (Mobile and Balanced I/O devices) supporting improved delay times for all sampling rates - 500ms for 8000 sampling, 100ms for 16000 sampling, 125ms for 48000 sampling.
Speech-to-Text analysis feature within VQuad™ is enhanced to include file length as part of the returned metrics.
Automatic sorting of all the connected Dual UTA HD devices as per the serial number for easier configuration of the devices. The configurations are saved to the database (including SN and Port Number). This enhancement prevents issues when starting up VQuad™ when multiple Dual UTA HD devices are connected
---
Other Important Features
Full support for VQuad™ CLI (both Windows® and Linux) and VQuad™ API (both Windows® and Linux)
Test mobile end-to-end voice, video, and data, quality measurement and analysis results
Control Smartphones on any wireless network (Bluetooth®, 5G, VoLTE, VoWiFi, VoFemto, 3G) - both Narrowband and Wideband voice supported
Different types of Data tests are supported over wired PC Ethernet connection and Mobile devices (i.e. iPhone, Android) – TCP, UDP, HTTP, FTP, DNS, VoIP, Route, SMS, Email, PhoneInfo, SimInfo, and UEInfo.
Full FXO (2-wire, 4-wire) functionality support via flexible scripts. Wide Band (WB) and Narrow Band (NB) support for High Definition (HD) and Standard Definition (SD).
VQuad SIP supports almost all standard Voice Codecs (PCMU, PCMA, G726_40, G726_32, G726_24, G726_16, GSM, G729, and Wideband HD audio codecs).
Voice Quality Analysis along with Delay Measurements (OWD and RTD) across all the interfaces.
Send/record voice via T1 or E1 trunks and perform Voice Quality, and various Voice Band Analysis
Drive Testing using the optional Dual UTA HD GPS receiver for location and accurate timing. All results and events mapped to Google Maps using the GL WebViewer.
Fully automate any IVR or VM process while also verifying the IVR prompts and VM deposited messages.
For comprehensive information on the application, please visit our Complete VQT Solutions web page.

Back to Newsletter Index Page