Voice Recorder Emulator for VoIP Air Traffic Control
Welcome to our latest issue of GL Communications' newsletter providing insight into our ED-137 Voice Recorder Emulator referred to as MAPS™ ED-137 Recorder Emulator.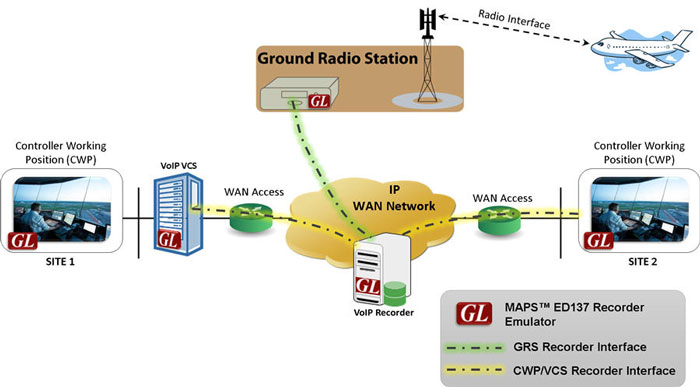 Overview
All over the world, Air Traffic Management (ATM) networks are undergoing a transition from legacy TDM-based communications to Voice over IP (VoIP) for more reliable, scalable and secure communications. The European Organization for Civil Aviation Equipment (EUROCAE) has defined the ED-137 standard to outline VoIP communication between air traffic controllers and pilots. GL Communications has led the way in simulating and testing ED-137 ATM components such as Controller Working Positions (CWP), Ground Radio Stations (GRS), Voice Communications Systems (VCS) and more. GL's ATM test suite includes the ability to simulate Air to Ground (AG) calls and Ground to Ground (GG) calls with associated signaling such as Push to Talk (PTT) and Squelch. Furthermore, GL's test tools can perform sophisticated one-way delay measurements and voice quality testing.
Air traffic control centers are required to provide continuous GG and AG voice communication recordings with synchronized flight data for establishing air traffic incident chronology, replay, safety improvement, audits, statistics, and for training purposes.
GL's MAPS™ ED-137 Recorder supports both ED-137-4B and ED-137-4C versions of Recorder interface simulation. ED-137 defines inter-operability standards for the next generation VoIP Air Traffic Recorder. These next generation recorders are specifically designed for all traffic control towers and centers to simplify the recording, archiving, and playback of voice communications.
MAPS™ ED-137 Recorder can simulate the Recorder interface for both AG and GG calls at the CWP, GRS and Recorder endpoints as per ED-137-4B & 4C versions, as defined under EUROCAE Working Group 67. MAPS™ ED-137 Recorder can simulate AG and GG call recording towards the Recorder and test the Recorder interface of CWP/VCS and GRS.
GL tools for signaling emulation and voice quality testing offer an end-to-end test solution for testing connections from the radio interfaces to the CWP and recording voice communications over the network. GL's Air Traffic Management Solution also includes MAPS™ ED-137 Telephone Emulators and MAPS™ ED-137 Radio Emulators.
---
Important Features
Signaling and Traffic Simulation

Simulates recording interface at the CWP, VCS, GRS and Recorder end points
Supports both ED-137-4B and ED-137-4C versions of recorder interface simulation
Supports all three media transport methods: Embedded Binary Data, RTP over TCP and RTP over UDP
Simulates Recorder interface on multiple CWPs and Radios from a single instance of MAPS™
Simulates Recorder interface for both AG and GG calls
Simulates multiple recording servers from a single instance of MAPS™

ED-137/4B Recorder

Scripts to automate PTT and Squelch operations on AG recording sessions
Simulates Voting operation with two or more users (GRS)
Simultaneous Call Transmission (SCT) with Squelch ON
User can configure multiple users (radios) to simulate voting and simultaneous squelch operation

ED-137/4C Recorder

Supports recording 2-byte base R2S header and R2S header extensions (R2S-TLV)
Recording client supports RTSP session keep alive
Simulates Caller Rejected calls, Attended Call Transfer, Joining conference etc.
Additional call properties include Call Type, Client Type, ClientId and Disconnect Reason
New Operations includes ConfRef, Radio Access Mode, R2S and R2S-TLV
For more information, please visit our MAPS™ ED-137 Recorder Emulator web page.

Back to Newsletter Index Page