GL Enhances
Gn Gp Interface Emulator

24th November 2017
Welcome to another November 2017 issue of GL's Newsletter providing information and insight into our enhanced Gn Gp Interface Emulator software referred to as MAPS™ UMTS Gn Gp Interface Emulator software. It has been enhanced with High density user-plane traffic simulation.
Overview
GL's MAPS™ Gn Gp Interface Emulator is an advanced protocol simulator/tester for SGSN & GGSN simulation over Gn, Gp interfaces that can simulate GPRS Tunnelling Protocol (GTP) signalling & Mobile application traffic as defined in 3GPP TS 29.060. The tester supports functional testing, error tracking, regression testing, and load testing/call generation. It can run pre-defined test scenarios against GTP interface test objects in a controlled & deterministic manner.

MAPS™ Gn Gp Interface Emulator supports powerful utilities like Message Editor, Script Editor, and Profile Editor which allow new scenarios to be created or existing scenarios to be modified using GTP messages and parameters.

GL's MAPS™ Gn Gp Interface Emulator benefits Network Equipment Providers of SGSN, and GGSN entities, with -
Accelerated time to market
Reduced development costs
Reduced project risk of internally-developed GTP applications
Call Generation
Call Generation option allows the user to initiate Control plane-signalling procedures such as Create, Update and Delete PDP Contexts etc using proper scripts and profiles. The profile allows necessary parameters of signalling messages to be changed during runtime.

The MAPS™ Gn Gp acts as SGSN and initiates the GTP signal flow by "Create PDP Context Request" to the DUT (GGSN). A GTP tunnel is created during the PDP context procedure. The SGSN receives "Request Accepted" message and PDP context is activated as shown in the figure below. Also, simulates the complete GTP signal flow as in the specification (TS 29.060 V9.2.0 (2010-03)).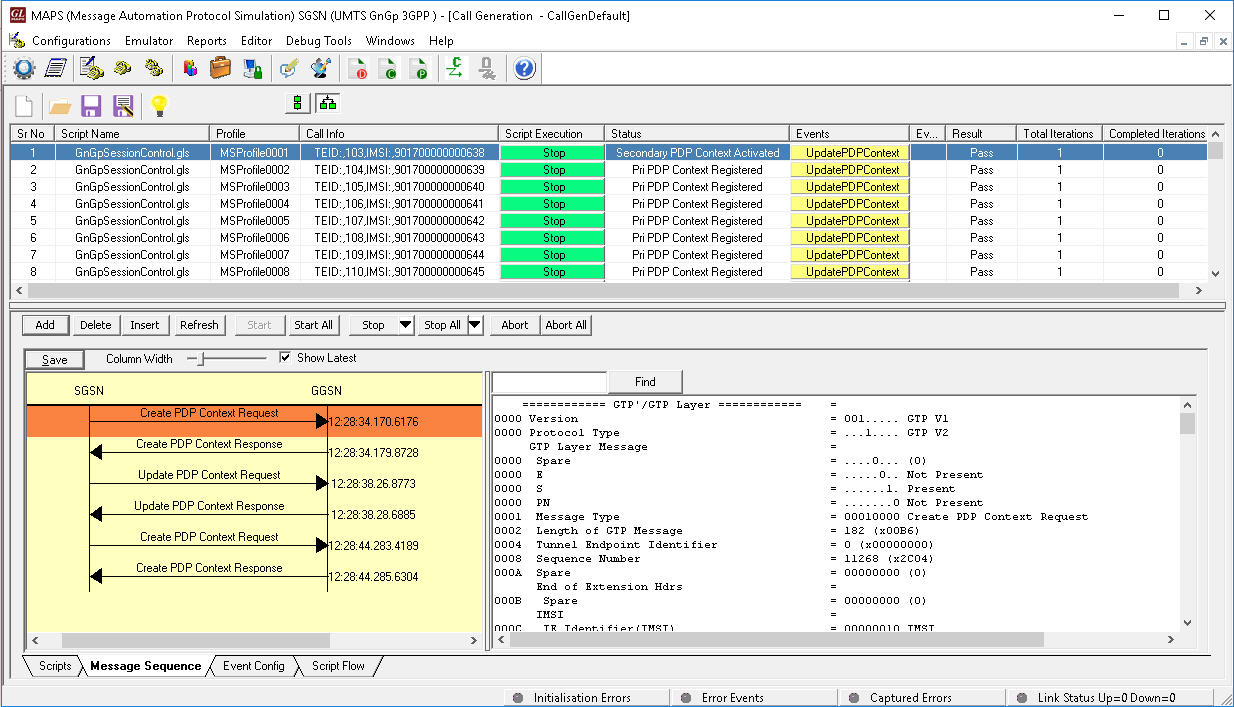 Call Generation at SGSN Node
Call Reception
Signalling Procedures initiated from other entity can be automatically detected in call reception window by pre-setting the required scripts in the Incoming Call Handler window.

This test is performed to ensure that the MAPS™ Gn Gp (GGSN) on receipt of a "Create PDP Context Request" message from SGSN, sends a "Create PDP Context Response" message to activate PDP context. A GTP tunnel is created during the PDP context procedure.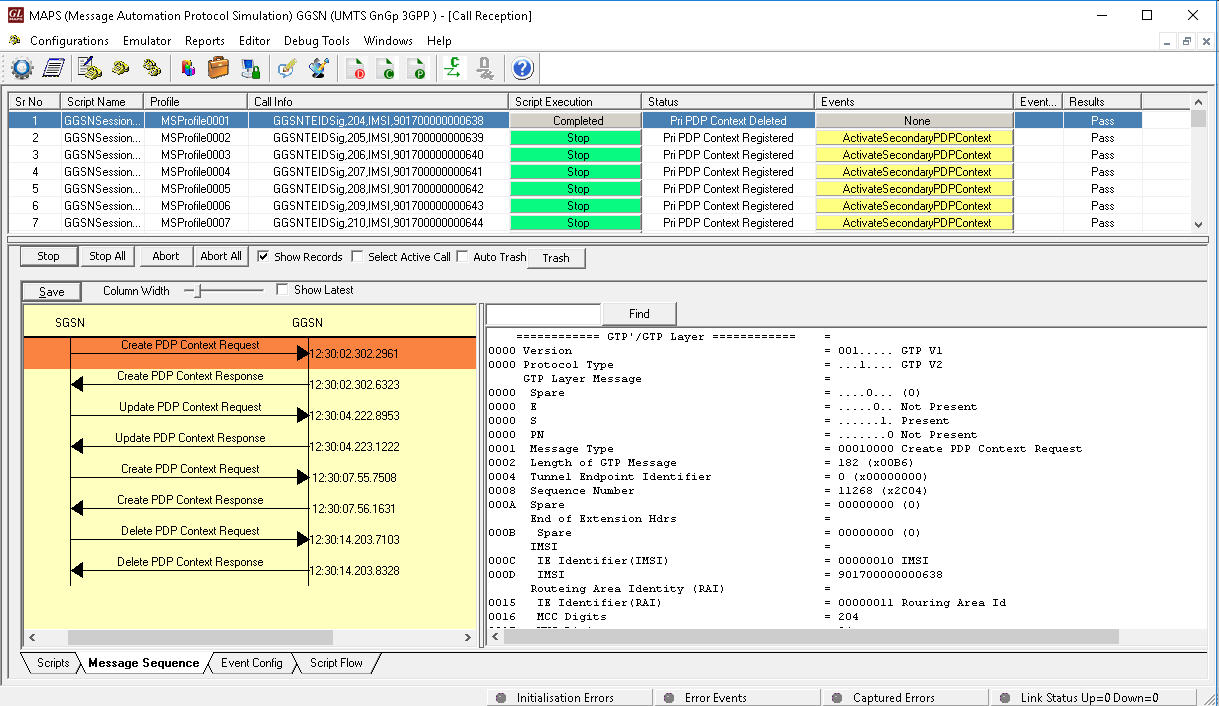 Call Reception at GGSN Node
High Density Traffic Simulation
GL's MAPS™ Gn Gp Interface Emulator with PacketLoad appliance supports massive simulation of UEs (up to 500000) with high density (up to 4 Gbps or 40 Gbps) mobile data traffic simulation for both UMTS, and LTE networks.

The solution allows encapsulating the generated packet data within GTP headers and transmitting through the gateway points such as SGSN & GGSN, or SGW & PGW. It allows simultaneous simulation of multiple sessions per user to verify bearer allocation bandwidth at the end points. Currently, the solution offers stateful TCP/HTTP, and PCAP Replay traffic types. PacketLoad supports HTTP traffic simulation with the base requirements such as port number, server IP address, and pre-canned HTTP traffic file. PacketLoad is available in 2 variants:

1. PacketLoad 4 x 1Gbps
2. PacketLoad 4 x 10Gbps
Traffic Statistics
MAPS™ provides useful statistics to verify the simulated mobile data traffic. Users can customize the statistics for the generated stateful TCP/HTTP, and PCAP Replay and other Mobile Data traffic. Call Graph uses the results from statistics to plot graphically the Bandwidth on each port, HTTP latency, TCP Latency, and UE related statistics in form Bar/Line/Pie charts.
Link level

Per Port

TX/RX Rate/s
Packets Sent/Received
Bytes Sent/Received

Packet

Payload Size via MSS (1B to 9400B)

TCP/IP

SYN , SYN_ACK
ACK
FIN
RST
HTTP POST / RESPONSE
TCP/IP Checksum Errors

PCAP Replay

Packets Sent and Received

UDP

Packets Sent and Received

URL

Connections Established
FW Addresses Not Blocked
URL HTTP Wrong Response RX
Main Features
Simulates SGSN and GGSN
Supports GTP Control plane
Generates million of Control Signaling (Load Testing)
Generates and processes GTP messages
Supports GTP Traffic (GTP User Plane Data) which includes: verification like BERT testing, HTTP traffic generation capability, GGSN can actually be connected to real IP network to simulate Gateway testing
Supports high bandwidth traffic generation with PacketLoad (Up to 40 Gbps)
Insertion of impairments to create invalid messages
Supports customization of call flows and message templates using Script and Message editors
Supports scripted call generation and automated call reception
Script based & protocol independent software architecture
Provides Call Statistics and Events Status
Application
Provides fault insertion, and erroneous call flows testing capability
Functional testing, Regression testing and Conformance testing of network elements
Ready scripts makes testing procedure simpler, less time consuming and hence time to market products
QoS requests for greater or lesser bandwidth
Call Statistics
MAPS™ supports Bulk Call Simulation and Stress/Load Testing capabilities through Load Generation feature. Load Generation helps users configure Stress/Load Testing parameters such as Call per second (CPS) or Busy hour call attempts (BHCA), Max Simultaneous Calls and Burst parameters.

All call handling scripts (irrespective of the type of the functions) are assessed by MAPS™ to provide statistical information about Total Calls, Active Calls, Completed Calls, Passed Calls, Failed Calls, and Simultaneous Calls/Sec (CPS), and Calls/Sec . It is also possible to characterize the statistical information under different groups of call handling scripts under a unique heading.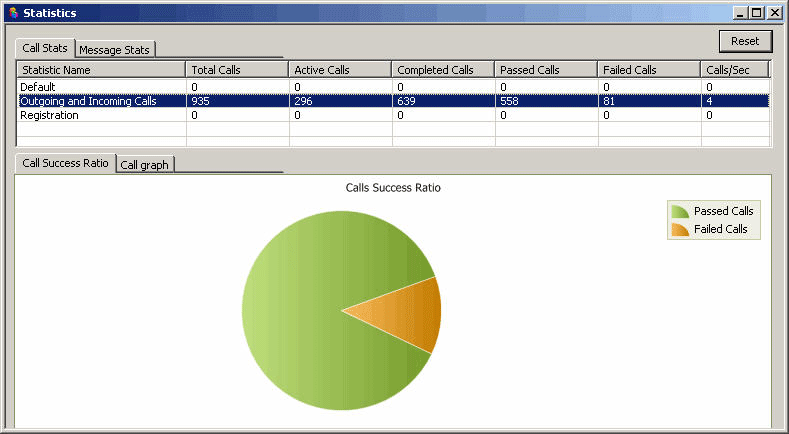 For comprehensive information on the application, you can refer to the MAPS™ Gn Gp Interface Emulator web page.