GL's FXO/FXS Simulation and Testing Solution
Welcome to GL's latest newsletter, where you will find information on our solutions for simulating, testing, and measuring FXO/FXS interfaces. Our solutions are adaptable to various global standards.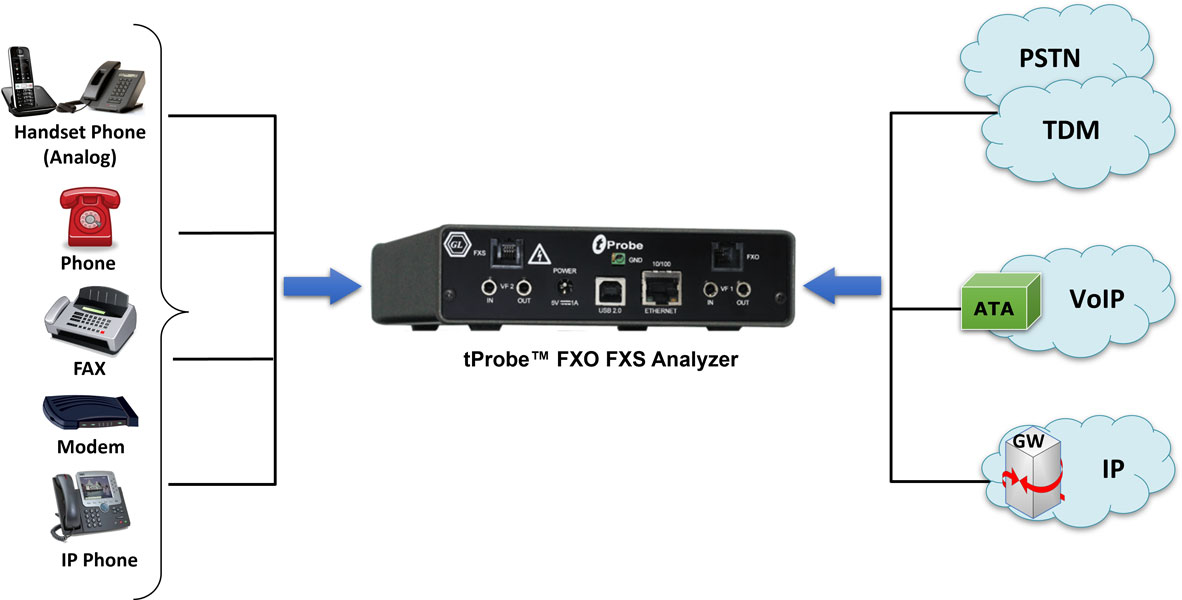 Overview
Foreign Exchange Subscriber (FXS) and Foreign Exchange Office (FXO) are ports used by analog phone lines or phones. A FXS port supplies ring voltage, battery current, dial tone and voice signals. FXO delivers an on-hook/off-hook indication (loop closure), DTMF digits, voice signals, and is usually a phone or fax machine.
The FXO and FXS ports on tProbe™ simulates all of the above features. Also, the FXO port on the tProbe™ permits non-intrusive capture and analysis of voice band signals from a two-wire telephone line. The FXS port on tProbe™ emulates a two-wire FXS service such as a telephone wall jack.
GL's Message Automation & Protocol Simulation (MAPS™) platform is a general-purpose protocol emulator tool for various protocols encountered in the telecom space. MAPS™ FXO FXS is an advanced test tool that supports emulation of FXO and FXS interfaces using the FXO and FXS ports on a tProbe™ unit.
GL's MAPS™ FXO FXS emulator can place or answer incoming calls on both FXO and FXS ports and automate the entire testing process using scripts. It includes features to handle different types of traffic such as tones, digits (DTMF, MF, MFR2F, MFR2B), voice files, fax. In addition, the MAPS™ FXO FXS application can emulate CAMA trunks connected to the 911 selective router (SR) and can perform non-intrusive monitoring of 911 services.
Key Features
Script based simulation of 2-Wire Telephone Port (FXO) and Telephone Wall Jack (FXS) for complete automation
Command Line Interface (CLI) based testing of FXO/FXS for automation and remote access
Stand-alone testing of FXO/FXS with loopback
Supports input and output signals of 8K samples/sec, u-law, A-law, and 16-bit Linear PCM
FXO/FXS termination supports for over 70 different termination characteristics (different countries)
Loudspeaker provided to hear the voice being transmitted on FXO/FXS ports
Send or Receive FAX image (TIFF format) file over FXO and FXS ports
FXO Capabilities

ON hook and OFF hook (loop closure)
Transmit and Capture Traffic (digits, tones, and voice)
2-Wire Calling/Answering, Caller ID, T1 E1 to 2-Wire FXO Drop or Insert, PC to 2-Wire FXO Drop or Insert

FXS Capabilities

Detection of ON hook and OFF hook status
Ring and Battery Voltage Generation, Dial Tone Generation
Transmit and Capture Traffic (digits, tones, and voice)
T1 E1 FXS Drop or Insert, PC to 2-Wire FXS Drop or Insert

Back to Newsletter Index Page