GL Announces Enhanced Voice Quality Testing Solutions
Welcome to another April 2017 issue of GL Communications' Newsletter providing information and insight into our enhanced Voice Quality Testing solutions. In this newsletter, we are highlighting the important enhancements introduced to Voice Quality Testing software version 7.0, VQuad™ software version 9.0, and WebViewer™ version 5.2.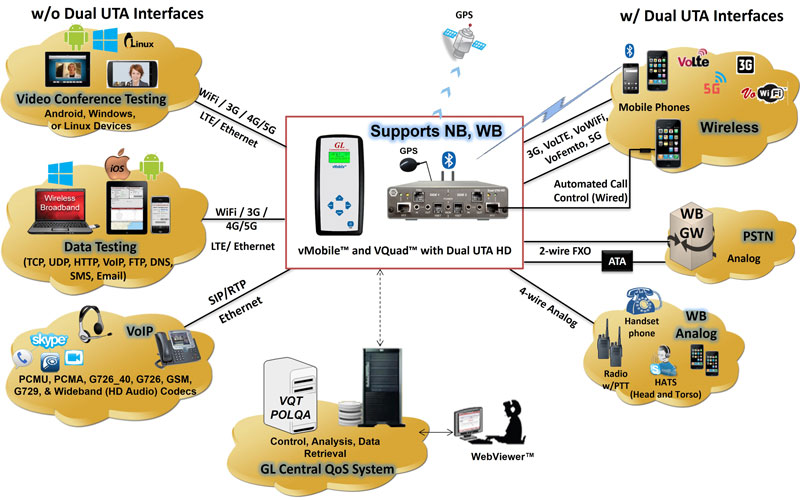 Enhancements to VQuad™ Software
Delay Measurements

Enhanced VQuad™ application with Dual UTA HD supports very accurate One-Way and Round Trip Delay (RTD) measurements for 2-Wire and 4-Wire interfaces using the enhanced correlator algorithm. Both sides of the established call may be co-located on same Dual UTA HD or geographically separated. The measurements require GPS only for OWD and if the two sides of the call are geographically separated (not on same Dual UTA HD).

FXO Analysis

Enhanced VQuad™ software also includes FXO Analysis feature which detects and display Line Current (mA) and Line Voltage (V) for the Dual UTA HD FXO devices. Also added to FXO analysis, Ring Voltage for all incoming calls and the ability to capture the Call Progress tones to PCM file for post-process analysis.

VQuad™ CLI and API

Now there is full support for VQuad™ CLI (both Windows® and Linux) and VQuad™ API (both Windows® and Linux). VQuad™ CLI also supports both IPv6 and IPv4.

The VQuad™ Remote Access (Client) allows VQuad™ operations to be remotely controlled by one (or several) VQuad™ clients over a LAN, WAN, or Internet. Each VQuad™ client supports MS Windows, Unix, or Linux operating systems and includes a DLL component, which gives the users the ability to control the VQuad™ server remotely and to integrate within their own custom software.


VQuad™ CLI (Windows)

VQuad™ Script Editor

The VQuad™ script editor has been enhanced to support several new commands associated with Audio and Call Control.

Outward & Port-to-Port Loopback support with/without user-specified Delays (Dual UTA HD)
Secondary PlaceCall with FXO Call Control
Support multiple individual Scripts within single test. This allows added flexibility when creating and executing VQuad™ scripts
Added flexibility including Wait for Ring and Wait for Call Waiting
Support Signal Level Gain and FXO Analysis from within VQuad™ script
Other VQuad™ Enhancements include:
Full support for IPv6 and IPv4 for all VQuad™ operations
USB2.0 and USB3.0 capable
Specify Sampling Rate per Dual UTA (each Dual UTA connected to VQuad™ configured for different Sampling Rate), configured via GUI or within the VQuad™ Script
Accurate Signal Level testing during established call
Outward and Port-to-Port Loopback of 2-Wire and 4-Wire interfaces with No Delay or up to 2000ms user-specified delays (Dual UTA HD only)
Call Time (CT) and Call Connect Time (CCT) events during Call Control
FXO interface now supports both Tone and Pulse Dialing
Enhancements to Voice Quality Testing (VQT) Software
The enhanced VQT software now includes the following:
Full support for IPv6 as well as IPv4 (includes VQT, GL Listener, and VQTCLI)
VQT CLI and API enhanced to fully support both Windows® and Linux
POLQA supports 12 bit degraded file (NB, WB, SWB)
POLQA supports 8-bit a-Law and mu-Law voice files
POLQA supports Raw PCM as well as WAV files with auto-detect sampling for WAV files
POLQA supports user-specified Sampling Rate (specify any rate between 8K to 48K)
Fully supports POLQA ITU version 2.4 for POLQA NB and SWB (including WB) modes
Includes Reference voice files for NB/WB/SWB and 32K for Raw PCM and WAV. Also includes 8-bit a-Law and mu-Law Raw PCM files.
Updated to Include POLQA delay measurement
Enhancements to WebViewer™ and DataImport
GL's WebViewer™, a web-based interface accessing the central database for querying and filtering results, is further enhanced to simplify Custom Reports configuration and Google Map plotting.
Generate Custom Report

Using WebViewer™, it is now possible to customize report generation with result statistics, tabular data, bar graphs, and line graphs. Reports can be customized based on a combination of different parameters in Results View, Call Events, and Statistics. WebViewer™ can generate and export the customized report in either text, excel or PDF formats, while also allow users to view results dynamically on WebViewer™.

WebViewer™ can generate the custom reports with a variety of filtered configurations. All configurations are created and modified directly within WebViewer™ - create a new report or modify existing reports for displaying the user-specified results. Included with Custom Reports is the ability to specify custom Line Graphs.
Customer Report Scheduling

Report Scheduler gives the user the ability to specify when to schedule a report along with the schedule period and user-specified filters. For instance, every Monday schedule a report which includes last 7 days, or schedule a report every morning or once a month. The Scheduler uses the Custom Reports as specified above and outputs as PDF or Excel or other format.

As part of the Report Scheduler, all reports generated can be shared automatically via Email or SMS. So, if desired, every morning you can have an email or SMS with the past day testing performance. In addition, the VQuad™ software can generate Custom Reports, via the Report Scheduler, directly from the VQuad™ Scripting.



Other WebViewer™/DataImport Enhancements include:
Custom Reports configuration streamlined and optimized for very simple operation
Enhanced Google map plotting supporting country or region selection
Time/Delay Measurement Result includes Connect Time (CT), Call Connect Time (CCT), Level Measurement, FXO Line Current, Line Voltage, and Ring Voltage
VQT POLQA results includes POLQA OWD, POLQA Active Signal and Mean Noise Levels, POLQA Speech Activity and SNR for both Reference and Degraded
For comprehensive information on the applications, please refer to
Complete VQT Solutions
web page.

Back to Latest News Page