Enhanced OC-3/STM-1 & OC-12/STM-4 Analysis/Emulation Platform
Welcome to an April,2014 issue of GL's Newsletter providing information and insight into our enhanced OC-3/STM-1 and OC-12/STM-4 Analysis and Emulation Platform referred to as LightSpeed1000™.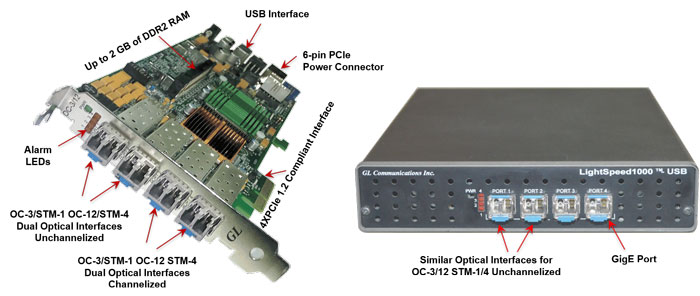 Overview
Voice, data, and video traffic is exploding as smartphones, IP TV, video streaming, and "cloud" based services takeoff. A majority of the backbone transport for these applications continues to be SONET and SDH optical transmission networks. A dominant protocol for IP transport is PoS (Packet over SONET) and another is ATM (Asynchronous Transfer Mode). Both schemes are packet based, with ATM using fixed size packets of 53 bytes called "cells", and PoS using variable packet sizes closely matching to Ethernet frames.
Of course SONET and SDH continue to be used for conventional channelized traffic - carrying many TDM T1, E1, T3, and E3 pipes. Our LightSpeed™ platforms have been enhanced:
to support channelized traffic in a unique and elegant manner uncommon in the industry,
and an additional optical port for SONET/SDH/GigE (4 optical ports)
GL's LightSpeed1000™ hardware platforms (PCIe Card and USB Pod) are capable of OC-3/12 and STM-1/4 wire-speed processing on quad optical ports for functions such as wire-speed recording and wire-speed playback of ATM, PoS, RAW, and channelized traffic.
LightSpeed1000™ comes with software for overall monitoring, BERT, emulation, and protocol analysis with a price tag that compares very favorably with similar test instruments at three times the price. Normally, the LightSpeed1000™ is used for protocol analysis of ATM, PoS, Raw unchannelized and unframed data. The hardware can be easily configured / programmed for delaying of ATM Cells or PPP packets.
Recently support for channelized structures have been added in OC-3/STM-1 for e.g. all 84 T1s or all 63 E1s can be identified and processed in transmit and receive modes.
The card's multiple connectivity using PCIe, Gigabit Ethernet (GigE), USB 2.0 and onboard DDR2 memory makes it suitable for many applications.
Multiple cards are possible in a PC for analysis of four or more directions simultaneously. USB 2.0 interface is used to connect with a Notebook PC for portability. GigE Ethernet ports for testing RAW, BER, RFC2544, RAW SONET/SDH, and Ethernet bridge applications. The hardware is firmware FPGA based making it easy to upgrade in the field for application versatility.
A unique feature of the card is the capability to capture, transmit and process at wirespeed to/from applications and hard disk on all interfaces. An API Toolkit allows users to develop specialized applications.
---
Supported Protocol Standards
ATM: Implements the ATM Forum User Network Interface Specification and the ATM physical layer for Broadband ISDN according to CCITT Recommendation I.432
PPP over SONET (PoS): Implements the Point-to-Point Protocol (PPP) over SONET/SDH specification according to RFC 2615(1619)/1662 of the PPP Working Group of the Internet Engineering Task Force (IETF).
OC-3/OC-12/STM-1/STM-4 Transparent Payload: Analyzer processes SONET/SDH payload in transparent (RAW) mode without any transport protocols.
Channelized access for T1 E1 T3 E3: For processing ISDN, SS7, CAS and other channelized protocols.
---
Some of the Important Features
Wirespeed processing of ATM, PoS or RAW data for Tx and Rx for both ports (*PCIe card only).
Software selectable OC-3/OC-12, STM-1/STM-4 for Unchannelized ATM, PoS or Transparent Traffic, and Channelized T1, E1, T3, E3 traffic
Ability to capture/playback to/from disk at full rate in both directions for all ports. This permits detailed offline analysis that is not possible otherwise. Simultaneous synchronous capture is possible on all optical ports. The captured files can be played back to reproduce the traffic
Comprehensive transmit/receive testing capabilities; transmitting and verifying data with incrementing sequence numbers with each packet/cell
Industry proven Protocol Analyzer for ATM (AAL2, AAL5), UMTS, and PPP (IP and higher layer protocols), channelized protocols ISDN, SS7, CAS etc
Easy to use and flexible Bit Error Rate Test (BERT) application for ATM, POS, and RAW
Complex and flexible hardware based filtering options: sixteen 128 bit independently filters with bit masks, for both ports with AND/OR include/exclude conditions
Hardware based precise time stamping of cells / packets with 10 nsec resolution, 1 ppm accuracy
Single mode or multi-mode fiber SFP support
---
Specifications
Interfaces:
2 x Unchannelized OC-3 / STM-1 / OC-12 / STM-4 Ports (Port 1 Port 2)
2 x Channelized OC-3 / STM-1 / OC-12 / STM-4 Ports (Port 3 Port 4)
Single Mode or Multi Mode Fiber SFP support with LC connector
Protocols:
PoS, ISDN, CAS, GSM, GPRS and more
Tx Clock:
Alarm LEDs:
LOS - LOS (Loss of Signal) is a physical layer error, which indicates loss in optical signal.
LOF - LOF (Loss of Frames) becomes active when receiving interface detects errors in the framing pattern for three milliseconds. This will be indicated using the frame alignment bytes A1 and A2. LOF is cleared when two consecutive valid A1/A2 framing patterns are received.
User - A user-defined LED can be configured by the user as per the requirements.
Bus Interface:
PCIe Specification 1.2 Compliant
USB 2.0
Power and Dimensions:
+12 volts, 3.5 Amps
4.2" x 9.2"

Back to Newsletter Index Page