Newsletter: Direct T1 E1 Access to SONET SDH Optical Streams for Emulation & Analysis
Welcome to another November 2014 issue of GL's Newsletter providing information and insight into our enhanced Optical Channelized Test Platform referred to as LightSpeed1000™. This hardware and accompanying software provides access to thousands of T1s and E1s directly from within an optical SONET or SDH structure. Enhancements to support additional T1 E1 applications have been added. Typical applications that utilize channelized STM-1 OC-3 are:
n x T1 E1 for NFAS PRI, IMA, ML-PPP
T1 E1 for CAS and SS7
n x 64 kbps and 64 kbps for FR
n x 8 kbps sub-channels for GSM TRAU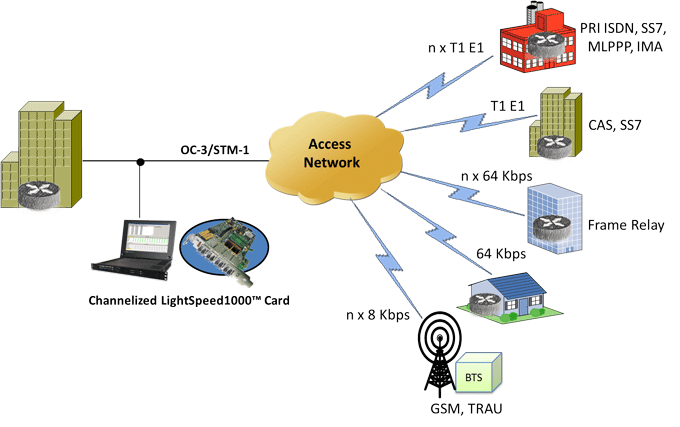 Overview
SONET SDH technology forms the transmission backbone for TDM, IP and Wireless networks. STM-1 and OC-3 optical transmission rates (155.52 Mbps) are the most common of the various dense pipes (in SDH SONET) carrying E1, T1, E3, T3, and Ethernet multiplexed signals.
The conventional method to access and analyze channelized lines within OC-3 STM-1 can require specific and costly mux/demux hardware. Direct access however, to any channel and traffic type within OC-3 STM-1 would eliminate the need for such costly l hardware, simplify testing, monitoring, and analysis.
GL's Optical Channelized Test Platform provides such simplicity, permitting direct DS0 level access to hundreds of T1s and E1s, and in the near future all the E3s and T3s constituting the OC-3 and STM-1. This platform with its unique architecture eliminates the requirement for external multiplexing hardware and hundreds of cables and connectors. Multiple, independent streams of any user-defined capacity can be generated internally, analyzed, and monitored in real-time.
GL's LightSpeed1000™ supports Channelized SONET and SDH mapping to T1 E1 framing modes. When the LightSpeed1000™ is configured in SDH framing mode, it is capable of supporting bidirectional channelization into 63 independent E1 channels. When configured for SONET framing mode, the LightSpeed1000™ is capable of supporting bidirectional channelization into 84 independent T1 channels.
GL's LightSpeed1000™ hardware platform (PCIe Card and USB Pod) is capable of un-channelized or concatenated mode, permitting access to PPP and ATM networks, and wire-speed processing on quad optical ports for functions such as wire-speed recording and wire-speed playback of Un-channelized and Channelized ATM, PoS, and RAW Traffic.
---
Channelized OC-3 STM-1 Test Solutions
The above image depicts 2 solutions for testing channelized OC-3 STM-1 lines. The first solution shows an external multiplexer and demultiplexer hardware providing the channelized information to multiple T1 E1 access cards such as GL's Octal T1 E1 cards for analysis and emulation. This solution would require multiple PCs, T1 E1 access cards, and numerous cables adding to the cost and complexity of the entire solution.
In the second, a more simpler solution is provided by GL's Channelized LightSpeed1000™ board, which supports direct access to all or user-defined 2 x 84 T1s or 2 x 63 E1s per card for analysis and simulation - all within a one pc. With this hardware, any combination of DS0/64 kbps, fractional T1 E1, and N x T1 E1 interface definitions (a total of 126 E1s or 168 T1s - each port supporting 84 T1s or 63 E1s) can be accessed for performance monitoring.
---
Applications Supported in STM-1 T1 E1 Channelized Analyzer
GL's MAPS™ GSM simulation over A Interface simulates BSSMAP & DTAP messages and signaling specification as defined by 3GPP standards




GL's MAPS™ SS7 simulation over TDM (T1 E1) simulates Service Switching Point (SSP). The ISUP signaling specification conforms to ITU-T and ANSI standards





Testing voice and data services on hybrid networks (such as ATM to SDH)

Non-intrusive protocol analysis and monitoring (ex: Monitor tens to hundreds of SS7 links for signaling and bearer channels)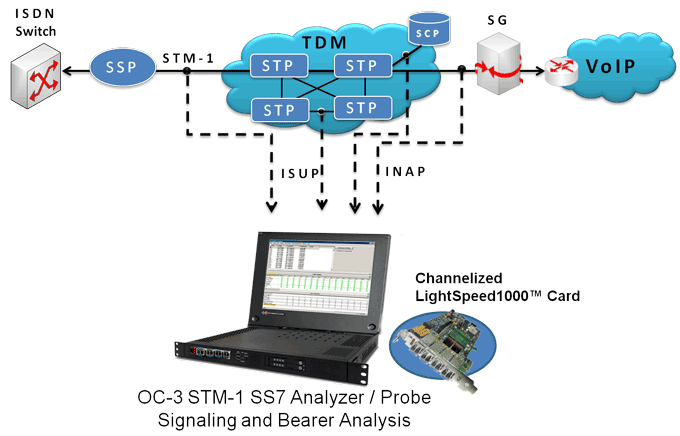 ---
Important Features
2 Channelized OC-3 STM-1 SONET/SDH interfaces per Lightspeed1000™ card - for monitoring both directions
2 Unchannelized OC-3 STM-1 OC-12 STM-4 interfaces per Lightspeed1000™ card - for monitoring both directions
Channelized ports act as terminal multiplexers and demultiplexers
Allows direct access to anything and everything on SONET / SDH - Framing and Payload, including structured traffic (T1, E1, STS-1, DS3 etc) or unstructured traffic (ATM, PoS, etc)
Supports any combination of DS0/64/56/16/8 kbps fractional T1 E1, and N x T1 E1 interface definitions (a total of 126 E1s or 168 T1s - each port supporting 84 T1s or 63 E1s)
Future support for direct access to all E3s and T3s without hardware modification - software revision only
Pluggable SFPs allow Single-mode (SM), and Multi-mode (MM) fiber optic non-intrusive tap
API for Microsoft® Windows® and Linux operating Systems to develop user specific applications
Key T1 E1 specific features -

Comprehensive protocol analysis and emulation - HDLC, SS7, ISDN, CAS, PPP, Frame Relay, ATM and more
Analysis of DS0s for frequency, power level, spectral display, listen to channel
GL's proven WCS high level remote interface
All protocols analyzers can be used with GL's NetSurveyorWeb™
Supported SONET Mappings
STS-3/OC-3 --> STS-1 --> VT-Group --> VT2 --> E1
STS-3/OC-3 --> STS-1 --> VT-Group --> VT1.5 --> T1
Supported SDH Mappings
STM-1 --> AU-3 --> TUG-2 --> TU-12 --> E1
STM-1 --> AU-4 --> TUG-3 --> TUG-2 --> TU-12 --> E1
STM-1 --> AU-3 --> TUG-2 --> TU-11 --> T1
STM-1 --> AU-4 --> TUG-3 --> TUG-2 --> TU-11 --> T1

Back to Newsletter Index Page