Newsletter: GL Announces Automated Mobile Phone Testing
Welcome to June, 2017 issue of GL Communications' Newsletter providing information and insight into our enhanced VQuad™ software that now supports fully Automated Mobile Phone Testing using either Bluetooth® or the new Smartphone ACC cable.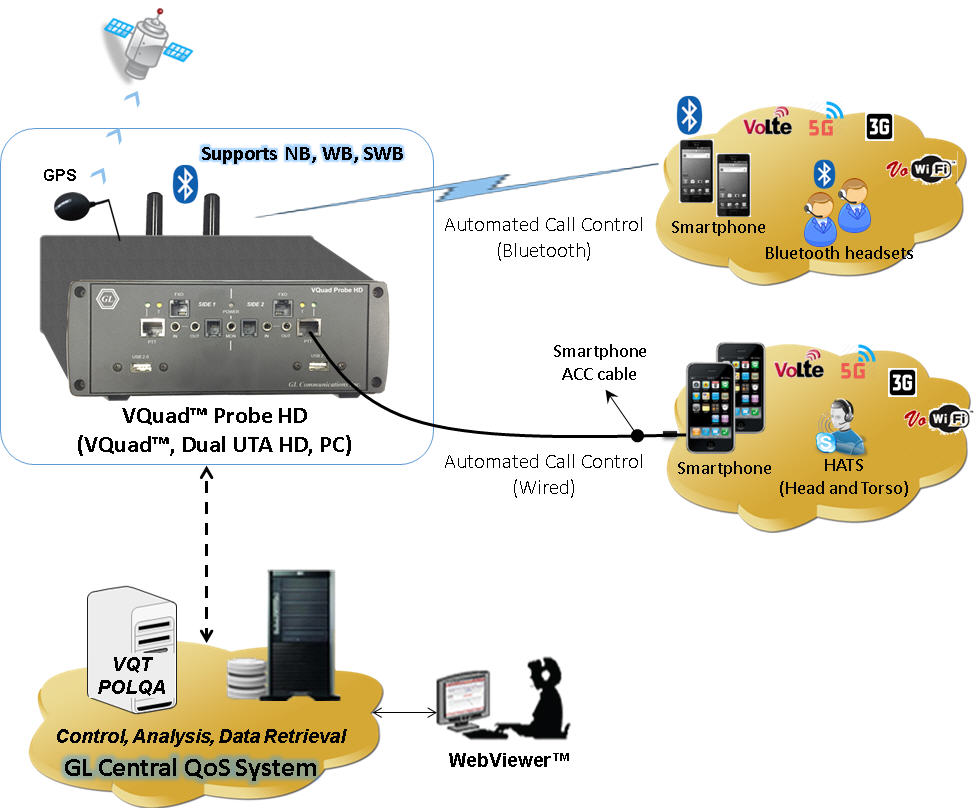 Overview
The VQuad™ software is used for automated voice, video, and data testing. Using the Dual UTA HD hardware connected to the VQuad™ system, a multitude of physical interfaces for voice testing are supported including Bluetooth®, Analog 2-wire, and Analog 4-wire. These supported interfaces allow testing of a variety of networks including Wireless (3G, 4G, VoLTE, WiFi), Analog PSTN, VoIP (including ATA), and Mobile Radios (using PTT).
The VQuad™ system supports up to 6 Dual UTA HD units, which means up to 12 fully independent telephony devices or 12 SIP User Agents (or any combination) can be controlled simultaneously from a single VQuad™. In addition, multiple VQuad™ systems can be remote controlled together for virtually unlimited number of devices supported.
---
Enhanced VQuad™ with Automated Mobile Phone Testing Methods
The enhanced VQuad™ software supports two methods of automated testing of mobile devices, Bluetooth® and Wired Headset using GL's new cable, Smartphone with Automated Call Control (ACC).
In both cases the VQuad™ offers the ability for Automated Call Control as well as full bi-directional traffic during the established call. Traffic includes send/detect DTMF digits, send/detect single/dual Frequency tones, and send/record voice for Voice Quality and Echo Measurement testing (as well as path verification). Additional functionality includes One Way and Round Trip Delay (OWD/RTD), SNR, Signal Level, Power and Bandwidth Analysis, and Energy Detection.

The Bluetooth® solution supports full Call Control with ability to confirm current status of call as well as sending commands to the phone, via Bluetooth®, to retrieve Signal Level (RSSI), Battery Level, and Current Network - to name a few.
While in the established call, traffic analysis along with Voice Quality is fully supported for both NB and WB networks (VoLTE fully supported). Accurate Delay and Level measurements are supported as part of the Network quality assessment.
Alternatively the Dual UTA HD Bluetooth®, using special firmware, can act as the Mobile Device and connect to any Bluetooth® headset to perform Voice Quality Tests on any connected Bluetooth® Headset. In other words, isolate the Bluetooth® headset for voice quality analysis.
This is extremely important for testing Bluetooth® headsets, Bluetooth® in the car, and pretty much any Bluetooth® device which connects to a mobile phone for voice. The Dual UTA HD connects to the Bluetooth® headset and supports Voice Quality Analysis as well as Delay Measurements. Both narrowband and wideband codecs are supported.

The Wired headset method connects the mobile phone to the Dual UTA HD PTT interface using the GL Smartphone ACC cable. Through the VQuad™ script (or manual operation), the VQuad™ can activate the iPhone SIRI or Android Google Voice and send a predefined file to the mobile device in order to Place Call to a specified number (or simply Redial). In addition, VQuad™ includes Text-to-Speech technology for automatically creating the necessary voice prompt for placing call over Siri or Google Voice. In other words the Smartphone ACC cable method includes a fully automated method for Placing Call. The Smartphone ACC cable can also detect incoming Ring (for automated Answer call), Answer Incoming Call (or Reject Incoming Call) and Disconnect Call.
While the Bluetooth® has several additional functions with additional insight (and control) on current status of the call, the Smartphone ACC can perform all basic Call Control functions for fully automated bi-directional call control. Once the call is presumably up the VQuad™ can perform bi-directional Path confirmation to confirm the call is established. The Smartphone ACC cable connection supports NB, WB, and SWB sampling.
---
Other Important VQuad™ Features
VQuad™ supports very accurate One-Way and Round Trip Delay (RTD) measurements for 2-Wire, 4-Wire and Bluetooth® interfaces using the enhanced correlator algorithm.
Remote support of VQuad™ using CLI (both Windows®and Linux) or VQuad™ API (both Windows® and Linux)
VQuad™ solution and all related applications (including remote CLI) supports both IPv6 and IPv4
Dual UTA HD supports both USB2.0 and USB 3.0
VQuad™ supports NB, WB and SWB sampling rates. Specify Sampling Rate per Dual UTA directly from the VQuad™ script
Outward and Port-to-Port Loopback of all Dual UTA HD interfaces (with or without delay)
Dual UTA HD FXO interface supports both Tone and Pulse Dialing

Back to Newsletter Index Page