Newsletter: Direct T1 E1 DS0 Access for SONET SDH
Welcome to another January 2016 issue of GL's Newsletter providing information and insight into our OC-3/12 and STM-1/4 Analysis and Emulation Platform referred to as LightSpeed1000™. Among its many features is direct access to any or all T1s E1s (336 T1s = 16,128 DS0s, or 252 E1s = 15,624 DS0s) inside the OC-12 STM-4 as shown below.
Overview
GL's LightSpeed1000™ comes with all the necessary software for capturing, monitoring, emulation, and protocol analysis over SONET-SDH links, with a price tag that compares very favorably with similar test instruments at 3 times the price. It supports both Channelized and Unchannelized modes. 2 out of the 4 ports are meant for SONET/SDH Unchannelized and unframed data. The remaining 2 ports can be either SONET/SDH or GigE (future) ports meant for Channelized T1 E1.
The LightSpeed1000™ PCIe Card can be installed in a 1U Rackmount appliance or in a portable enclosure as shown below.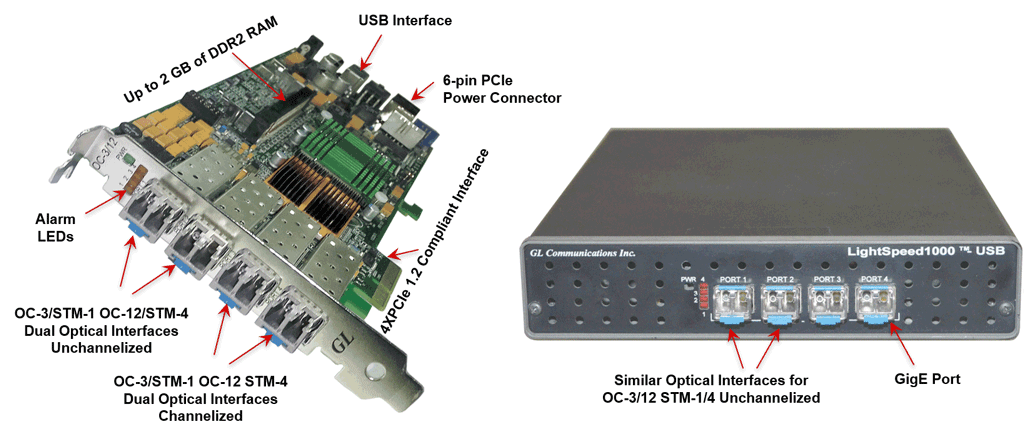 GL's LightSpeed1000™ platform in Channelized Mode provides simplicity and permits direct DS0 level access to hundreds of T1s and E1s within OC-3 STM-1/OC-12 STM-4, and in the near future all the E3s and T3s constituting the OC-3 and STM-1. This platform with its unique architecture eliminates the requirement for external multiplexing hardware and hundreds of cables and connectors. Multiple, interdependent streams of any user-defined capacity can be generated internally, analyzed, and monitored in real-time. For more information on the application, the user can refer to the LightSpeed1000™ in Channelized Mode webpage.
---
Supported Mappings and Numbering Schemes
[STM4->]STM1 -> AUG -> AU-4 -> VC-4 -> TUG-3 -> TUG-2 -> TU-12 -> VC-12 -> E1
[STM4->]STM1 -> AUG -> AU-4 -> VC-4 -> TUG-3 -> TUG-2 -> TU-11 -> VC-11 -> T1
[STM4->]STM1 -> AUG --> AU-3 -> VC-3 --> TUG-2 --> TU-12 -> VC-12 --> E1
[STM4->]STM1 -> AUG --> AU-3 -> VC-3 --> TUG-2 --> TU-11 -> VC-11 --> T1
Supports standard T1 E1 Numbering schemes with STM-1/OC-3: Lucent, Motorola, and Huawei
---
Important Features
2 Channelized OC-3 STM-1/OC-12 STM-4 SONET/SDH interfaces per Lightspeed1000™ card
2 Unchannelized OC-3 STM-1/OC-12 STM-4 interfaces per Lightspeed1000™ card
Channelized ports act as terminal multiplexers and demultiplexers
Allows direct access to anything and everything on SONET / SDH - Framing and Payload, including structured traffic (DS0, T1, E1, STS-1, DS3 etc) or unstructured traffic (ATM, PoS, etc)
Scans the received STM-4/STM-1 traffic and identifies the mapping, tributary type (T1/E1), equipped/unequipped status of the tributaries
Broadcasts the selected T1/E1 channel data on all the 252 E1's or 336 T1's
Supports any combination of DS0/64/56/16/8 kbps fractional T1/E1, and N x T1/E1 interface definitions (a total of 252 E1s or 336 T1s – in each port )
Pluggable SFPs allow Single-mode (SM), and Multi-mode (MM) fiber optic non-intrusive tap
API for Microsoft® Windows® and Linux operating Systems to develop user specific applications
Key T1 E1 specific features -

Comprehensive protocol analysis and emulation - HDLC, SS7, ISDN, CAS, PPP, Frame Relay, ATM and more
Analysis of DS0s for frequency, power level, spectral display, listen to channel
GL's proven WCS high level remote interface
All protocols analyzers can be used with GL's NetSurveyorWeb™
---
Applications for Direct T1 E1 within SONET SDH

Back to Newsletter Index Page