2-Wire FXO/FXS Testing Worldwide Applications
22nd, Feb 2019
Welcome to another February 2019 Newsletter providing information and insight into our 2-Wire FXO/FXS Simulation, Test, and Measurement Solutions over TDM and IP Networks. 2-Wire FXO/FXS interfaces are ubiquitous over the world, however supervision and signaling standards vary greatly. GL solutions can easily adapt to these worldwide standards, including newly introduced Wide Band (WB) voice, and solutions encompass low to high density applications suitable for carrier grade testing.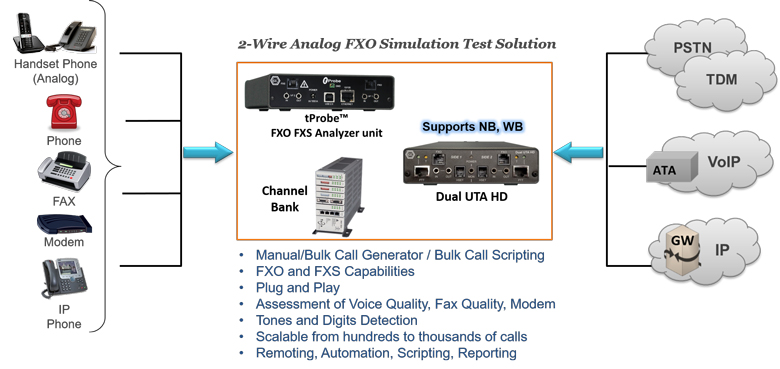 Overview
The death of
2-Wire FXO and FXS
has been exaggerated. Most of the home and business wiring is still copper 2-wire. The migration away from copper is still quite slow. Also, VoIP phones in the home and to a lesser degree in the workplace are still based around analog phone technology. 2-wire phones in the home have both analog 2-wire and VoIP gateway functions, as cable companies cater to copper wiring prevalent in homes. In other countries, where conventional telephone service is ubiquitous, the migration away from copper is equally slow.
GL's FXO FXS simulation in the tProbe™ T1 E1 testing product, FXO capability in the
Dual UTA HD
testing product, and FXO capability in
MAPS™ CAS/APS
provide both manual and automated testing capability for voice and voiceband features., including Voice, Fax and Modem. In addition, the 2-wire analog interface variations encountered in almost all countries is also supported.
There are three types of solutions -
Narrowband and Wideband 2-wire Analog FXO simulation with VQuad™ and Dual UTA HD hardware
MAPS™ FXO FXS Emulator with tProbe™ T1 E1 hardware
MAPS™ CAS with T1 E1 hardware and FXO/FXS channel bank for High Density Applications
---
24-Port VQuad™ HD Analog Phone Simulator (Narrowband and Wideband 2-wire Analog FXO simulation)
VQuad™ 24-port HD FXO
solution is an all-in-one 2U rack supporting both Wide Band (WB) and Narrow Band (NB) Audio. The 2U VQuad™ HD FXO system incorporates two embedded SBCs (Single Board Computer), each running latest VQuad™ software, along with 12 Dual UTA HD units supporting a total 24 FXO Analog ports. All 24 FXO ports are independent and can be fully automated or remote controlled for a fully autonomous test solution.
2-Wire Analog FXO can connect to any 2-wire interface (PSTN, ATA, Gateway) anywhere. Dual UTA HD 4-wire Analog connects to Balanced (headset - microphone/speaker), RJ22 (phone Handset), PTT (Push to Talk) connecting to any mobile radio/phone (DoD, Emergency Services, Government), with manual or automatic traffic generation and full call control.
Multiple VQuad™ 24-Port FXO Racks can be connected together for virtually unlimited FXO ports. When combined with the
WebViewer™
Central System all results and events can be saved directly to a Central Database and accessed using the WebViewer™ (direct access to the database tables is also available). Analysis is provided using GL Voice Quality Analysis (both POLQA and PESQ supported), Echo Measurement Utility (EMU), Fax Analysis, and Voice Band Analyzer (VBA).
---
MAPS™ FXO FXS Emulator with tProbe™ T1 E1 Hardware
MAPS™ FXO FXS is one such advanced test tool that supports emulation of functions of Foreign Exchange Subscriber (FXS) by analog phone lines and Foreign Exchange Office (FXO) by phones using the FXO and FXS ports on a
tProbe™ unit
. GL's
Message Automation & Protocol Simulation (MAPS™)
platform is a general purpose protocol emulator tool for various protocols encountered in the telecom space. MAPS™ FXO FXS simulator provides a facility to place call/answer incoming call on both FXO and FXS ports and automate the entire testing process using scripts.
MAPS™ FXO FXS Emulator includes features to handle different types of traffic like tones, digits (DTMF, MF, MFR2F, MFR2B), voice files, fax, and more. Data width of the traffic being sent/ received over the FXO/FXS ports can be extended up to 16 bits to improve signal to noise performance. Also,
MAPS™ FXO FXS
application can be used to simulate CAMA trunks connected to the 911 selective router (SR) and can be configured for non-intrusive monitoring of 911 services.

Tone Parameters for Different Countries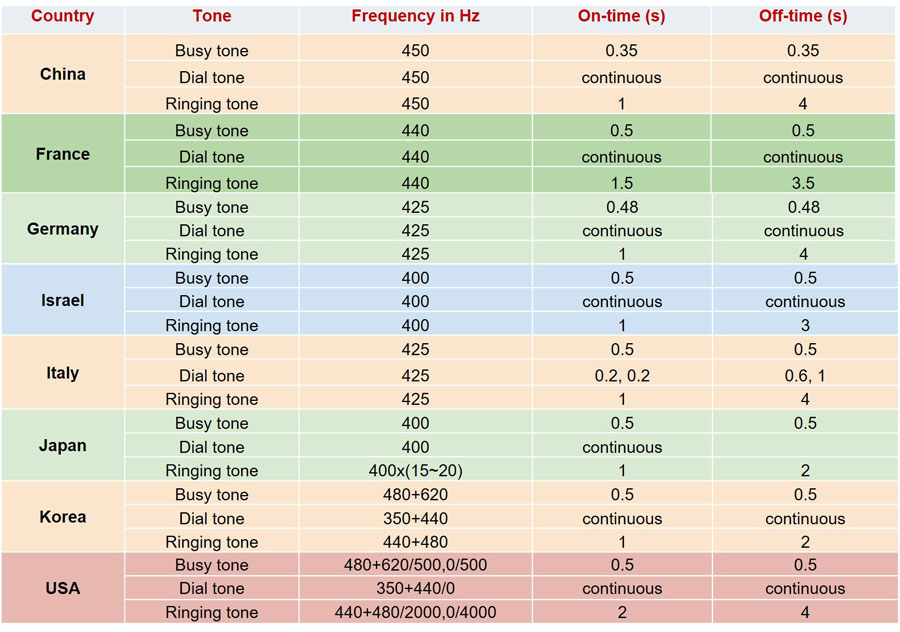 FXO/FXS Line Parameters and FXS Ring Parameters

MAPS™ CAS/APS FXO FXS Emulator with T1 E1 Hardware and Channel Bank
MAPS™ CAS/APS
is the high capacity Analog 2-wire Bulk Call Generator used to test a Central Office (CO), PBX, ATAs, Gateway or other telecommunications equipment, which provide local loop interfaces. It includes a compact system comprising of MAPS™ APS, Analog Interfaces, Patch Panels and other optional modules (Fax Emulation and VQT Analysis) in a rackmount system. MAPS™ APS system supports up to 96 independent FXO ports or FXS ports per 1U MAPS™ APS/ALS Server and APSCB-48. More can be achieved by simply scaling the system with a 4U MAPS™ APS Server sporting 2 Octal T1 E1 Cards which can then support up to 384 analog ports.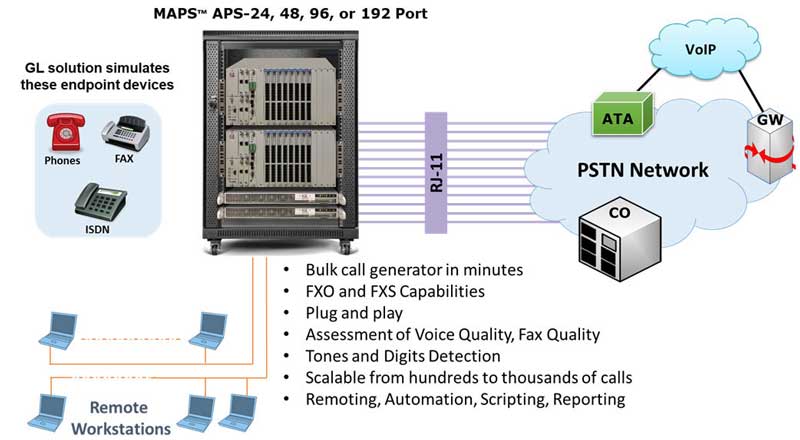 ---
Functions
Test Central Office, PBX, Gateway, Analog/Digital/VoIP Networks
Manual and Automated Bulk analog call simulation
Call monitoring and call recording
Multiple users and tests per system


FXO Capabilities

Up to 96 independent FXO ports per 1U MAPS™ APS (More can be achieved by scaling)
Full FXO Functionality via flexible scripts
Supported call scenarios

Caller ID
Two-way Calling
Three-way Conference Calling
Three-way Calling with Calling Party Number ID
VMWI - Voice Mail with MWI (message waiting indicator) & SDT (stutter dial tone)
Call Waiting - Detect tone, Call ID, Flash to accept call
Call Forwarding



FXS Capabilities

Up to 96 independent FXS ports per 1U MAPS™ APS (more can be achieved by scaling)
Central office simulation with two-way calling
User-programmable call progress tone generation for different countries/regions:

Dial tone
Ringback tone
Busy tone
Reorder tone
Howler tone (extended off-hook signal)

Ring generation with programmable ring cadence



CLI Capabilities

Fully Automated with CLI and external control
Remote accessible via CLI
TCP/IP based Client Server application
Script-based call simulation and control
Comprehensive API for call flow control and feature testing
API for Python, Java, .NET, TCL
Allows multiple clients to be connected simultaneously
Reserve/release analog lines through API
Independent execution available for all lines
Please review the above and give us a call if you are interested in the above Product/Software or for any other applications listed in our
website
. We would be happy to discuss your testing needs and we look forward to hearing from you.
Warm Regards,
Shelley Sharma
Phone: 301-670-4784 x114
Email:
info@gl.com

Back to Newsletter Index Page