Digital and Analog Call Simulation
GL's T1 E1/Analog Test Suite supports analysis and emulation of legacy protocols (MFCR2, E&M, SS1/SS4, SS5, Voice Call Signaling, 2-wire Call, SF Signaling (DTMF)) applicable to Federal Aviation Administration "FAA" within their National Airspace System "NAS" Ground-to-Ground Air Traffic Control Network and Voice System (NVS) to Analog Interphone.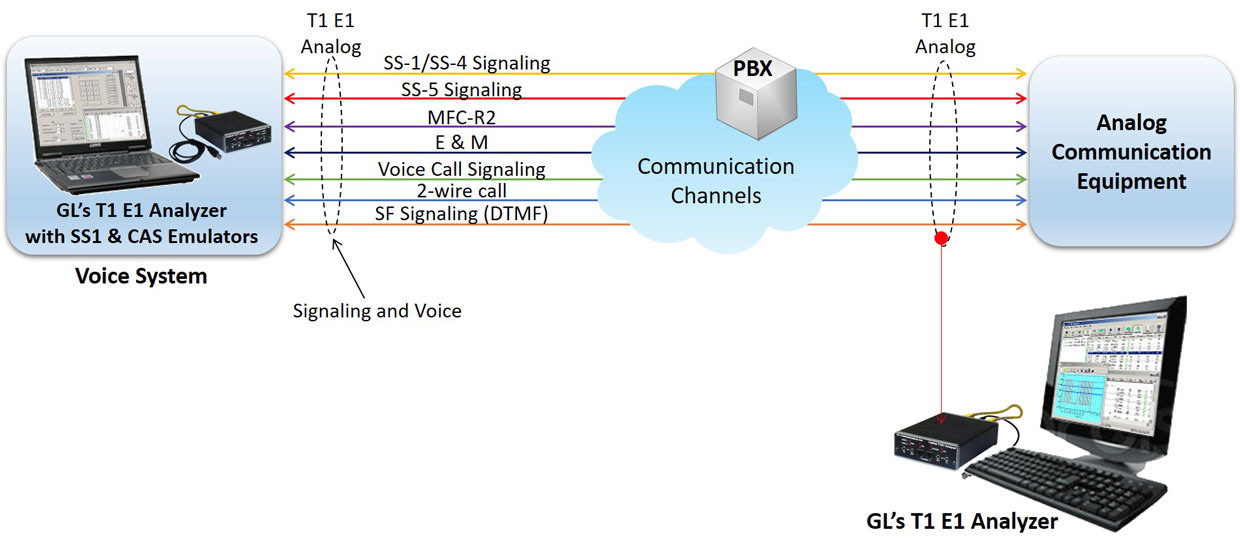 MAPS™ CAS Protocol Simulation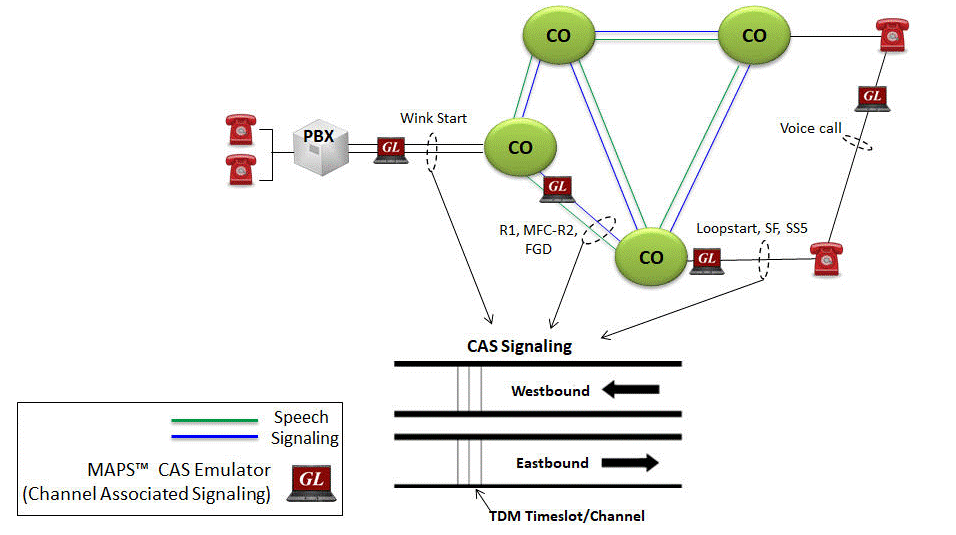 MAPS™ CAS Emulator is a client-side application that works along with GL's T1/E1 Analyzer Cards and Windows Client/Server software. This test tool is used to perform testing using CAS signaling and transmission and detection of TDM traffic over T1/E1 using scripts, and offers a complete solution for testing, troubleshooting, and maintenance of devices and networks implementing CAS. MAPS™ CAS automates the testing procedure with ready scripts for inbound and outbound calls. Calls are established, once the signaling information such as signaling bits, DTMF/MF digits, or Tones are sent or detected.
Supported CAS Protocols includes -
T1 Wink Start (R1 wink)
T1 Loop Start and T1 Ground Start
T1 Feature Group D (FGD)
T1 Immediate Start
T1 CAMA (Centralized Automated Message Accounting)
E1 MFC-R2 (All variants, full /semi compelled)
E1 European Digital CAS (EUC)
E1 Digital E & M
E1 International Wink Start
E1 Sweden P7
Any User-Defined CAS Protocol
Supported Analog Legacy Protocols Simulation
Single Frequency (SF) Signaling
Voice Call Signaling
SS1/SS4 Signaling
SS5 Signaling
Analog MFCR2
For more info, please visit MAPS™ CAS Emulator webpage.
---
Real-time & Remote SS1/SS4 Emulator and Analyzer
Selective Signaling "SS-1" is a 2 and/or 3 digit dial system used by the Federal Aviation Administration "FAA" within their National Airspace System "NAS" Ground-to-Ground Air Traffic Control Network. It is used on leased and FAA lines between the Air Route Traffic Control Center's "ARTCC", Terminal Radar Approach Control "TRACON", Air Traffic Control Tower's "ATCT", Lockheed Martin Flight Service Hub's "FS-21", Military, National Weather Service and nongovernmental aviation facilities for the control and management of aircraft flights.
GL's SS1 Analyzer detects and analyzes tone sequences that make up SS1 dial digits. Sequences of pulse and guard tones are detected, decoded, and assembled into their corresponding dial digits. The tone sequences are also verified for compliance against a "specification" parameter file. The SS1 Emulator (Dialer) application provides the ability to setup and dial tone sequences that make up SS1 dial digits.
For more info, please visit SS1/SS4 Analyzer webpage.
---
MAPS™ Analog Phone Simulator (APS)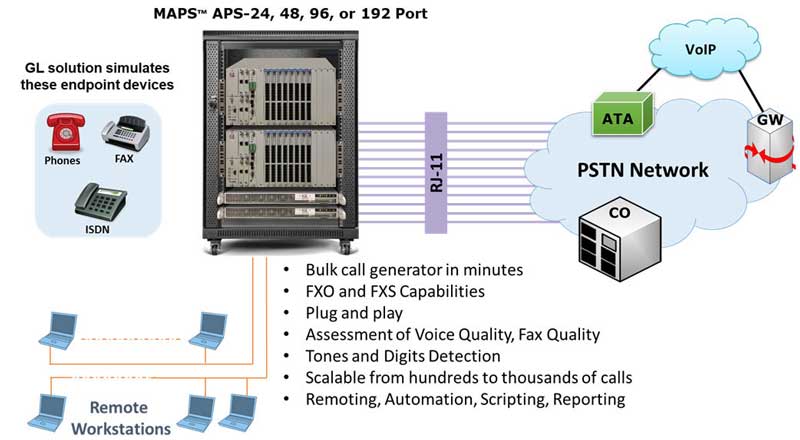 MAPS™ APS is the high capacity Analog 2-wire Bulk Call Generator used to test a Central Office (CO), PBX, ATAs, Gateway or other telecommunications equipment, which provide local loop interfaces. It includes a compact system comprising of MAPS™ APS, Analog Interfaces, Patch Panels and other optional modules (Fax Emulation and VQT Analysis) in a rackmount system. MAPS™ APS system supports up to 96 independent FXO ports per 1U MAPS™ APS Server and APSCB-48. More can be achieved by simply scaling the system with a 4U MAPS™ APS Server sporting 2 Octal T1E1 Cards which can then support up to 384 analog ports.
For more info, please visit 2Wire Analog and 4Wire E&M Bulk Call Generator webpage.
---
VQuad™ Dual UTA HD with Analog (2wire, 4wire) option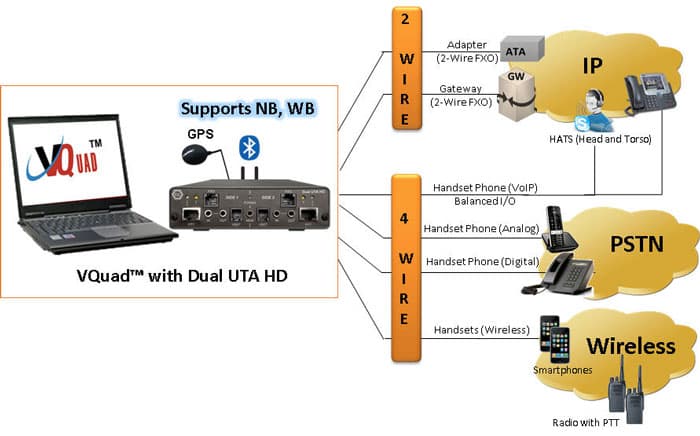 GL's VQuad™ Dual UTA HD FXO Analog option along with Voice Quality Testing (VQT) provides the complete automated network testing solution including four analog 2-wire interfaces (RJ-11) and the voice quality measurement.
VQuad™ with Dual UTA HD supports Wide Band (WB) and Narrow Band (NB) (for HD and SD Audio) 2-wire Analog FXO, which connects to any PSTN, ATA, and next generation Gateways.
VQuad™ with Dual UTA HD supports WB 4-wire Analog which interfaces with Balanced (replaces headset (mic/speaker)), RJ22 (replaces the phone Handset), PTT (Push to Talk) connects to any mobile radio (DoD, Emergency Services, Government) and Mobile phones.
For more info, please visit Automated Analog (2-wire, 4- wire) Voice Quality Testing webpage.
---
24-Port VQuad™ HD Analog Phone Simulator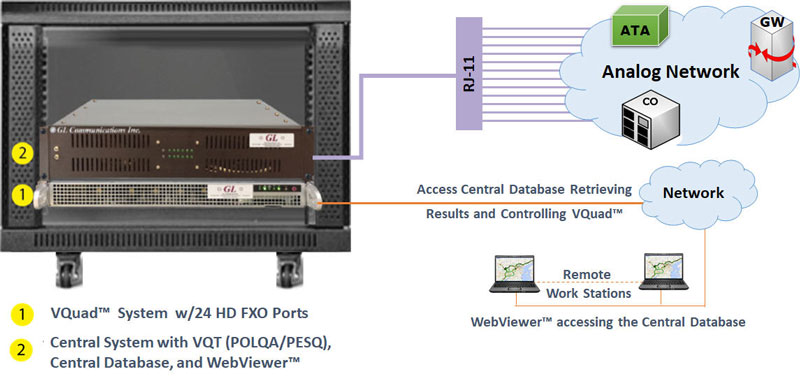 VQuad™ 24-port HD FXO solution is an all-in-one 2U rack supporting both Wide Band (WB) and Narrow Band (NB) Audio. The 2U VQuad™ HD FXO system incorporates 12 Dual UTA HD units supporting a total 24 FXO Analog ports, which are independent and can be fully automated or remote controlled. Multiple VQuad™ 24-Port FXO Racks can be connected together for virtually unlimited FXO ports.
Supports 24 independent HD FXO ports per VQuad™ system (2U)
Wide Band (WB) and Narrow Band (NB) support (for HD and SD Audio)
Fully automated and remote accessible via CLI
Remote accessible via Central Database
Full FXO Functionality and Analysis via flexible Scripts
For more info, please visit VQuad™ webpage.
---
VQuad™ Probe
GL's VQuad™ Probe is an all-in-one self-contained node supporting multiple physical interfaces for connecting to practically any wired or wireless network while automatically performing voice and data testing. The RJ-11 2-wire analog jack (FXO) gives the VQuad™ Probe the ability to act as a telephone. This is a POTS interface that allows users to place calls, answer calls and utilize all of the probe's voice quality and delay features. Supports Fax Testing using the Dual UTA HD 2-wire FXO or 4-wire analog interfaces. It supports all standard and customized call progress tones.
For more info, please visit VQuad™ probe webpage.
---
Dual Universal Telephony Adapter (UTA) HD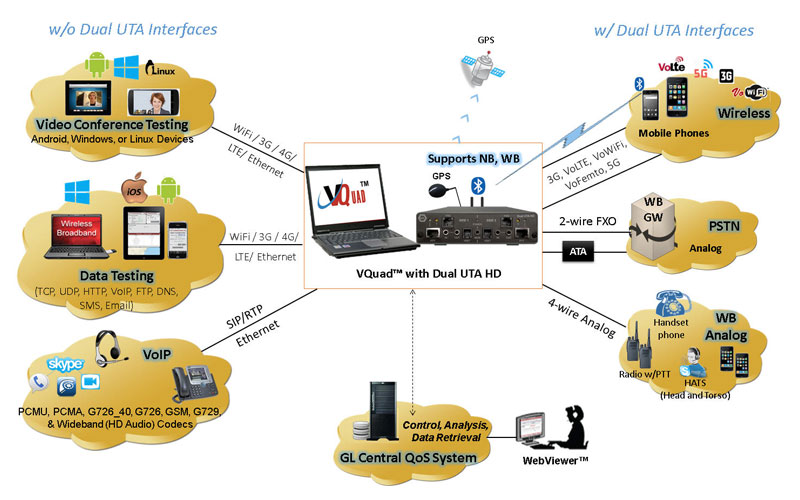 The Dual UTA HD (high density) is a comprehensive hardware device designed to interface and test the voice, video, and data quality of telecommunication networks. It is used in conjunction with GL's VQuad™ software application, the Dual UTA HD simplifies end-to-end testing of voice quality, echo, noise, and other impairments of TDM, VoIP, and Wireless networks.
VQuad™ with Dual UTA HD supports Fax Testing (sending and receiving) up to 4 independent and simultaneous T.30 faxes. It also supports mobile audio interface for Smartphones (iPhone, Android) where the Dual UTA HD acts as a headset connection to the Smartphone.
The VQuad™ with Dual UTA HD system connects to any network or any end-equipment supporting HD (WB) audio on all interfaces. The Dual UTA HD includes interfaces for 2-wire analog FXO, 4-wire analog (Tx/Rx), Push-to-Talk for mobile radios, and Bluetooth for connecting to any mobile phone.
For more info, please visit Next gen dual uta hd voice testing webpage.