Digital Central Office Switch Simulator (DCOSS)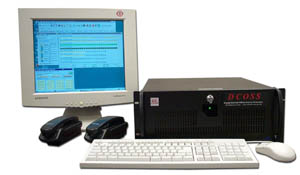 DCOSS Software Version 5.4.5 is Now Available with Windows XP Support also! Click here to download
Description | Related Links | Features | Screenshots
Specifications | Latest Software | Buyer's Guide
---
Description

The Digital Central Office Switch Simulator (DCOSS) converts a PC (portable, tower, rack-mount) into a digital central office switch simulator, PBX and switch, complete with T1, E1, POTS, and VoIP Interfaces.

A user-friendly graphical interface (GUI), through which complex switching, signaling, and digital transmission functions are easily controlled, provides the ease of operation as well as the flexibility required from telephony test equipment. In addition, the DCOSS provides a user-friendly GUI, remote client access (GUI, CLI, SDK), and scripting with which users can capture the performance of networks in a wide variety of scenarios.
DCOSS is ideal for simulating and testing advanced telecom networks and products, including switches, gateways, and transmission systems. The DCOSS can also be used for verifying T1/E1 signaling protocols of new systems. These protocols include a variety of T1/E1 CAS, PRI ISDN, BRI-ST ISDN, SS7, No Call Control, Fax over T1/E1 (V.29, V.27, V.33, and V.17), Modem over T1/E1 (V.21, V.23, V.34, V.90, and V.92), and VoIP protocols (SIP, H.323, MEGACO, MGCP, Fax over IP – T.38).
---
DCOSS Related Links
---
Features
User-Friendly GUI


Portable system with digital T1/E1 trunks, SS7, PRI/BRI ISDN, POTS (Plain Old Telephone Set) and VoIP Interfaces


Test Central Office, PBX, Gateway, Analog/BRI/VoIP Networks


Available Protocols Include:



T1 CAS: R1, Loopstart, Ground Start, Feature Group D, Immediate Start
E1 CAS: R1, MFC-R2, Digital E&M, European Digital CAS
PRI ISDN - includes USA ISDN, Euro ISDN, Asian ISDN, T1 NFAS
SS7 - includes support for MTP 1-3, ISUP, TUP, TCAP, SCCP, SCP
BRI-ST ISDN
VoIP protocols (when connected to GL Gateway) - SIP, H.323, MEGACO, MGCP
DCOSS FAX over T1/E1 - V.29, V.27, V.33, and V.17
DCOSS Fax over VoIP – T.38
DCOSS Modem over T1E1 - V.21, V.23, V.34, V.90, and V.92



Support for up to 16 T1's and/or E1's in single DCOSS system


Ability to select, through software, whether board is T1 or E1 (requires optional hardware)


Generates and Receives Manual or Automatic Calls simultaneously on any or all timeslots


Record and Playback of PCM Voice Files simultaneously over all timeslots.
Supports Voice Quality Testing using PESQ (ITU-T P.862.1/2).


Real-Time FAX Call Generation/Reception (V.29, V.27, V.17, V.33) simultaneously over all timeslots. Includes Fax Quality Assessment.


Send/Receive Modem Traffic (V.21, V.23, V.34, V.90, V.92) simultaneously over all timeslots. Includes Modem Quality Assessment.


Transmit and Detect DTMF/MF digits simultaneously over all timeslots


Transmit and Detect Single- or Dual-Frequency Tones simultaneously over all timeslots


Switches Calls among Timeslots/Trunks with Protocol Conversion capability


Pass/Fail Calls using User-Defined Pass Criteria


Real-time status of each call


Real-time statistics with hourly information


Save and Load Protocol, Trunk and Dialing Parameters as User-defined Configurations


Multiple 2-Wire (RJ11) -> (up to 64 interfaces) Standard Telephone Interfaces (FXS)


BRI ISDN European ST-Interface (16 port)


VoIP Protocols and Fax Simulation when combined with GL Gateway


Manual or Automatic ANI (Caller ID) Generation


Remote Access Capability (Client/Server) using GUI or Command Prompt. Access to OCX/DLL to develop user-defined client.


Automatic Bulk Call Generation/Reception for load testing digital/analog trunks


Bulk Call Scripting with simple point-and-click script setup. Allows for conditional commands as well as script looping.
DCOSS can automatically answer a call, play a series of user-defined prompts, and employ number recognition in order to gather information, identify errors and fully test an Interactive Voice Response (IVR) system.
DCOSS provides the solution required for testing switches, gateways, and networks using a variety of signaling protocols. As depicted below, DCOSS can simulate both ends (or one end) of a complex switching network with a variety of traffic generators (both internal and external). DCOSS can also be controlled remotely using the optional Client/Server application. The Remote Capability allows full control of many DCOSS's from a single client as well as many clients accessing a single DCOSS.
Simulating traffic and analyzing traffic are integral parts of a central office simulator test tool. DCOSS provides the functionality of bulk calling and utilizes a user-friendly GUI for configuring simplistic as well as complex scenarios on a per-timeslot basis. When more complex configurations are desired, including conditional statements and Do Loops, DCOSS provides Bulk Call Scripting, which utilizes a point-and-click interface for creating and editing bulk call scripts.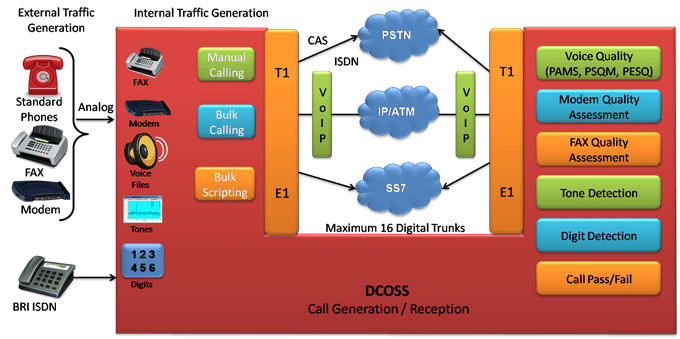 Using the DCOSS graphical interface, complex switching solutions can easily be configured while providing total voice/data throughput. As depicted below, protocol conversion is accomplished during call switching.

GL's Digital Central Office Switch Simulator (DCOSS) along with the GL's Media Gateway (MG) supports traffic and signaling testing of VoIP and IP networks. The DCOSS / MG combination provides user friendly bulk call generation and reception for various voiceband traffic types including voice, fax, and modem. It can be connected to any IP Phone, softphone, VoIP PBX, or VoIP Network / Cloud.

---
Screenshots
Setup/Status
Events/Records
Functionality
Routing
Parameter Configuration

Back to Protocol Emulation Index Page