Mass Transit Systems Incorporate State-of-the-Art Telecommunications Infrastructure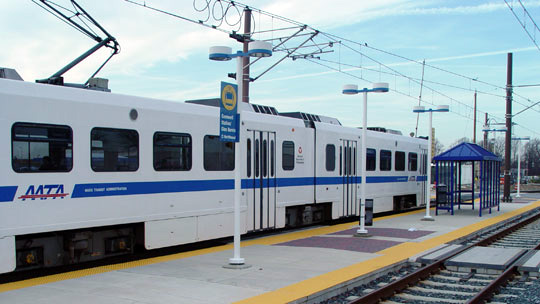 Mass Transit systems rely on advanced telecommunications systems to operate efficiently, safely, provide timely information to its patrons, and provide a comfortable experience. These days mass transit systems use:
Right of ways with Fiber Optic cables and SONET, OTN, or Gigabit Ethernet transmission systems

For broadband voice, data, and video for all stations
For cost-effective, redundant, and reliable transport
For high capacity during emergencies when bandwidth demand is greatest

Wireless and wired broadband applications for voice, data, and video

For diverse methods of dispatch, coordination, and control
For interoperable communications between agencies
For alternate technologies of communications for emergencies and disasters
For dissemination of information to the public in multiple ways

GPS (Global Positioning System) for locating and timing

For efficient fleet management
For automatic vehicle location and in-vehicle navigation
For GIS (Geographic Information Systems)

Super fast distributed and networked computers for operations, maintenance, and planning

To avoid a single point of failure
For a responsive command and control center
GL Communications is participating in the design, planning, and operations of communications systems for many mass transit systems. In this and future newsletters we will share some of the more interesting aspects of these projects.
GL Supports Light Rail System in Baltimore, MD.
In this issue we highlight our technical support to the Light Rail System in Baltimore, MD.
We continue to support the communications infrastructure upgrade of the Light Rail System in Baltimore, MD. The upgrade project involves a fiber optic system along the rail road right of way, a WAN open transport network, a frame relay network for automatic fare collection, and other communications systems. Other aspects that GL is involved, includes train control and customer information systems, such as ADA compliant Public Address and Signage systems.
We hope that you will enjoy reading these newsletters as much as we like participating in these projects. Future issues will highlight GL's support for projects such as:
WiMAX and WiFi technologies
Simulcast Trunked Radio Systems
HVAC and Environmental Control of Outdoor Equipment Cabinets
Underground Tunnel Radio Communications Systems

Back to Consulting Services Newsletters Page