VoIP Network Testing w/ GL's Media Gateway

---
Overview

GL's Digital Central Office Switch Simulator (DCOSS) along with the GL's Media Gateway (MG) supports traffic and signaling testing of VoIP and TDM networks. The DCOSS / Media Gateway combination provides user friendly bulk call generation, scripting, and other automated call generation and reception for various voiceband traffic types including voice, fax, and modem traffic. It can be connected to any TDM or IP Phone, softphone, VoIP or TDM PBX, or TDM or VoIP Network / Cloud.
The DCOSS / Media Gateway supports internal traffic generation/ reception (Fax, Modem, Voice Files, Digits and Tones) as well as external traffic from optional analog 2-wire and BRI 4-wire interfaces. The DCOSS / Media Gateway supports a variety of different TDM and VoIP protocols. Support for VoIP includes SIP, H.323, Megaco, MGCP, and T.38 fax. Support for TDM includes ISDN, SS7, and CAS. The following features are also supported: bulk calling, scripting, and remote client/server access.
---
Applications
Testing VoIP network elements, including IP phones, softphones, IP PBX
Fax and Modem traffic generation and verification
Stress testing with bulk call generation capability
Main Features:
Dual redundant Ethernet trunks
Call capacity up to 96 or 120 calls simultaneously (scalable depending on the GL Media Gateway selected)
Voice, Fax and Modem Call Generation and Reception
DTMF/MF Generation and Detection
Single/Dual Frequency Tone Generation and Detection
Call Monitoring and Recording
Automatic Bulk Call Generation/Reception for Load Testing
Bulk Call Scripting
Call Statistics and Call Detail Records
Save/Load all parameters as user-defined configurations
---
Media Gateway (Basic Configuration)
GL's Media Gateway (MG) in combination with GL's DCOSS is used to provide bulk call traffic generation for VoIP.

Features
Supports up to 96 to 120 simultaneous connections using dual redundant Ethernet ports
Supports VoIP protocols such as SIP, H.323, and MEGACO, MGCP
Supports codecs such as G.711, G.726, G.723.1, G.720A, EVRC, and GSM-FR
Supports G.165 and G.168 Echo Cancellation with 32, 64, 125 ms tail length
Fax and Modem transport and T.38 Compliance
Supports VoIP per IETF RFC 2550 and 3551standards
---
Other Configurations
The MG can also be used with GL's T1E1 Analyzer for various call capture and analysis functions.
MG with USB T1 / E1 pod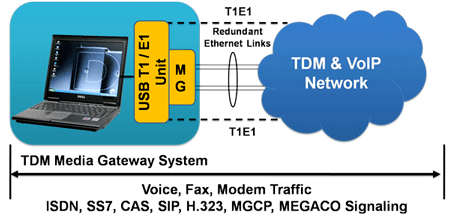 MG with Universal T1 E1 Cards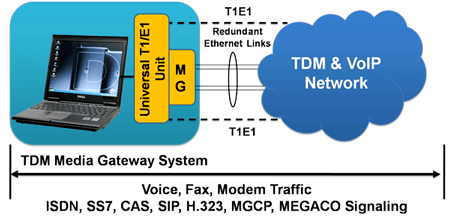 ---
DCOSS Related Links
---
Buyer's Guide:
* Specifications and features subject to change without notice.

Back to Protocol Emulation Index Page