Test Requirements and Solutions for
VoIP Phone Manufacturers
Overview
Accurate and reliable assessment of speech quality within VoIP and PSTN networks is vital for the satisfaction of the end-user or customer experience. Businesses spread across geographic locations and increased telecommuting has triggered drastic demand for VoIP phones. Consequently, VoIP phone manufacturers face tremendous pressure to ensure mass production, while also ensuring devices have latest features and at the same time they are free of noise, echo, and other hindrances which may cause a degraded voice quality.
GL provides VoIP manufacturers and developers with a test solution to evaluate IP phones according to international ITU-T standards for measuring end-to-end audio performance as well as the acoustic performance. End-to-end Speech quality assessment can be done using objective evaluation method which involves industry standard algorithms such as POLQA and PESQ in order to compare original and processed speech signals.
Below find an overview of VoIP phone test requirements and solution.

Test Requirements and Solutions for VoIP Phone Manufacturers
Requirement
One of the major VoIP phone manufacturers wished to evaluate their VoIP Phones for speech quality performance before beginning mass production of phones. The manufacturer looked for testing methodology that proves satisfactory audio performance of VoIP Phones when operating as a handset, a headset or as a hands-free device (handset in speaker mode) against real-network conditions for bandwidth variations, CODECs, jitter, packet loss and more.
Devices under Test
IP Terminals, IP Gateways, IP Networks, IP SoftPhone, ATAs
Solution
GL's VQuad and VQT solution was proposed for the VoIP phone manufacturer, which includes VQuad™ with Dual UTA HD, VQT POLQA, and WebViewer™ (Central Database). The solution provided,
End-to-End Testing where the VQuad™ with Dual UTA HD (or VQuad™ Probe HD) sits as the end point in the network, whether as PSTN phone or VoIP Phone, and simulates calls to DUT (IP Phones). This solution tests all possible call scenarios and network conditions.
Identify and mitigate potential issues in the VoIP terminals that impacts voice quality or system performance.
Supports the use of Head and Torso Simulator (HATS) or use of simulated Ear and Mouth for evaluating audio performance of the VoIP Phone when operating as a hands-free device (acoustic testing using the speaker mode)
When testing, the customer may place a call between two IP Phones (DUT) with the VQuad™ Probe HD connected to the IP Phone for sending/recording audio. This scenario can also be used to test the VoIP network. Any of the possible scenarios described below can be considered for testing. The results from VQuad™ and VQT will help compare the speech quality measurement scores based on different voice codecs with support for Narrowband, Wideband, Super-Wideband. POLQA supports the latest HD-quality speech coding and network transport technology, with higher accuracy for 3G, 4G/LTE and VoIP networks.
Required GL Hardware, Software, and Accessories
VQuad™ with Dual UTA HD, VQT POLQA, and WebViewer™ - Requires customer WinPC Or
VQuad™ Probe HD, VQT POLQA, and WebViewer™
---
Different Scenarios for testing VoIP Devices
GL's VQuad™ Probe HDor the VQuad™- Dual UTA HD test equipment supports intrusive call quality assessment. It is a comprehensive hardware device designed to interface at end points and test the voice quality of telecommunication networks. The test equipment features all the circuitry necessary to universally adapt to any telephony instrumentation, including VoIP phones. The entire procedure of placing and receiving calls between end points is automated; quality is measured and reported centrally for verification.
In all the scenarios depicted below, device 1 is connected to VQuad™ Probe HD port 1 and device 2 is connected to VQuad™ Probe HD port 2. The call is established between these devices. Once the devices are in connected state, you can send ITU-standard male and female voice files from IP Phone 1 and receive the files from the IP Phone 2 and vice versa. Both the Reference and Degraded voice files are submitted to GL's Voice Quality Testing (VQT) software for speech quality assessment per ITU POLQA (ITU-P.863) or ITU PESQ (ITU-P.862) standards.
The tests report a variety of measurements including VQT POLQA MOS, E-Model, Active Speech Level (ASL), Mean Noise Level (MNL), RMS Mean Power, SNR, Jitter, Audio Dropout Analysis, and One Way and Round-Trip Delay measurements. Once a test is scripted as per customer requirements, it can be reused for repeated future tests.
All results/events/errors are available on the WebViewer™ (Central Database) with outputs going to PDF, Excel or CSV formatted files for combining with their own results. The results can be filtered and queried using the WebViewer™ (web browser) with Custom Reports generated per user-specified requirements. The Custom Reports can also be generated automatically using the WebViewer™ Scheduler which supports results sent via email or SMS.
Method 1: Connect to VoIP/PSTN phones via Headset Ports for call control
The VQuad™ Probe HD contains 2 Handset testing interfaces (RJ22). This allows the user to replace the handset of any telephone at the Curly Cord. This method is applicable for POTS, Digital PSTN and VoIP telephones that contain a handset.
Method 2: Connect to VoIP phone via Headset Port on one end and other end point to network directly for call control
The VQuad™ Probe HD contains two FXO ports for analog call control, Bluetooth® for wireless call control, as well as two Ethernet ports for SIP call control to directly interface with the VoIP network. This allows the user to replace one of the telephony units with VQuad™ Probe HD at one end for testing. This method is applicable for POTS, VoIP and Wireless networks.
Method 3: Balanced In/Out Audio method for testing Handsfree mode and Softphones
The VQuad™ Probe HD contains 2 pairs of Balanced I/O (3.5mm In/Out jack) testing interfaces.
Balanced I/O is used for connecting to a VoIP Softphone (i.e. Skype), Head and Torso Simulator (HATS), Ear and Mouth Simulator, or any device supporting audio (including Mobile phones).
In this scenario shown below, the VQuad™ Probe HD In/Out Audio ports on Side 2 are plugged into the Mic/Speaker connection of a PC, for instance connecting to a softphone such as Skype. This connection basically represents a Headset connected to the PC.
The VQuad™ Probe HD In/Out Audio ports on Side 1 are plugged to the Ear and mouth simulator (acting as Head and Torso Simulator (HATS)) which provides a realistic reproduction of the acoustic properties of an average adult human head and torso, receiving and transmitting any audio from the IP phone device in the proximity.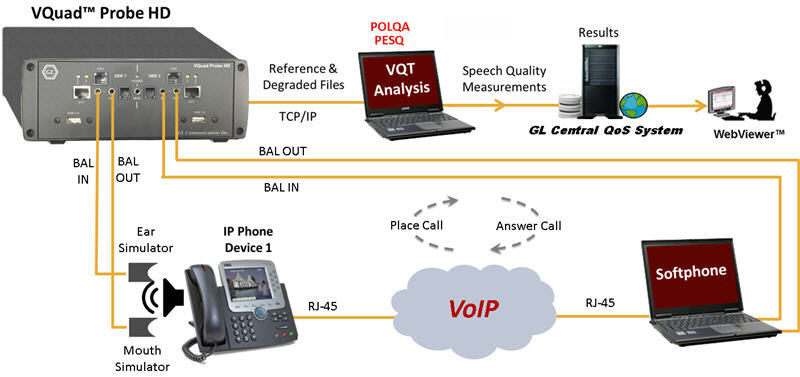 ---
VQuad™ Operations
VQuad™ supports full automation of Call Control as well as traffic (sending/recording audio) using the VQuad™ Scripting. The VQuad™ Scripting can be very simple or quite complex depending on the testing requirements, and a single VQuad™ Script can control both sides of the call.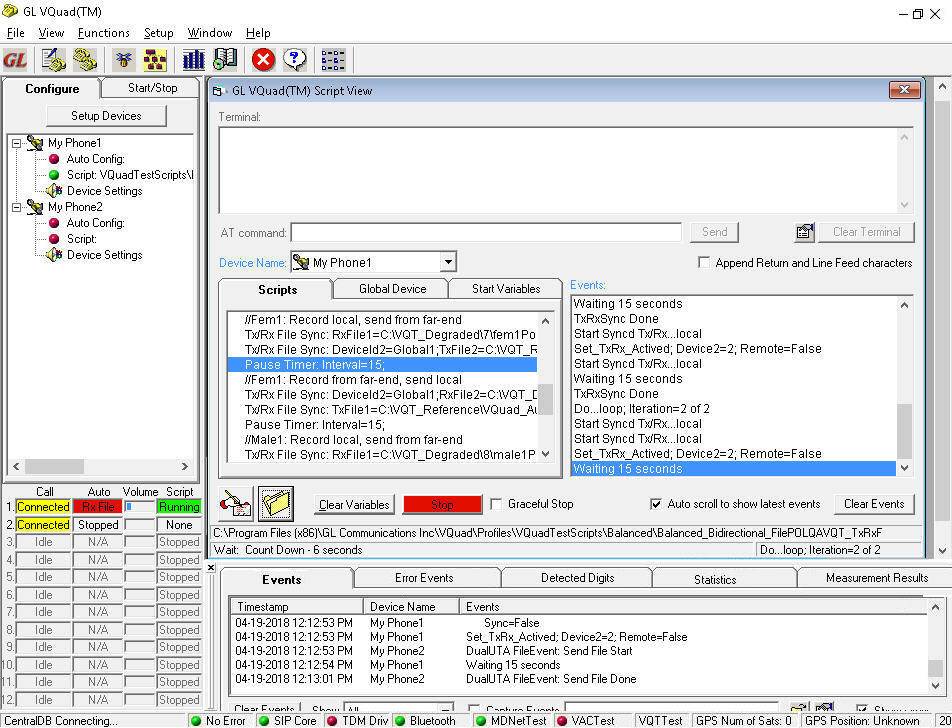 Automated VQuad™ Test Script Execution
The VQuad™ solution can send/record audio during the established call and transfer the recorded audio to the GL VQT software for automated analysis using either VQT POLQA or VQT PESQ algorithms. The VQT software generates the MOS along with several audio metrics.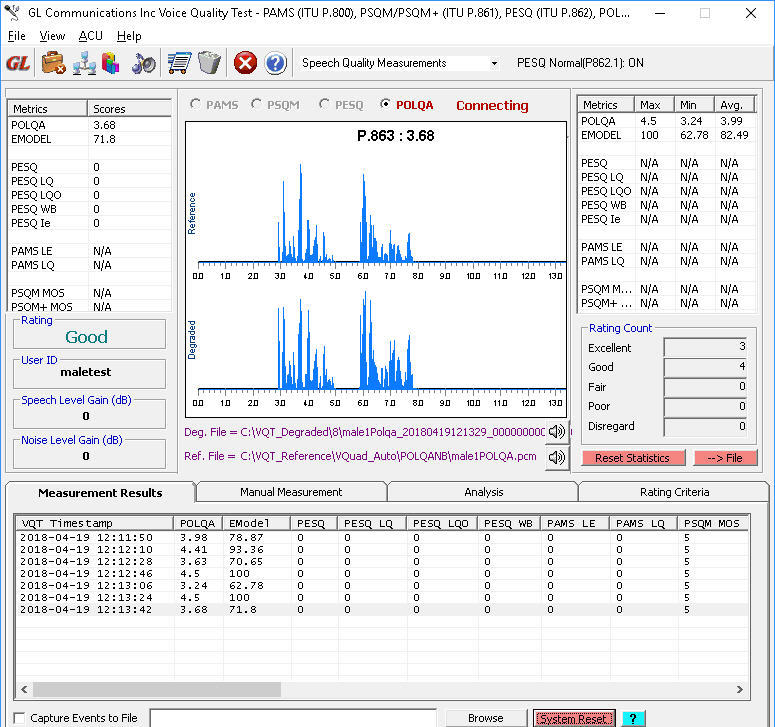 'Good' Rating Voice Quality Result Display
---
Important Features
Test VoIP Phones when operating as a handset, a headset or as a hands-free device (speaker mode)
Connect to any phone by replacing the handset at the curly cord (VoIP, Analog and Digital Phones supported)
Perform VoIP ATA (Analog Telephone Adaptor) and Gateway testing
Compact and portable solution for testing end-to-end voice quality
Voice Tests per ITU-T algorithms (POLQA NB, WB, SWB and PESQ LQ/LQO/WB).
Load testing possible with up to six Dual UTA HD units (12 devices) connected and running tests simultaneously.
Round Trip Delay and One-Way Delay Measurements as well as Echo Measurements
Automatic send/receive of voice files over established calls
Time/Digit/Tone triggering of send/receive voice files.
Synchronized software for sending/recording voice files at multiple locations
Additional measurements include Jitter, Latency, Noise and Signal Levels.
Results available in real-time or post-processing
Fully automated and remote accessible via CLI and API
Remote accessible via Central Database
Feature testing including Caller ID, 3-way call (conference call), call transfer, call forwarding, call waiting with Call ID
Send/Detect DTMF and user-specified single/dual-frequency tones
Flexible architecture and features for recording locations, parameters, and time
Customized consolidated results along with graphical report using WebViewer™ (web browser)
Display results in Google Maps using the optional GPS receiver while connected to the VQuad™ Probe HD
---
Additional Information
Voice, Video & Data Quality Testing on All Networks

Self-contained Unit for Voice, Video and Data Testing

Next Generation Test Equipment for all Telephony devices

Speech Quality measurement using POLQA, PESQ

Verify speech quality on wireless network

Mobile application for testing speech quality

Web based client for speech quality assessment results