GL Enhances VoIP Bulk Call Generator
Gaithersburg, Maryland, USA - April 05, 2013- GL Communications Inc. announced today its enhanced PacketGen™ software - a PC-based real-time VoIP bulk call generator, with both SIP signaling and RTP generation.
Speaking to reporters, Mr. Karthik Ramalingam Senior Manager for Product Development of the company said, "PacketGen™ is based on a distributed architecture with SIP and RTP software cores modularly stacked in one or many PCs to create a scalable high capacity test system capable of generating 2000 simultaneous calls."
He added, "PacketGen™ can be used to test basic functionality and verify proper protocol implementation in SIP based equipment such as SIP phones and Network Servers, Proxy Servers, Registrar Servers, and PSTN and Media Gateways. And it has now been enhanced with many features that include: high-density performance, additional codec support, multi-frame interval, media re-negotiation, and more."
Mr.Ramalingam further added, "Enhanced PacketGenTM with its newly added features provides great value in both SIP signaling and RTP generation to VoIP user community,"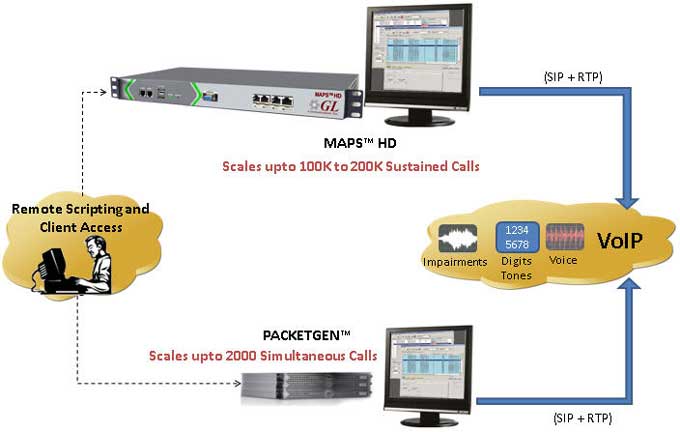 ---
Important Enhancement Introduced to PacketGen™:
High-Density Performance (2000 Simultaneous Calls)
PacketGen™ on an i7 PC can now support 2000 simultaneous calls with both SIP and RTP generation. This performance is with a G.711 codec, while other codecs may provide higher call densities.
The distributed architecture of PacketGen™ allows achieving higher call rates and media streams, and provides greater scalability i.e. easy to add additional load generation capacity.
Support for Additional Codecs
Additional codecs GSM-HR (Half Rate) and GSM-EFR (Enhanced Full Rate) are now supported.
Support for Multiple Frame Interval (Packetization Time - "ptime")
All supported codecs can operate with frame interval in multiples of minimum frame interval supported for the codec. For example minimum frame interval for AMR/AMR-WB is 20 msec, now we can operate with ptime like 40, 60, 80 msec.


Option to Enable or Disable VAD (Voice Activity Detection)
Provides option to enable or disable VAD for all VAD supporting codecs such as AMR, AMR-WB, HR and EFR.


Handles Media Re-Negotiation.
Calls support media re-negotiation and are updated with media parameter changes like codec, port indicated during Re-INVITE or during call Off-Hold.


Supports REFER, NOTIFY and INFO Methods
Now calls can process REFER, NOTIFY and INFO methods during call and are replied with 200 OK responses.
For comprehensive understanding of the product, please visit PacketGen™ web page.

Back to Press Releases Index Page