Press Release : GL Announces
PacketBroker to Quad Port Ethernet/IP Tester
Gaithersburg, Maryland, USA – July 27, 2015 - GL Communications Inc., announced today its enhanced PacketExpert™, a Quad Port Ethernet/IP Tester. It is enhanced with a highly precise non-intrusive Wirespeed Ethernet Tap referred to as PacketBroker.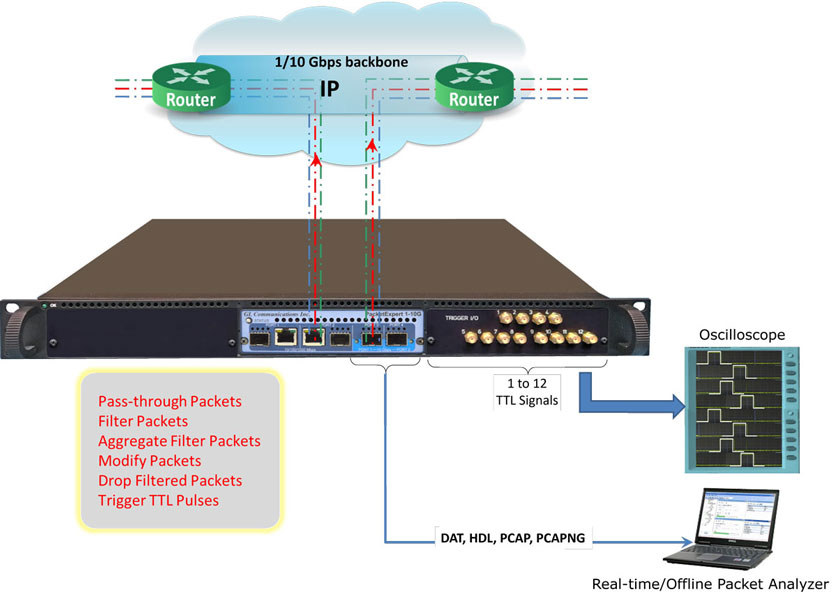 Speaking to the press, Mr. Jagdish Vadalia, a Senior Manager for product development of the company said, 'The PacketBroker is a new software application added to GL's PacketExpert™ Ethernet Test Tool, that allows the test tool to be used as a highly precise non-intrusive Wirespeed Ethernet Tap with all the necessary features packaged within to capture real world traffic, define multiple filters for drilling-down to traffic of interest, generate triggers based on packet filters, and transmit filtered/aggregated packets for deep-packet data analysis."
He added, "The PacketBroker application, allows PacketExpert™ to capture packets at wirespeed (up to 1 Gbps) non-intrusively over Ethernet (Electrical) and Optical ports at nano-second precision. It supports both Tapping (Pass through mode), and Tap-Filter-Aggregate-Modification modes.
PacketExpert™ operation is bi-directional, which means that both transmission directions are simultaneously processed by the equipment."
Mr.Vadalia further explained, "Tap feature helps forward traffic between the Pass-through ports (Port 2 and Port 3) without any modification or delay. This makes the Ethernet link connected between Ports 2 and 3 act as a transparent full duplex Ethernet link, so that the connected devices/networks will not notice that a device is connected between them.
Filter supports wirespeed filtering of Layer 2/Layer 3/Layer 4 Ethernet packets, with each port featuring up to 16 simultaneous filters. Mono Trigger and Continuous filter modes are also supported. Users can set up to 16 simultaneous filters each of 40 bytes in length. Filter can be set to any offset within the packet, which gives flexibility to filter any field header including the payload.
Packet Modification feature modifies filtered packets using an inband method of conveying information such as Timestamp, Board Serial No., Port No., and Filter No., to the (output port) packet analyzer by carrying this information in the packet's MAC header. The filtered packet's MAC header's Destination MAC Address (6 bytes) and Source MAC Address (6 bytes) fields are modified.
The aggregation feature provides the aggregation of filtered traffic from different ports as explained here: traffic from Port 2 (Pass-through port) is normally sent out on Port 1 (Output port). Similarly, filtered traffic from Port 3 is sent out on Port 4. Alternatively, the filtered traffic from both Port 2 and Port 3 can be aggregated and sent out on a single port as a single stream. Since the aggregated stream rate can exceed wirespeed rate of a single port, the aggregated traffic is buffered in the onboard 2 GB DDR2 RAM memory, before being sent out. The aggregated traffic on the output ports can be analyzed using packet analyzers such as WireShark® or GL's PacketScan™ application, or any other custom Packet Analysis tool."
He added, "The application provides detailed port level statistics like Total Frames/Bytes Received, Rx Frame Rate, Rx Data Rate, etc.

Back to Press Releases Index Page