GL Enhances Network Surveillance Software for Wireless, IP and TDM Networks
Gaithersburg, Maryland, USA - September 28, 2015 - GL Communications Inc., announced today the release of its enhanced Network Surveillance Software.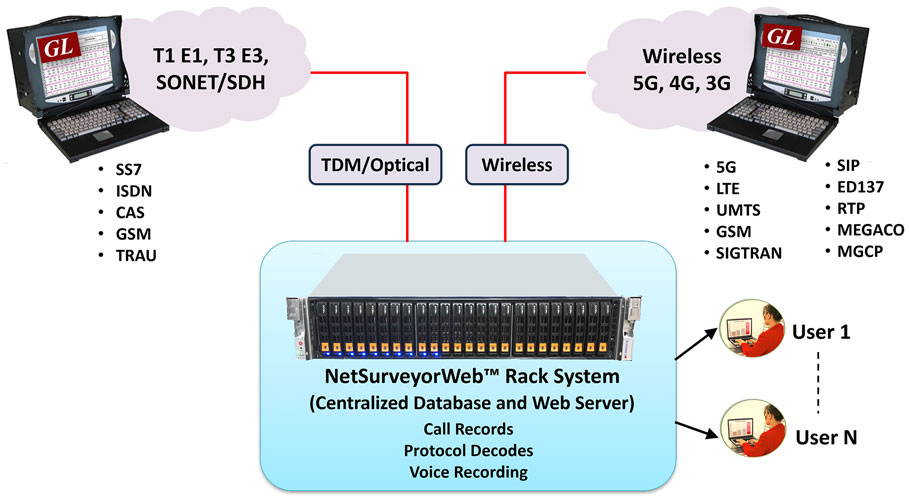 Speaking to the media, Mr.Karthik Ramalingam, a Senior Manager of product development of the company said, "GL's Network Surveillance Software is based on a uniform, scalable and flexible architecture. It is used in conjunction with GL's Protocol Analyzer probes to non-intrusively monitor from one or many testing locations. GL's protocol analysis probes feed data to centralized database (Oracle) in real-time for further analysis. The probes provide instant visibility into the performance and operation of TDM, VoIP, and Wireless networks. The NetSurveyorWeb™ client application then locally or remotely facilitates to view records from the database using a simple web browser application."
He added, "A common characteristic of all of GL's Network Monitoring Systems (NMS) is similarity between the TDM, VoIP, and Wireless NMS solutions. Uniform features, scalable probes, central database servers, webservers, redundancy, and this uniformity in architecture results in enhancements, reliability, and user friendly systems. Enhancements to one system are automatically incorporated into others. Reports, administration, and maintenance become easy and uniform."
Mr.Ramalingam further explained on the recent enhancements introduced to the product, "The Multi-protocol Call Flow feature is useful in testing inter-operability of different types of networks, say for example SIP-to-SS7.The feature provides the flow of messages exchanged between different protocols in ladder diagram with ability to display respective signaling decodes, thus providing visibility into complete end-to-end call flow.
Merge view in call-flow feature provides graph display, decode and call detail information in a single view. Now user can have an all encompassing view of graph, decode and call detail information in three different panels with hide/show sliders. Decode engine involved here also supports multiple sessions and multiple protocols.
Alarms and alters feature trigger alarms and alerts whenever calls-of-interest occur, a network link failure is detected, or regularly at scheduled intervals. Directly access the pre-configured filter profiles or the KPI profiles to trigger alarms and alerts either when the custom filters conditions are passed, or send the pre-defined KPI report hourly, daily, monthly or yearly. Alert actions can be defined based on the output of the alarm conditions such as like email alert, visual alert, audible alert, SMS alerts, exporting data, setting alarm severity, or even log into tables for future analysis. Alarm Severity type can be set as Minor, Major, or Critical.
Export Call Data Details (CDR) & call-flow feature provides an ability to export currently viewed CDR(s) and associated call-flow messages in PDF format respectively. CDR reports can be created with aggregate functions like Sum, Average, Percentage and any grouping of columns other than start time. Charts are depicted in 3D representation with ability to zoom in/out feature."
He added, "Maintenance engineers can securely access the network view from literally "anywhere" in the world where Internet access is available. They can also monitor, diagnose, and troubleshoot remotely with simple to use scripts."

Back to Press Releases Index Page