Press Release: GL Announces Low Profile High Density FXO Simulator Supporting WB & NB Audio
Gaithersburg, Maryland, USA – August 29, 2016 - GL Communications Inc., announced today its latest product High Density 24-Port HD FXO VQuad™ that supports voice quality testing, echo testing, and multi-stage dialing along with other services for Analog / PSTN networks supporting wideband codec.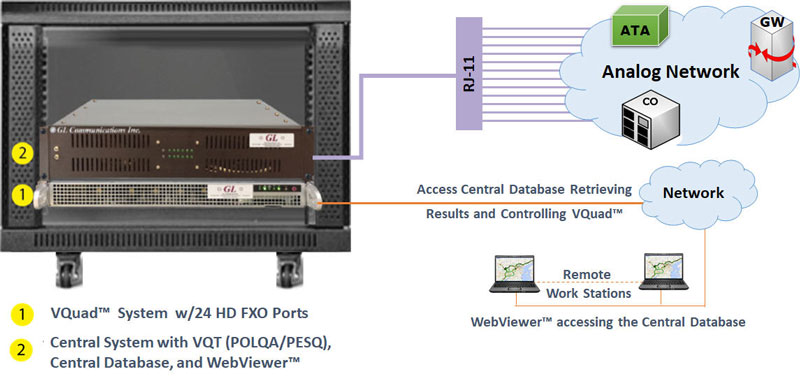 Speaking to press, Mr. Robert Bichefsky, a Senior Manger for Product Development of the company said, "VQuad™ 24-port HD FXO system is an all-in-one 2U rack supporting full call control and FXO special services on 24 FXO ports along with both Wide Band (WB) and Narrow Band (NB) Audio. The VQuad™ solution is fully automated and remote controllable as well as scalable for unlimited number of FXO ports."
He added, "VQuad™ with Dual UTA HD supports Audio for Voice Quality (using GL VQT POLQA algorithm), Path Recognition and Prompt Recognition. In addition, the VQuad™ solution supports DTMF digits, single and dual-frequency tones, energy detection, and Fax emulation with Fax analysis. VQuad™ FXO services include Call Forwarding, Three-Way Calling, Call Waiting with Call ID, Call Transfer, and Call Hold. In other words, the VQuad™ FXO solution provides full and complete testing of multiple FXO ports for both functionality and voice analysis."
Mr. Bichefsky further explained, "The 2U VQuad™ HD FXO System incorporates two embedded Single Board Computers (SBCs), each running latest VQuad™ software, along with 12 Dual UTA HD units supporting a total 24 FXO Analog ports. All 24 FXO ports are independent and can be fully automated or remote controlled for a fully autonomous test solution.
VQuad™ HD FXO platform offers an automated, scripted, multi-user, multi-protocol, and high capacity FXO test solution. Tests include KPIs for Call Failure and Call Drop, One Way and Round Trip Delay measurements, and analysis of the incoming audio to determine if WB was sustained. When combined with the WebViewer™ Central System all results and events can be saved directly to a Central Database and accessed using the WebViewer™ (direct access to the database tables is also available)."
He added, "The VQuad™ Command Line Interface (CLI) supports remote accessibility and thus facilitates controlling individual VQuad™ nodes located at various destinations. Also included is an API (SDK) for remote controlling the individual VQuad™ Nodes from within any application. The supporting commands include all Call Control functions as well as traffic generation/reception functions. Analysis is provided using GL's Voice Quality Analysis (both POLQA and PESQ supported), Echo Measurement Utility (EMU), Fax Analysis, and Voice Band Analyzer (VBA)."
Functional Capabilities
Supports 24 independent HD FXO ports per VQuad™ system (2U)
Scalable solution for unlimited number of FXO ports
Wide Band (WB) and Narrow Band (NB) support (for HD and SD Audio)
Multiple Users and Tests per system
Run tests between systems
Fully automated and remote accessible via CLI
Remote accessible via Central Database
Full FXO Functionality and Analysis via flexible Scripts

Back to Press Releases Index Page