GL Announces 911, E-911, & NG 911 Signaling Simulation & Monitoring
Gaithersburg, Maryland, USA - DEC 11, 2019 - GL Communications Inc., a global leader in telecom test and measurement solutions, addressed the press regarding their enhanced next generation 911 signaling simulation and monitoring systems.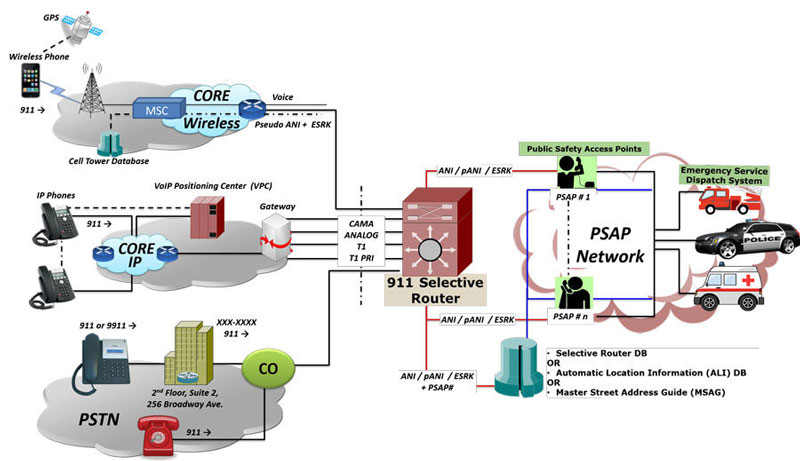 Speaking to the press, Mr. Vijay Kulkarni, the CEO of the company said, "Centralized Automatic Message Accounting - CAMA is a special analog trunk originally developed for long-distance billing but is now mainly used for emergency call services: 911 and Enhanced 9-1-1 (E-911)".
He added, "A CAMA trunk connects a carrier switch directly to a Selective Router (SR), a special 911 Switch that in turn connects to many Public Safety Access Points (PSAPs). PSAPs are call centers where agents answer emergency calls and dispatch police, firefighters, and ambulances. The Selective Router routes the call to the appropriate Public Safety Answering Point (PSAP) based on the calling party's physical location which is obtained from the Automatic Number Identification (ANI) transmitted using MF tones, i.e. the calling number. For PSTN lines, a database lookup provides the physical location of callers against the ANI".
Mr. Kulkarni, explained "CAMA Signaling Simulation and Monitoring is accomplished using MAPS™ CAS Emulator and MAPS™ FXO FXS Emulator hardware and software applications. All of these are strictly over a TDM or Analog network.
"Both analog and digital (T1) CAMA simulations are supported. Analog simulation can be realized by using channel bank or using tProbe™ FXO FXS hardware, both specially configured for CAMA. Channel bank solution offers bulk calling up to 192 FXO/FXS ports. tProbe™ FXO FXS solution offers single port testing to test functionality of 911 selective router."
Important Features :
Comprehensive signaling simulation and monitoring for 911 and Enhanced 911 emergency call services
CAMA simulations are supported both on Analog and Digital (T1) lines
Bulk calling feature, supporting up to 192 FXO/FXS ports
CAMA emulation capabilities include - seizure and wink start detection, onhook and offhook detection and MF digit (ANI) generation/detection
Display of real-time signaling sequence of the CAMA type trunk connected to the 911
Enhanced feature provides tapping onto CAMA-type circuits for non-intrusive monitoring of 911 service. Monitoring capabilities include seizure and wink start detection, onhook and offhook detection and MF digit (calling party ANI) detection

Back to Press Releases Index Page