Ethernet and IP Testing Software for LANs and WANs
Gaithersburg, Maryland, USA - November 16, 2023 - GL Communications Inc., a global leader in telecom test and measurement solutions, addressed the press regarding their PC-based Ethernet/IP test tool, PacketCheck™. This cost-effective real-time testing solution is designed for Local Area Networks (LANs) and Wide Area Networks (WANs).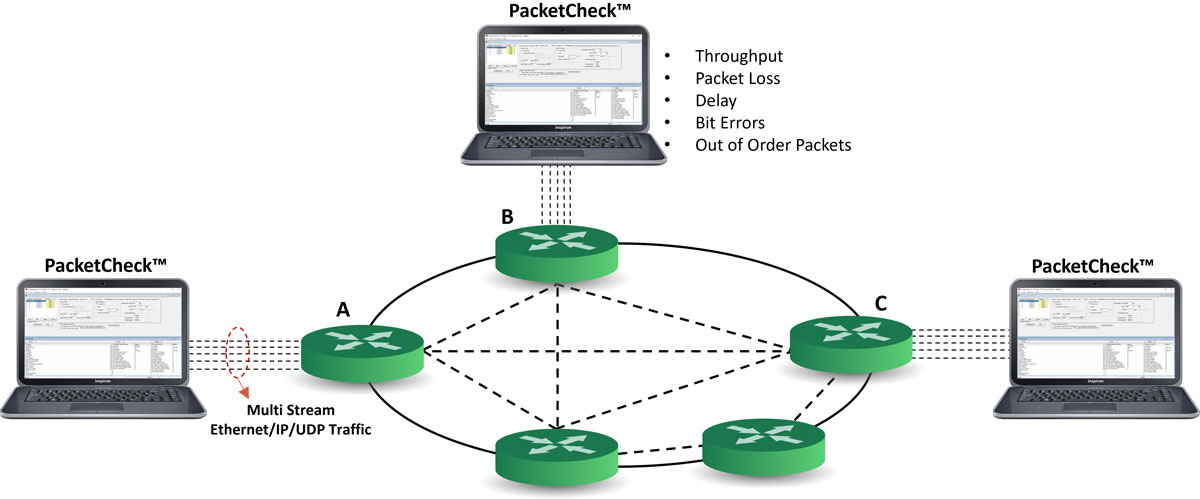 ---
GL's PacketCheck™ is a versatile, user-friendly PC-based Ethernet and IP software program designed for testing and verifying LANs and WANs. It can generate and analyze hundreds of Ethernet/IP/UDP streams, all with user-defined MAC and IP addresses, from a single PC.
"PacketCheck™ offers extensive Ethernet testing, covering all protocol layers, from basic Ethernet frames to stacked VLAN, MPLS, and IP packets with UDP data. It uses the PC's Network Interface Card (NIC) to send and receive Ethernet and IP packets on LANs and WANs" said Vijay Kulkarni, CEO of GL Communications.
The application offers additional features such as simulating traffic by sending pre-recorded files and generating traffic with Interframe Gap (IFG) precision of up to 5 milliseconds. It includes Bit Error Rate (BER) testing capabilities using PRBS patterns or custom-defined test patterns.
PacketCheck™ works with Multi-link Frame Relay (MFR) and offers a traffic feature called MFR-IP-PacketCheck™ for generating IP traffic over Frame Relay (FR) links. It supports the generation and processing of multiple IP traffic streams across various Virtual Channels within the FR links. Each IP traffic stream can be customized to modify the IP packets with specific headers to emulate different modes, such as Bridge and Route.
Key Features
Test Ethernet/IP/UDP traffic of up to 500 Mbps bandwidth
Generate full duplex traffic at any of the four layers (Layer1, Layer2 (Ethernet) with stacked VLAN/ MPLS, Layer3 (IPv4), Layer4 (UDP)) with on-demand bandwidth
Measure Bit Error Rate, Sync Loss Count, Throughput, and more
Create multiple full-duplex streams with different frame size, rate, header, PRBS pattern etc. Measure Throughput, Packet Loss, bit errors independently for each stream
Supports frame sizes ranging from 22 bytes up to 1518 bytes
Measure One-Way Delay through an isolated device (between two NICs on the same PC) or Round-Trip Delay (with remote loopback)
Record per stream traffic to a Wireshark file (NGPCAP or NTAR format) or HDL file (GL Proprietary format). Separate files for each stream
Playback from a Wireshark file (NGPCAP or NTAR format) or HDL file (GL Proprietary format), with customizable traffic rate
Start or stop any stream at run-time independently
Record unidentified network traffic into a PCAP or HDL file format
Independently define each stream to operate as Layer 2 (Ethernet) or Layer 3 (IP) or Layer 4 (UDP)
Supports Jumbo frames
Transmission rate can be configured to operate in Burst mode or IFG mode
PRBS Pattern generation/verification of various patterns like QRSS, 26-1, 29-1, 211-1, 215-1, 220-1, 223-1
Generate various run-time impairments - insert/delete bytes, and byte level impairments
Generate/respond to Address Resolution Protocol requests, making it easy to work with Routers
Generate reports in XML or PDF formats
Applications
Create multiple streams of traffic for network testing on Layer 2, 3, or 4
Test for bit errors, packet loss, throughput, etc. over a network path
Determine Round-trip delay between two endpoints with microsecond accuracy
Determine One-Way Delay through an isolated device such as a switch or router
Record test traffic in binary and/or PCAPNG or NTAR file format
Playback PCAPNG files for test traffic generation. Either recorded from test BERT traffic or recorded traffic of interest
Record non-test packets to a PCAPNG file. i.e., Non-BERT traffic related packets

Back to Press Releases Index Page