Press Release : GL Announces Enhanced SIP Protocol Test Suite
Gaithersburg, Maryland, USA – February 23, 2015 - GL Communications Inc., announced today its enhanced SIP Protocol Test Suite that comprises (MAPS™ SIP, MAPS™ SIP I and MAPS™ SIP Conformance Test Suite ).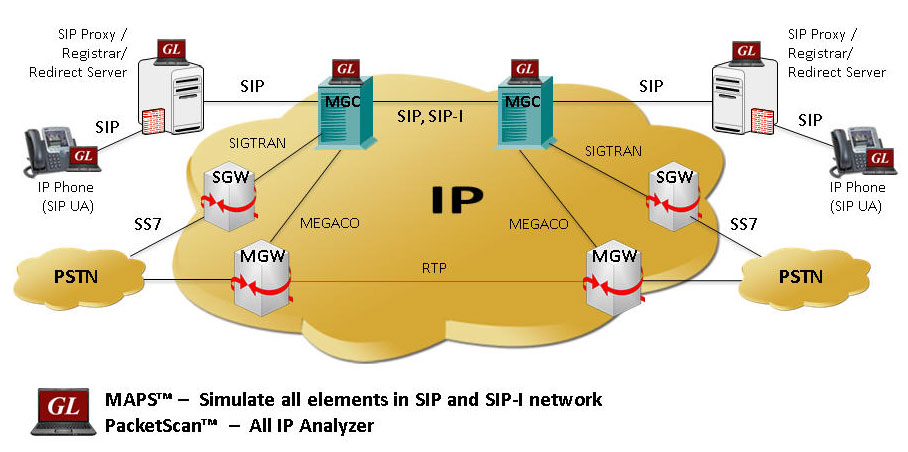 Speaking to the press, Mr. Jagdish Vadalia, a Senior Manager for product development of the company said, "GL's MAPS™ SIP can simulate any interface in a SIP network, including, multiple User Agents (User Agent Client, User Agent Server), Registrant, Proxy, Redirect, and Registrar Servers.
GL's MAPS™ SIP is also available in an enhanced High Density version in a special purpose 1U network appliance that is capable of high call intensity (hundreds of calls/sec) and high volume of sustained calls (tens of thousands of simultaneous calls/1U platform).
He added, "The SIP Conformance Test Suite is designed with 300+ test cases, as per SIP specification of ETSI TS 102-027-2 v4.1.1 (2006-07) standard. Test cases include general messaging and call flow scenarios for multimedia call session setup and control over IP networks. Logging and pass/fail results are also reported. Test cases verify conformance of actions such as registration, call control, proxies and redirect servers.
GL's MAPS™ SIP I can simulate SIP-ISUP signaling specification as defined by the ITU / IETF standards ITU-T Q.1912.5. MAPS™ SIP-I provides only the IP side of the Gateway at both ingress and/or egress depending on what one is trying to emulate.The application gives the users the unlimited ability to edit messages and control scenarios (message sequences). "Message sequences" are generated through scripts. "Messages" are created using message templates.
Mr. Vadalia further added, "In general, MAPS™ is a powerful Protocol Test platform, supporting a wide range of protocols including TDM, IP, and Wireless infrastructure protocols. The MAPS™ provides fault insertion, and erroneous call flow testing capability. It supports scripted call generation and automated call reception and its ready scripts makes testing procedure simpler, less time consuming and hence time to market SIP products.
GL's PacketScan™ - an All-IP Network Monitoring software offers powerful features to capture and monitor live signaling and traffic over IP. It captures, segregates, monitors and collects statistics on all IP calls. Almost all VoIP and Wireless protocols over IP transport layer can be captured and decoded for troubleshooting network problems.
GL also provides PacketScan™ HD for High Density IP Traffic Analysis w/ 4x1GigE Network Monitoring and PacketScan™ FB, a File Based IP Traffic Analyzer Server for near real-time processing of traces."

Back to Press Releases Index Page