GL Announces Enhanced SIP Protocol Emulator
Gaithersburg, Maryland, USA – January 10, 2017 - GL Communications Inc., announced today the release of its enhanced MAPS™ SIP Protocol Emulator that help user generate and receive SIP signaling with traffic.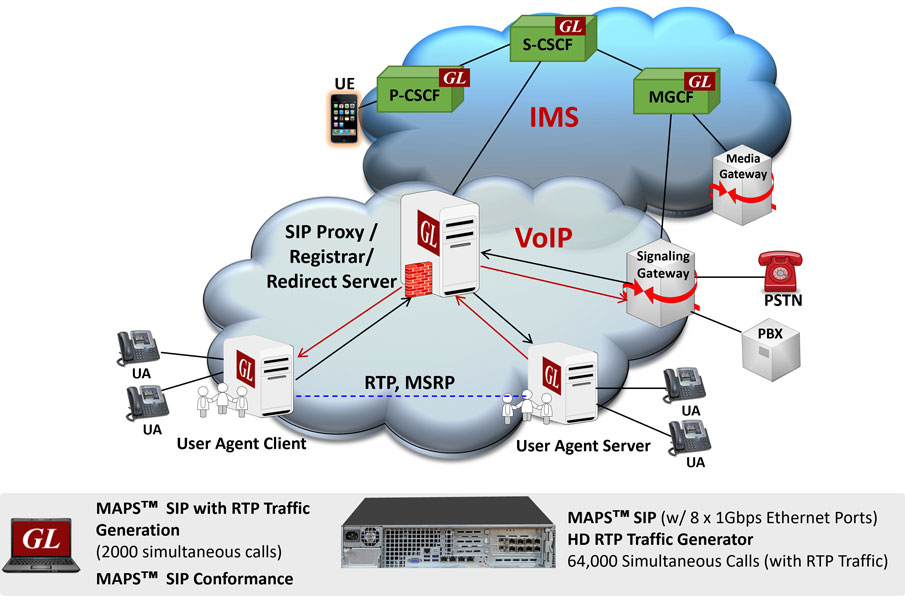 ---
Speaking to the press, Mr. Karthik Ramalingam, a Senior Manager for Product Development of the company said, "GL's Message Automation & Protocol Simulation (MAPS™) designed for SIP testing can simulate any end point in a SIP network such as User Agent Client- UAC, User Agent Server-UAS, Proxy, Redirect, Registrar and Registrant servers. This test tool can also be used as a bulk call generator to conduct performance/stress testing.
While explaining the recent enhancements to MAPS™ SIP test tool, Mr. Ramalingam further said, "With 64 bit RTP Core (PKS102), MAPS™ SIP can simulate up to 3000 simultaneous calls with various RTP traffic such as, digits, voice file, single/ dual tones, FAX, IVR, video and voice. Single MAPS™ instance can act as more than one SIP entity at a time and can generate any SIP message in VoIP network."
He added, "Secure Real-time Transport Protocol (or SRTP) can provide encryption, message authentication, and replay protection to the RTP/RTCP traffic. SRTP traffic is initialized over TLS (Transport Layer Security) / Secure Sockets Layer (SSL) network protocol (OpenSSL) with a Certificate and Key. SRTP encrypts the actual media portion of the calls preventing eavesdropping and tampering.
The CLI interface developed for MAPS™ allows users to control all features of MAPS™ through APIs. Recently, to address customer demands, support for Python and Java API have been added. These are an object-oriented coding paradigm, designed to give the user simple and intuitive containers for their messages, calls and regressions. The APIs are divided into "High" and "Low" level function calls. Both High and Low, can extract complete decode of all messages in a call along with the timestamp of when that message was transmitted or received."
He further added, "The MAPS™ also provides SIP Conformance Test Suite designed with 300+ ready-to-use test cases, as per SIP specification of ETSI TS 102-027-2 v4.1.1 (2006-07) standard. Test cases include general messaging and call flow scenarios for multimedia call session setup and control over IP networks. Logging and pass/fail results are also reported. Test cases verify conformance of actions such as registration, call control, proxies and redirect servers.
GL's MAPS™ SIP is also available in High Density version (requires a special purpose network appliance and PKS109 RTP HD licenses). This is capable of high call intensity (hundreds of calls/sec) and high volume of sustained calls (tens of thousands of simultaneous calls/platform)."
---
Some of the Important Features
Generates and processes SIP valid and invalid messages
Supports complete customization of SIP headers, call flow, and messages
Each SIP message template facilitates customization of the protocol fields and access to the various protocol fields from the scripts.
Supports IPv4 /IPv6 and transport over UDP and TCP, and TLS for secure transport
Handles Retransmissions of messages with specific interval
Scripted call generation and call reception.
RTP Voice Traffic Generation used in conjunction with SIP Signaling.
Supports 64-bit RTP core to enhance performance - handles increased call rate of up to 3000 calls with high volume traffic.
Capability to generate more than 500 simultaneous video calls
Supports both RTP G.711 Pass Through Fax Simulation (PKS200) and T.38 Fax Simulation over UDPTL (PKS211).
Supports conference (third-party added), attended call transfer, and call forwarding.
Test IVR, and Instant messaging features.
Supports Secure Real-time Transport Protocol (or SRTP) traffic initialized over TLS (Transport Layer Security) or SSL (OpenSSL)
Supports almost all industry standard codec types - G.711 (mu-Law and A-Law), G.722, G.729, G.726, GSM, AMR, AMR -WB, EVRC, EVS, OPUS, SMV, iLBC, SPEEX, and more. *AMR, EVRC, EVS, and OPUS variants require additional licenses.
Supported clients for CLI/APIs include Python, Java, TCL and others.

Back to Press Releases Index Page