GL Announces Enhancements to Channelized T3 E3 Analyzer
Gaithersburg, Maryland, USA – February 22, 2016 - GL Communications Inc., announced today enhanced Channelized T3 E3 Analyzer software. The enhanced Analyzer permits direct access to all 56 T1s and/or all 32 E1s in a T3 or E3, along with the unchannelized features previously available.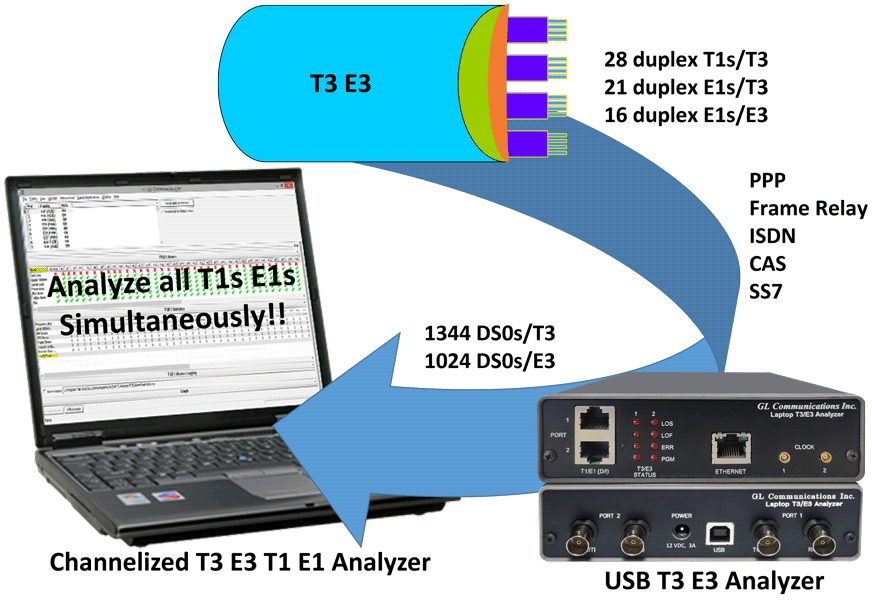 Speaking to the press, Mr. Vijay Kulkarni, the CEO of the company said, "GL's USB based T3 E3 Analyzer is one of the smallest and lightest pods (weighing only 1.75 lbs) capable of processing signaling, voice, and data on T3 and E3 lines. It includes various signal testing capabilities such as monitoring & generating alarms, error insertion, protocol analysis, and simulation of Unchannelized (Unstructured) and Channelized (Structured) T3 E3 Traffic:
Analysis/Emulation of T3 (44.736 Mbps) and E3 (34.368 Mbps),
Analysis/Emulation of Unchannelized (Unstructured) T3 or E3 for ATM, PPP, HDLC, and Frame Relay
Record / Playback of entire T3 or E3
Analysis of all 56 T1s (1.544 Mbps each), or 32 E1s (2.048 Mbps each)
Analysis of Fractional T1s and E1s, N x T1s or N x E1s,
Analysis of any combination of DS0s (64 kbps each) within the T1s or E1s,

56 x 24 = 1,344 DS0s for T1 or 32 x 32 = 1024 DS0s for E1."

He added, "The channelized option in the T3 E3 Analyzer uses a "software-only" approach that permits a small package to save power, space, and cabling and supports direct access to all 2 x 28 T1s, 2 x 21 E1s on T3, and 2 x 16 E1s on an E3 line, and within a single PC, including differing T1 E1 framing formats, physical layer alarms, and payloads."
Mr. Kulkarni further explained, "The T3 E3 hardware platform with associated T1 E1 Receive Server and Channelized T3 E3 Analyzer software can capture, record, and monitor multiple T1 or E1 channels over Channelized T3 E3 links and Perform analysis of various signal types including voice, digits, tones, fax, modem, and raw data. And T1 E1 Receive Server application within Channelized T3 E3 Analyzer acts as software based Multiplexer- Demultiplexer application capable of channelization of captured T1 E1 signals into 56 independent T1 channels, 42 independent E1 channels in T3 or 32 E1 channels in E3.
---
Important Features
Provides support for channelized T3 E3 to T1 E1
Supports up to 56 T1s and 42 E1s channels per T3 E3 port
Supports structured and unstructured T1 E1 transmission and reception
Supports monitoring in all "basic applications" and "special applications" for T1 or E1 channels
Supports Protocol Analysis of structured protocols – HDLC, ISDN, CAS, and more
Supports carrying T1 E1 alarms in channelized T3 E3 lines
Comprehensive analysis of voice, data, fax, protocol, analog, and digital signals, including echo and voice quality testing
Extracting T1s E1s from multiple T3 E3 ports is supported
User selectable T1 and E1 channels to multiplex. The channel numbering same as in De-multiplexing
Unused channels treated as unequipped
Broadcasts the selected T1 E1 channel data on all the 42/32 E1's or 56 T1's

Back to Press Releases Index Page