Gn Gp Interface Emulator
Gaithersburg, Maryland, USA - November 27, 2017 - GL Communications Inc., announced today its enhanced Gn Gp Interface Emulator software referred to as MAPS™ UMTS Gn Gp Interface Emulator software. It has been enhanced with High density user-plane traffic simulation.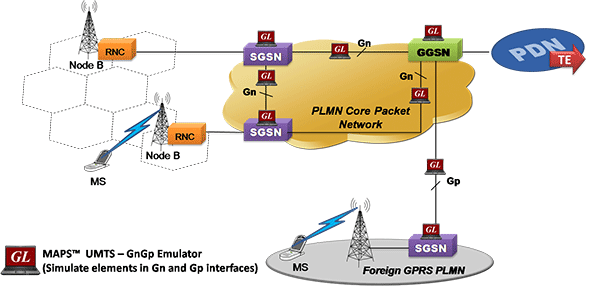 Speaking to the press, Mr. Karthik Ramalingam, a Senior Manager for product development of the company said, " GL's MAPS™ Gn Gp Interface Emulator is an advanced protocol simulator/tester for SGSN & GGSN simulation over Gn, Gp interfaces that can simulate GPRS Tunnelling Protocol (GTP) signaling & Mobile application traffic as defined in 3GPP TS 29.060.
He added, "The tester supports functional testing, error tracking, regression testing, and load testing/call generation. It can run pre-defined test scenarios against GTP interface test objects in a controlled & deterministic manner.
Mr.Ramalingam, highlighting on the enhancement introduced, further explained, "GL's MAPS™ Gn Gp Interface Emulator with PacketLoad appliance supports massive simulation of UEs (up to 500000) with high density (up to 4 Gbps or 40 Gbps) mobile data traffic simulation for both UMTS, and LTE networks.
The solution allows encapsulating the generated packet data within GTP headers and transmitting through the gateway points such as SGSN & GGSN, or SGW & PGW. It allows simultaneous simulation of multiple sessions per user to verify bearer allocation bandwidth at the end points. Currently, the solution offers stateful TCP/HTTP, and PCAP Replay traffic types.
PacketLoad supports HTTP traffic simulation with the base requirements such as port number, server IP address, and pre-canned HTTP traffic file. PacketLoad is available n 2 variants: PacketLoad 4 x 1Gbps and PacketLoad 4 x 10Gbps.
He added, "MAPS™ provides useful statistics to verify the simulated mobile data traffic. Users can customize the statistics for the generated stateful TCP/HTTP, and PCAP Replay and other Mobile Data traffic. Call Graph uses the results from statistics to plot graphically the Bandwidth on each port, HTTP latency, TCP Latency, and UE related statistics in form Bar/Line/Pie charts.
---
Important Features
Generates million of Control Signaling (Load Testing)
Generates and processes GTP messages
Supports GTP Traffic (GTP User Plane Data) which includes: verification like BERT testing, HTTP traffic generation capability, GGSN can actually be connected to real IP network to simulate Gateway testing
Supports high bandwidth traffic generation with PacketLoad (Up to 40 Gbps)
Provides Call Statistics and Events Status
---
Application
Provides fault insertion, and erroneous call flows testing capability
Functional testing, Regression testing and Conformance testing of network elements
Ready scripts makes testing procedure simpler, less time consuming and hence time to market products
QoS requests for greater or lesser bandwidth

Back to Press Releases Index Page