Press Release: GL Enhances 10 GigE Network Testing Solutions
Gaithersburg, Maryland, USA – January 16, 2017 - GL Communications Inc., announced today its enhanced 10 Gbps Network Testing Solutions, which is enhanced with Multistream Traffic Generation and Analysis and RFC 6349 based TCP Throughput Testing features.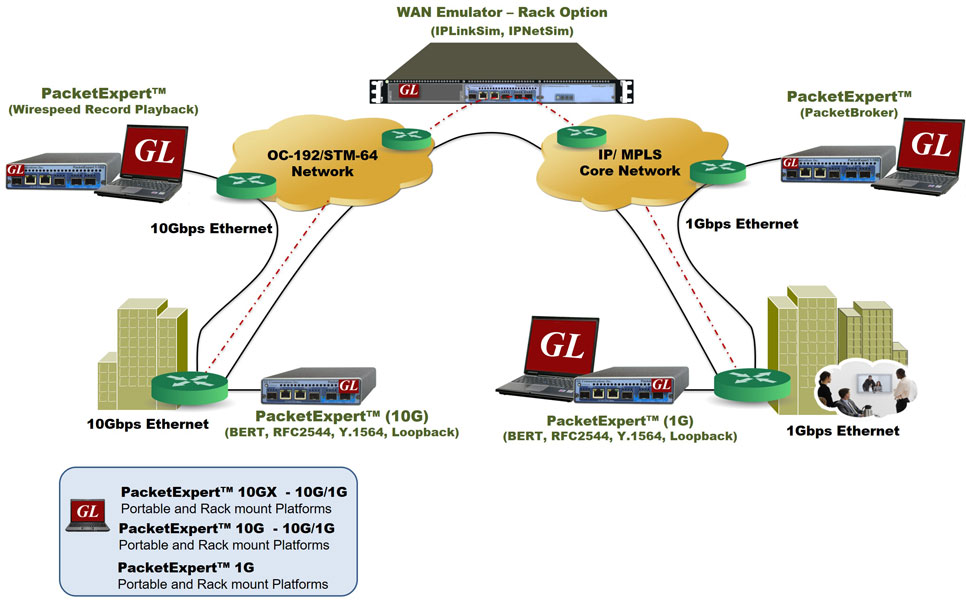 Speaking to the press, Mr. Jagdish Vadalia,a Senior Manager for Product Development of the company said, "10 Gbps Ethernet offers data speeds up to 10 billion bits per second, generally over single mode or multimode fiber optic lines. It is also referred to as 10 GE, 10 GigE, or 10 GbE. 10 Gbps is compatible with existing Ethernet protocols and can be easily integrated into existing networks.
He added, "GL's PacketExpert™ 10G with two 10 Gbps Optical Ports and two 10/100/1000 Mbps Electrical/Optical Ports provides comprehensive testing of 10 Gbps/1 Gbps Ethernet/IP networks. With the capability to generate/receive traffic with stacked VLAN (Q-in-Q) and stacked MPLS, PacketExpert™ finds use in testing a wide range of networks - from testing individual links/switches, testing local Ethernet/IP networks (LAN), end to end testing of Wide Area Networks (WAN), testing Core/MPLS networks, and much more.
Mr. Vadalia explained, "The two important features added to the 10 Gbps Network Performance Testing are: Multistream Traffic Generation and Analysis and RFC 6349 based TCP Throughput Testing referred to as ExpertTCP™.
GL's Multi Stream Traffic Generator and Analyzer is capable of generating and analysing up to 16 IP/UDP streams at full wirespeed of 10 Gbps. It is particularly useful for end to end performance testing of IP networks.
Traffic Generation supports simulating up to 16 IP/UDP streams. User can configure different MAC/IP addresses and UDP ports for each stream. Also, each stream can be configured with different frame lengths (both single as well as mix of frame sizes) and rates and this generation capability helps users to emulate various application traffic like VoIP streams, data streams etc.
Multi Stream Traffic Generator and Analyzer simultaneously support analysis of up to 16 full wirespeed streams. Analysis provides detailed statistics such as Throughput, Packet Loss, Latency (Round trip latency) and Jitter and all these statistics are provided per stream."
He further added, "GL's ExpertTCP™ is intended to measure end to end TCP Throughput, and is based on RFC 6349 test methodology. This test method can be used in conjunction with RFC 2544 or ExpertSAM™, to measure the true TCP throughput experienced by customers (which can be different from the IP layer throughput measured by RFC 2544/ExpertSAM™).
ExpertTCP™ supports up to 16 TCP connections, at full wirespeed of 10 Gbps. All 3 RFC 6349 stipulated tests – Path MTU, Baseline RTT and TCP Throughput tests are supported. Detailed results like the TCP Throughput, TCP Efficiency, Buffer Delay Percentage, TCP Transfer Time Ratio can be obtained. And various graphs/statistics of Throughput, Retranmissions and Round Trip Times help users gain insights into the various aspects of TCP performance."
---
Summary of Important Features
Comprehensive testing of Wirespeed Ethernet/IP networks up to 10 Gbps
Two Optical 10 Gbps ports (10G BASE-SR, -LR -ER full-duplex SFP)
Two Electrical/Optical 10/100/1000 Mbps ports (10/100/1000M Base-T Electrical OR 1G Base-X Optical SFP)
Touchscreen Handheld PacketExpert™ 10G available for field testing
Simultaneous traffic generation/reception at 100% 10 Gbps Wirespeed
Jumbo frames up to 16000 bytes supported
Simultaneous Wirespeed BERT on both 10G optical ports
Smart Loopback
RFC 2544 - Throughput, Latency, Frame Loss and Back to Back tests
Variable Rate and Variable Frame Size traffic generation for BERT
Ability to define Ethernet, IP and UDP header fields
IP and UDP header checksum validation
Easy to use and intuitive GUI provides easy way of configuring tests and viewing results
Optional functionalities (WAN Link Emulation, Y.1564 Testing, Record-Playback, PacketBroker™) can be easily added to the basic application to meet all the testing requirements on a high-speed Ethernet network

Back to Press Releases Index Page