GL Enhances End-to-End Wireless Network LAB Solutions
Gaithersburg, Maryland, USA – October 09, 2017 - GL Communications Inc., announced today its enhanced End-to-End Wireless Network LAB Solutions (2G, 3G, 4G and IMS). GL's 3G and LTE Lab Solution is enhanced to support Voice, Video and SMS calls with roaming User Equipment (UE) in the network.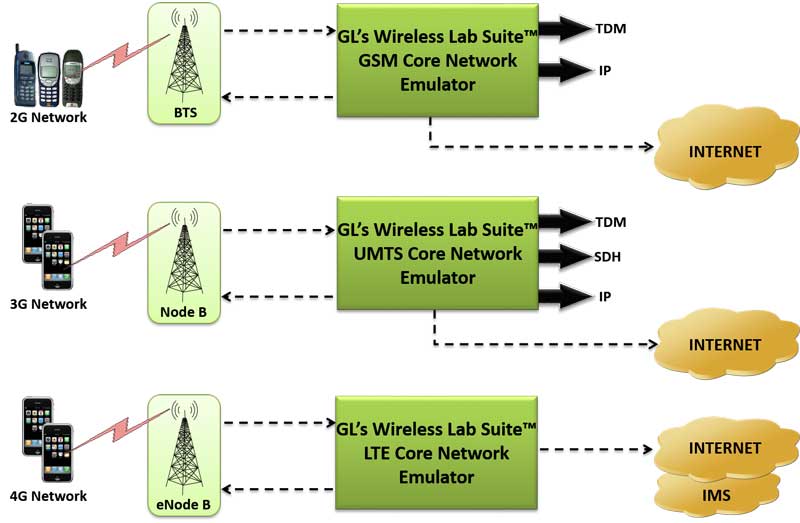 Speaking to the press, Mr. Jagdish Vadalia, a Senior Manager for product development of the company said, "GL's MAPS™ Wireless Lab Suite (2G, 3G, 4G, IMS) along with radio access elements is used to provide an advanced full-fledged network environment that enables user to test their applications, devices, and services on simulated wireless infrastructure environment prior to deployment on a real-time network. The wireless lab test suite is an invaluable tool for protocol characterization and testing, performance measurement, and training.
The test suite can be used to simulate all or specific elements within wireless networks infrastructure using simple ready-to-use test bed setups. The test systems allow for simultaneous execution of various test cases across networks. It also allows for performance and conformance testing compliant with 3GPP standards."
He added, "Recent enhancement to MAPS™ Wireless Lab Suite (2G, 3G, 4G, IMS) includes ability to simulate Roaming procedures across 3G and 4G networks. Roaming 3G/4G UEs ensures that a traveling wireless device (typically a cell phone) is connected with the network continuously without losing the connection.
With GL's Wireless Network Lab, you can simply simulate Roaming 3G/4G UEs and test certain functionalities by automatically placing and receiving voice calls, send and receive data, or access other services, when travelling within or out of the geographical coverage area of the network. Real mobile phones can also be used with GL's Wireless Network Lab suite to create a real-time Wireless Network Environment."
Mr. Vadalia further emphasizing on the recently added test scenarios, explained "MAPS™ 4G IMS Wireless Lab can simulate various nodes in the LTE IMS network, interacting with each other facilitating a VoLTE call. In the lab test scenario, two LTE enabled UEs are used to establish a VoLTE call via MAPS™ 4G Wireless and IMS Lab.
Circuit switched fallback (CSFB) is a technology devised to allow Voice services. LTE doesn't support circuit switched calls because LTE is packet-only technology. So, when a LTE device is used to place a voice call or send SMS, the device "falls back" to the 3G or 2G network to complete the call or to deliver the SMS.
The SGs Application Part (SGsAP) is used on the SGs interface between the Mobility Management Entity (MME) in the EPS and the Visitor Location Register (VLR). It allows location management co-ordination and relay certain messages related to GSM circuit switched services over the EPS system.
GL's MAPS™ CAMEL IP Emulator can be configured as SCF and SSF entities emulating CAP supplementary services such as unified messaging, and prepaid calls. For example, CAP controls SMS as a subscribed service, establishes relationship between the MSC and the gsmSCF. Initial DP SMS (IDP-SMS) operation is used to start the CAMEL service. The prepaid voice call procedure specifies the charging related information to be provided by the SSF and the conditions on which the information should be reported back to the SCF."
---
Important Features
Perform end-to-end testing across any network, Mobile-to-Mobile, Mobile-Landline, and Mobile HTTP Web Access simulation
Setup a virtual real-time network simulating all the network elements provided in the architecture
Any of the network elements in the above architecture can be replaced with user's DUT to perform single interface, multi-interface, or wrap-around testing
Circuit switched traffic can be generated and recorded using RTP application
Perform end-to-end testing supporting HTTP Web Access simulation
Supports Circuit Switched Fallback scenario
Supports simulation of Roaming Scenarios
Supports VoLTE call simulation
Supports call between users in different networks
Supports SMS through SGs interface
Supports SMS over IMS
Supports IPSec, TLS and SRTP
Supports simulation of Invalid scenarios
Supports Bulk calls simulation
Supports PDF report generation
Supports Impairing the protocol messages
Supports detailed statistics and user defined statistics
Graphical representation of Calls per second, and maximum simultaneous calls

Back to Press Releases Index Page