Dynamic IP WAN Impairments Using Scheduler Features
Gaithersburg, Maryland, USA ™ April 01, 2019- GL Communications Inc. a global leader in telecom test and measurement solutions, announced today its insight into our new scheduler feature, which extends testing capabilities for 10 Gbps and 1 Gbps networks. In this newsletter, we will discuss emulating IP WAN conditions using Scheduler Features in the IP WAN Emulator.
Speaking to the press, Mr. Vijay Kulkarni, CEO of the GL Communications Inc., said," our IP WAN Link Emulators help emulate WAN links in the lab. They emulate the real-world characteristics of WAN links like the Throughput, Delay, packet effects like Packet Loss, Packet Duplication and Packet Reordering, and packet errors like Frame Errors, FCS Errors etc. User can configure the emulated Bandwidth of the link, the Delay (constant or randomly varying delay), Packet Loss, Duplication, reordering rates and the Frame/FCS Error rates, to emulate a wide range of WAN properties/impairments." GL's WAN emulators come in two variants:
IPNetSim™ emulates a bidirectional WAN IP Link with a 10 Gbps or a 10/100/1000 Mbps full duplex link. For each direction, incoming traffic can be identified into separate user defined streams (up to 16 streams for 1 Gbps pipe and up to 4 streams for 10 Gbps pipe). For each stream, a separate set of impairments can be applied.
IPLinkSim™ also emulates a bidirectional WAN IP Link with a 10 Gbps or a 10/100/1000 Mbps full duplex link. Entire incoming traffic is treated as a single stream, and the impairments can be applied as a whole to the entire stream, in either direction.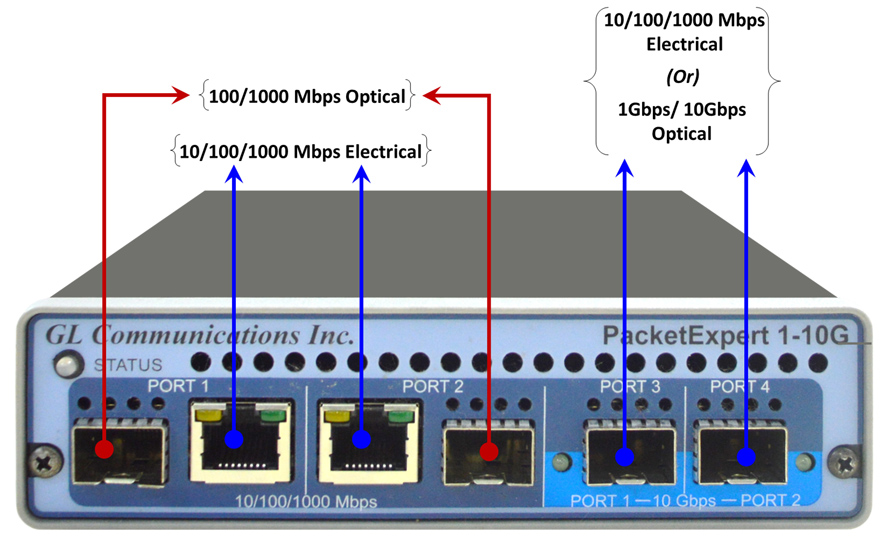 He further added, "Our latest launch, PacketExpert™ 10GX, a multi-functional ethernet tester supports all interfaces, functionality and port capacity similar to that of previous PacketExpert™ 10G for comprehensive testing of 10 Gbps /1 Gbps wirespeed Ethernet/IP networks."
"The PacketExpert™ 10GX includes two 10/1 Gbps Optical ports, and two 10/100/1000 Mbps Electrical/Optical capable ports. The 10/1 Gbps Optical ports can be down-shifted to support 1Gbps Electrical ports, thus offering 4 Electrical / 4 Optical 1 Gbps ports for ethernet testing."
The PacketExpert™ 10GX hardware is more compact with reduced power requirements for high performance and adds 12-port user-configurable TTL trigger option as an important enhancement.

Back to Press Releases Index Page