GL Announces Diameter Protocol Simulator to Support Gy and Ro Interfaces
Gaithersburg, Maryland, USA - October 26, 2015 - GL Communications Inc., announced today its enhanced MAPS™ Diameter Protocol Emulator to support Gy/Ro Interfaces.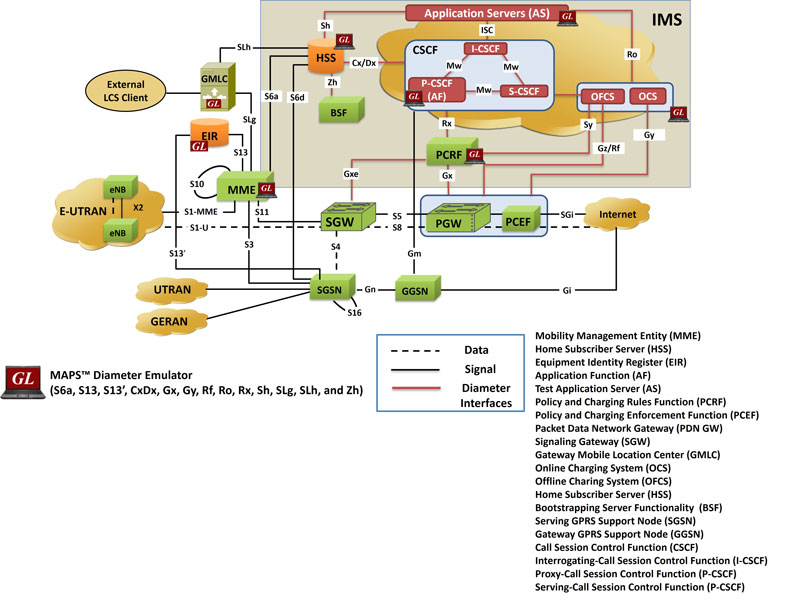 Speaking to the media, Mr.Jagdish Vadalia, a Senior Manager of product development of the company said, "Within LTE-IMS network, MAPS™ Diameter can now simulate S6a, S6d, Cx/Dx, Gx, and Rx Interfaces to test LTE-IMS network elements such as the MME (Mobility Management Entity), HSS (Home Subscriber Server), CSCF (Call Session Control Function), SGSN (Serving GPRS Support Node), PDN GW (Packet Data Network Gateway), AF (Application Function) , PCRF (Policy and Charging Rules Function), CTF (Charging trigger Function) and OCS (Online Charging System). Recently MAPS™ Diameter has been enhanced to support simulation of Gy and Ro interfaces in addition to existing interfaces. The simulation of other interfaces (Rf, Dh, Gq, Zh, Zn, Wa, Wd, Wx, Wm, Wg, Pr) and elements will also be supported in near future."
He added, "The MAPS™ Diameter gives the users the unlimited ability to edit signaling messages to support various procedures. It supports both SCTP (Stream Control Transmission) and TCP (Transmission Control Protocol) transport protocol layers for PSTN signaling messages over IP networks.
MAPS™ Diameter also supports an End-to-End 4G LTE Communications Network Labwith all components to simulate both E-UTRAN and EPC (Evolved Packet Core), allowing complete testing of the LTE –IMS network."
Mr. Vadaila further explained, "Both Gy and Ro interfaces define procedures for online charging in IMS & LTE networks. Ro interface is between IMS entity (CSCF) and Online Charging System (OCS) & Gy interface is between the PCEF (e.g., PDN GW) and the OCS.
The PCEF node in LTE network, and CSCF node in IMS network perform the role of a Charging Trigger Function (CTF) entity to issue charging events to an Online Charging System (OCS). The charging events can be immediate (IEC), event-based (ECUR), or session-based (SCUR). An Online Charging System (OCS), is a functional architecture that provides support for all three levels (service level, subsystem level, and bearer level) of online charging."
---
Important Features
Load Test Diameter clients and servers with

100k simultaneous calls
4000 cps (varies w.r.t transactions per call)
Customize Call per second (CPS), Max Active Calls, & Total No of Calls

Customize Diameter signaling messages and scenarios
Protocol trace with full message decoding, & ladder diagrams of call flow with precise time stamp
Impairments/Fault Insertion can be applied to messages to simulate erroneous call flows
Ready-to-use scripts for quick testing
Automated call generation and call reception
Scheduler and pre-saved configuration files for automated testing
Centralized Control and Remote Access multiple MAPS™
Option to send reports to database accessible via web interface
Reports and Statistics

Call Status, Link Status, and Message Statistics
Capture Events, and Error Events

Back to Press Releases Index Page