Timing Measurement Tools for IP Based
Air Traffic Management
Gaithersburg, Maryland, USA - October 03, 2017 - GL Communications Inc., announced today its latest Timing Measurement Tools for IP Based Air Traffic Management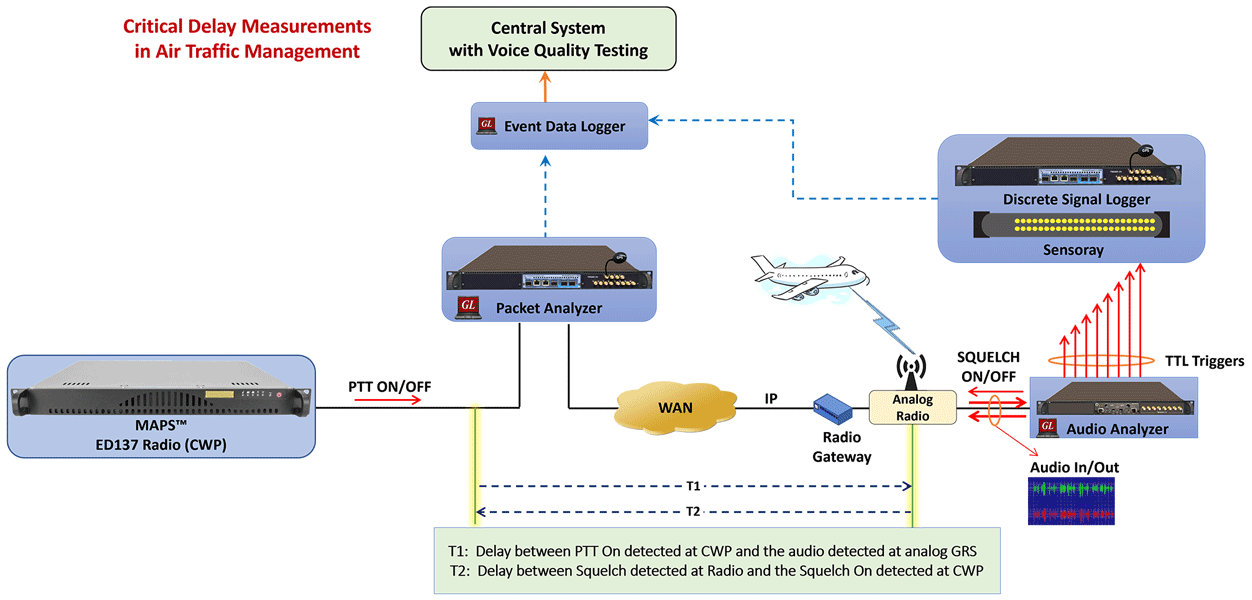 Speaking to the press, Mr. Jagdish Vadalia, a Senior Manager for product development of the company said, "The latest European Organization for Civil Aviation Equipment (EUROCAE) ED-137 inter-operability standards, address migration and implementation of IP based technology for voice services for air traffic control."
He added, "Typically, in a VoIP ATM network, the following network delay measurements are of primary interest: Transmitter activation delay, Aircraft call indication delay, Ground transmission voice delay, Transmitter activation and aircraft call indication loopback delay ,Ground reception voice delay, Ground transmission and reception voice loopback delay, and Frequency key activation response time and more.
To perform these timing measurements, one can setup MAPS™ TM-ATM (Timing Measurements in Air Traffic Management) tools at appropriate strategic interfaces. GL's MAPS™ TM-ATM is a custom suite of test tools, designed to accurately measure various types of delay occurrence in signaling and voice transmission. It includes all necessary hardware and software to identify, capture, timestamp, and correlate events at Analog, TDM and IP interfaces. MAPS™ TM-ATM is script based and API driven product that can be reused for various purposes during test cycles."
Mr.Vadalia further explained, "The MAPS™ MTC is a control/logging application, and it uses TCP/IP to send commands to and receive notifications from important tools such Audio Analyzer, which can connect to a Controller Working Position (CWP) and emulate a controller by activating PTT and transmitting audio. Packetizer that monitors the TTL output from the Audio Analyzer and generates an IP packet corresponding to the signal of interest.
Packet analyzer, that functions like a highly precise Ethernet tap, acts as a transparent Ethernet link in which bidirectional Ethernet traffic flows through at line rate. The Event Data Logger is located at a central location and receives the event packets forwarded from the various Packetizers or the Packet Analyzer systems throughout the network. It timestamps each received packet, decodes the packet to extract information, and updates both Discrete Events (from the Packetizer) and Timed Events (from Packet Analyzer) to the MAPS™ Controller.
MAPS™ Controller will calculate the time difference between posted events, i.e., Discrete Events (from the Packetizer) and Timed Events (from Packet Analyzer) and reports precise measured delay at different points in the network."
---

Back to Press Releases Index Page