Press Release : GL Announces
Air Traffic Control Testing for the Next Generation
Gaithersburg, Maryland, USA – June 22, 2015 - GL Communications Inc., announced today its Test Solutions for elements of FAA's next generation voice network called the National Airspace System (NAS) Voice System (NVS).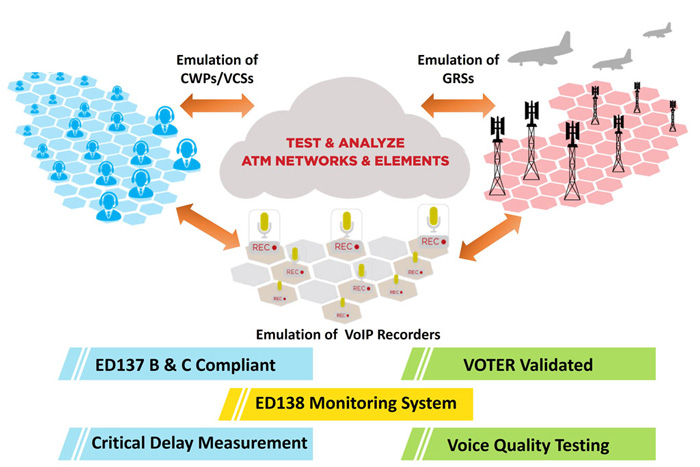 Speaking to the press, Mr. Jagdish Vadalia, a Senior Manager for Product Development of the company said, "The Federal Aviation Administration (FAA) has identified six "transformational programs", which will provide the foundation technologies / infrastructure needed for the Next Generation Air Traffic Control System. One of the six programs addresses a new voice network called the National Airspace System (NAS) Voice System (NVS), based on standard VoIP technology with specific enhancements for air traffic control. Before its deployment, it's crucial that elements of the system be tested thoroughly and GL's tools can play a vital role in testing for voice quality, performance, and measurement in assessing the overall reliability of the new system."
He added, "Voice communications is a vital part of air traffic control. Air Traffic Controllers (ATC) are trained to use exact phrases when speaking to pilots and other controllers, because a single misunderstanding about altitude levels, change of direction or runway numbers could lead to incorrect maneuvers which could lead to tragic consequences.
The FAA plans to replace the existing Analog / TDM technology with VoIP technology as defined by EUROCAE ED-137. These documents specify how SIP is used to establish, modify, and terminate sessions within an Air Traffic Services Ground Voice Network (AGVN) with endpoint equipment. The endpoint equipment can be SIP CWPs, Next Generation VCS's and Radios or VCS/Radio Gateways allowing interworking with older legacy equipment and protocols.
To ensure safety, reliability, and performance – the transition from the legacy network to the new VoIP network will take extensive end-to-end testing as well as individual interface testing among the various elements, including Gateways, Radios, Switches, and Routers.
The new system must have equal or better voice intelligibility, voice quality, performance and reliability than the current voice system. Further, it must preserve the current methods and functions that controllers use to communicate with pilots. A controller keying a PTT-switch after pre-selecting a frequency for transmission, will cause a Push-to-Talk signal to be sent over a ground path towards a radio transmitter that triggers the radio to transmit on the frequency it is set to. All aircraft under the ATC's supervision in a sector of airspace tuned to that same frequency are able to hear the controller transmission.
For Air-to-Ground communication, the remote radio site's receiver detects the incoming audio (breaks Squelch) and then starts transmitting the audio over the ground path, towards the Voice Communications System (VCS).
Voice messages sent when PTT / Squelch signals are active use a disciplined voice procedure and standardized phraseology (destination flight codes, tower, and flight numbers) for clear communication. Both the PTT and Squelch signals must be preserved in the new voice communication system.
Also, the new voice network must exhibit low latency, jitter and packet loss to minimize PTT-delay (to avoid voice clipping), voice delay and provide a good voice quality allowing clear and intelligible voice communication exchanges between pilot and controller."
Mr. Vadalia explained, "The NAS Voice System will take a number of years to implement and will require testing of the VoIP signaling, audio quality, network reliability, as well as basic functionality of the network and voice systems.
Initially existing systems can be implemented using the legacy analog and digital TDM voice equipment by using a WAN network as the connection backbone, accessed using VoIP gateways. Testing the VoIP WAN connections from the radio interface to the Controller Working Position (CWP) will be essential.
GL currently has the ability to test voice quality and latency of the Analog / TDM and VoIP systems using GL's VQuad™ product by injecting and recording analog signals at the CWP, Radio and VoIP gateway interfaces. GL's VQuad™ can automatically key PTT from the CWP, then transmit and receive audio signals for Voice Quality Assessment and precise delay testing. Delay testing and verification is going to be particularly important with the transition to IP, which will introduce packetization delays as well as jitter buffer delays and other uncertainties.
Additional testing needs may include emulating many endpoints and bulk loading (calling) of the network is desired. GL's enhanced MAPSTM SIP (with ED-137 support) can emulate many endpoints without requiring analog interfaces."
He further added, "Delay through the networks and other impairments – jitter, packet loss, etc. is of concern; network testers will need to precisely time events. For example an Air Traffic Controller keying PTT until the RTP IP stream indicates that the PTT bit is set is a critical measurement. This measurement is possible using GL's VQuad™ as well as GL's PacketExpert™. Both products are capable of generating event driven triggers (specific packets or TTL signals that can be used for synchronizing other instrumentation. VQuad™ is capable of generating TTL triggers based on PTT activation. PacketExpert™ is capable of generating packet and TTL triggers based on real-time packet filtering/detection.
GL's PacketExpert™'s Record to File feature includes a powerful "Wirespeed filter" that allows a user to filter out unwanted traffic, and continuously capture the traffic of interest.
GL's PacketScan™ - an All-IP Network Monitoring software offers powerful features to capture and monitor live signaling and traffic over IP. It captures, segregates, monitors and collects statistics on all IP calls. Ease of viewing of Ground-to-Ground calls and Air-to-Ground sessions is possible.
GL's Testing Suites provide the necessary flexibility and enhancements to meet the challenge of ED-137. And as standards evolve, GL will track and keep pace with the same and in the process benefit the customer.

Back to Press Releases Index Page