Desktop, Rackmount & Portable PC Platforms
Rackmount Platforms
Lunchbox / Semi- Portable Platforms
Portable Platforms
Desktop / Portable Platforms
---
SR-1500 1U High, Industrial Rack mount PC
Key Features:
Processors:
Latest Intel & AMD Processors
Single or Dual Options Available


Hard Drive:
80GB to 200GB+, IDE, SATA, SCSI


Memory:
256MB to 8.0GB DDR PC400


Storage:
DVD-ROM/CD-RW, DVD-RW/CD-RW,
Floppy Drive (optional)


Video:
Dynamic Video Memory


Ports:
- 1 Serial
- 2-USB 2.0 Ports
- Dual 10/100/1000 Gigabit LAN Ports
- PS/2 Keyboard and Mouse Ports


Cooling Fans:
One removable fan bracket for flexible solution
Five long life ball bearing system fans


Power Supply:
One standard 400W power supply


Expansion Slots:
Optional PCIe x8 or PCI-X Riser Expansion Slot


Operating System:
Windows XP/Vista/2003 Server, LINUX


Options:
64 Bit Processors
Removable drive shuttle


Floppy Drive
Solid State Hard Drive (Flash)
Custom Designs


Optional Accessories
Sliderails
Removable Hard Drive Kits


Temperature:
Operating: 5-35 C
Storage: -45 to 70 C


Dimensions:
1.75"(H) x 19.00"(W) x 21.5"(D)
43.7mm(H) x 482.6mm(W) x 546.1mm(D)


Weight:
approx. 30 lbs.


Warranty:
1 Year limited warranty


(Hardware Specifications may change without notice)
---
4U Rackmount PC (With Industrial Grade Power Supply)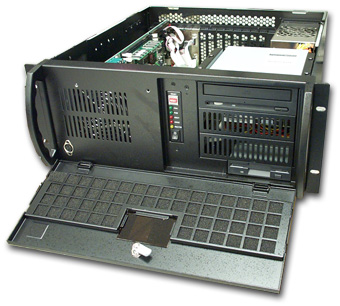 Key Features:
Special design for heavy-loading CTI and new servers
2 x 300W redundant hot-swappable industrial grade power supply
Shockproof mount design to better protect your system.Power On/Off, reset switch and HDD LED on the front panel
Front door covers the entire front panel
Switch key lock to secure and convenience your working environment
Special design handle for easy lifting
Dimensions; 19"W x 18.5"D x 7"H
3 x 5.25" & 1 x 3.5" drive bays
2 x 3.5" hidden drive bays (Not used with the DCOSS Model)
Single Board Computer Supporting Pentium Quad Core Processor with integrated 10/100 NIC, Video and Sound
Active Backplane supporting 3 ISA and 12 PCI Slots (1 slot shared) (Also available motherboard with 3 PCI slots)
2 GB DDR Memory
250 GB Serial ATA Hard Drive
DVD/CDRW Combo
Assembled in USA
(Hardware Specifications may change without notice)
---
OMC Lunchbox PC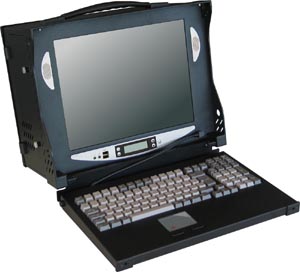 Standard Features:
15" LCD Screen 1024x768 resolution
Intel Quad Core Processor
2 GB Memory
ATX Motherboard with Onboard LAN and Sound
250GB SATA Hard Drive
Slim line floppy
Slim line CD-R/RW/DVD Combo Drive
300 watt Auto Switching Power Supply
Windows 2000, XP OS
Weighs approx. 25lbs
(Hardware Specifications may change without notice)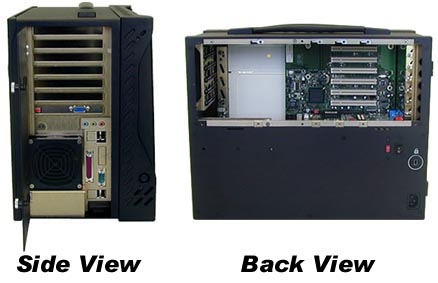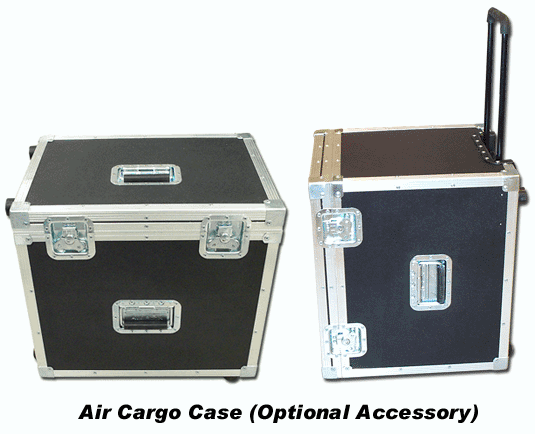 ---
Net Book PC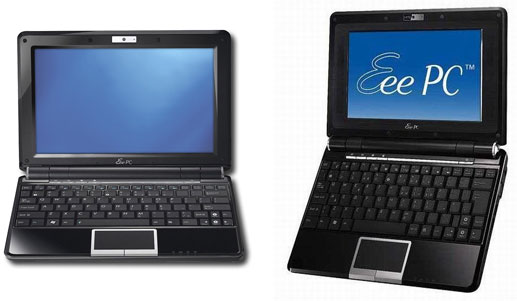 Standard Features:
ASUS EPC1000H
Intel Atom CPU N270 Dual Core @1.60GHz
1GB of RAM
160 GB Hard Drive
10/100 Network Adapter + Wireless Network
10 Inch Display, 1.3 Mega Pixel Camera, 3 USB ports, External Monitor Connector, Microphone, built in speakers.
Comes with Windows XP Home Edition
(Hardware Specifications may change without notice)
---
MaxPac 8020A Briefcase PC
The MaxPac® A Class is an entry-level rugged workstation for users requiring performance, expansion and capabilities that stretch beyond the limitations of rugged notebook or laptop computers.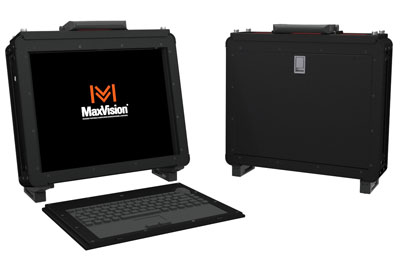 Standard Features:
2nd Generation Intel® Core™ i7 or 2nd Generation Intel® Core™ i5 Processor
2GB to 16GB expandable Memory
Intel DQ67SW uATX LGA1155/Q67 Motherboard
17" 1280 x 1024 LCD (Optional Resistive Touch)
LCD Specifications : 180°H/180°V viewing angle, 250 nits, 1500:1contrast ratio 16.7M colors, 8ms response time
DVI-A for integrated LCD Video Interface
Options HD Graphics (2nd Gen Core i5 or i7); Quadro 2000 or FirePro V3800 (PCIe x16 slot)
Std I/O Interfaces Integrated GbE, Serial Port, 2 USB3, 4 USB2, 2 eSATA, 2 SATA6, 2 SATA3, 1394, Audio/Speaker
PCI Expansion Slots One PCIex 16, one PCIex 4 (or PCI)
PCI Slot Lengths 9-13" depending on configuration
Removable Hard Drives Up to 4 2.5" SATA/SSD
Optical Drive DVD/CD Writer or BluRay Burner
Video Projector Ports DVI-I and Display Port
Power Supply 275 Watt 90 – 264VAC 50 – 60 Hz
Windows XP SP3, Windows 7 Pro, Windows2008 Server, Linux: Redhat Enterprise Linux5, SuSE 9.0, Solaris 10
Size Closed 16"W x 16.3"H x 5.4"D
Size Open 16"W x 16.3"H x 8"D
Environmental 0° - 50°C 10-90% Rel. humidity
Transit Case (Optional) Pelican™ 1610 with custom polyethlene foam
Weight 26 pounds
Total Weight of Computer with Transit 40- 45 pounds
(Hardware Specifications may change without notice)
---
Notebook PC with Portable Analyzers
Single Laptop Analyzer and Dual Laptop Analyzer

GL's new USB based T1 E1 Analyzer is the world's most powerful, full featured, and complete BERT, voiceband, data, signaling, and protocol analyzer on the market. It can perform analysis and emulation of various signal types including voice, digits, and tones; various protocols including HDLC, ISDN, SS7, CAS, Frame Relay, GSM, GPRS, CDMA, and UMTS.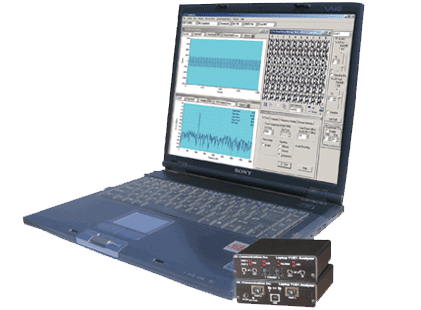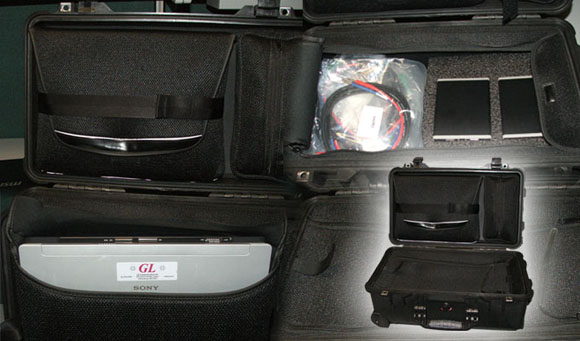 Notebook PC Shipping Case
Notebook Specs:
14.5" or 15.5" Widescreen TFT
Core 2 Duo - Centrino Duo
2 GB Memory
80GB Hard Drive
Gigabit Ethernet
Windows XP Professional OS
3 Universal Serial Bus (USB) ports
Microsoft Sound compatible with 3D surround Built in stereo speakers
TPM - fingerprint reader
DVD±RW (±R DL) / DVD-RAM
WLAN : Bluetooth, 802.11 a/b/g/n (draft)
8.2 lbs
One year manufacturer warranty

(Hardware Specifications may change without notice)
---
PCI Expansion System
1 Slot Series...

The 1 Slot accommodates a full length PCI card. The system operates on a 12-volt DC power. When equipped with a GL OC-3 / STM-1 card, this unit enables analyzing, testing, simulating, and monitoring OC-3 / STM-1 and STS-1/STM-0 signals. The 1 Slot Expansion System easily connects to a PC laptop through the (PCMCIA) interface and expansion cable. All this potential in a 5.45" W 1.70" H x 13.43" D chassis that weighs less than 2.5 pounds without card(s).

2 Slot Series...

The 2 Slot system supports two full-length PCI cards. When equipped with 2 GL OC-3 / STM-1 cards, this unit enables complex analysis on OC-3 / STM-1 and STS-1/STM-0 signals. Quiet fans provide cooling for your PCI cards. No special software is required; the installation is quick and simple. The 2 Slot Expansion System easily connects to a PC laptop through the (PCMCIA) interface and expansion cable. All this potential in a 10" W x 2.57" H x 15.44"D chassis that weights 5.3 pounds.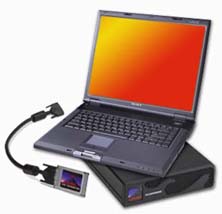 Limitations of PCI Expansion System
There are some limitations in using single and dual slot expansion chassis.
GL OC3/STM-1 card works fine in single slot magma expansion chassis
OC3 cards work fine in both single and dual expansion chassis
Magma Chassis does not work with Laptop PC that have Ricoh card bus controllers
T1/E1 cards are not recommended to use in dual slot expansion chassis due to issues with the drivers.
---
Mobile / Portable PC
Pure freedom. Total convenience. That's what the Samsung Q1 Ultra Premium Ultra Mobile PC gives you in the palm of your hand. Now you can enjoy more digital entertainment, communicate easier and stay informed anytime, anyplace. Can't seem to slow down your fast-paced life? Take it all with you wherever you go. Fueled by a 1.33 GHz CPU and 1 GB of high-speed memory, the Q1 Ultra Premium is a high-performance PC in an ultra-light, ultra-mobile package. An enhanced split QWERTY keypad, up to 7 hours of battery life and single-touch Internet access, make it a must-have for anyone who needs to meet the demands of today's mobile life.
Standard Features:
U1500 / 1.33 GHz ULV
UMPC
RAM 1 GB
HDD 80 GB
GMA 950 Dynamic Video Memory Technology 3.0
WLAN : 802.11b/g
Bluetooth 2.0 EDR
fingerprint reader
Win XP Tablet PC
7" Widescreen TFT 1024 x 600 ( WSVGA )
Camera
(Hardware Specifications may change without notice)
---
Desktop / Portable Shuttle PC
With the ability to integrate standard PC peripherals. The Shuttle Portable PC is carefully designed with the user in mind. This small footprint PC is lightweight and rugged, ideal for data acquisition, protocol analyzer, image editing etc. Assembled in the USA.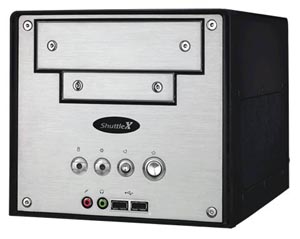 Standard Features:
X PC Shuttle Motherboard
Intel Quad Core Processor
1 PCI Slot and 1 PCI Express
250 GB SATA Hard Drive
2 GB DDR Memory
1 x 5.25" & 1 x 3.5" drive bays
1.44 MB Floppy Drive
DVD/CDRW Combo Drive
Integrated Sound Card
Integrated10/100/1000 Ethernet
Integrated Video
Dimension 11.5" (L) x 8" (W) x 7.5 (H)"
Front Panel USB
(Hardware Specifications may change without notice)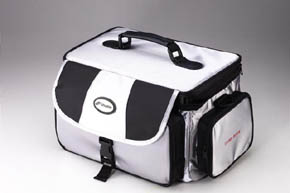 Portable Shuttle PC Carrying Case
---
Mid ATX Tower PC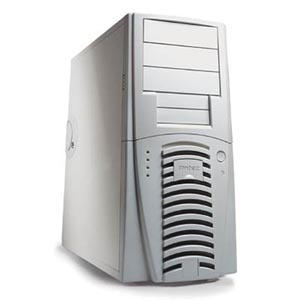 Standard Features:
Accommodates ATX Motherboards
Supports Intel Quad Core Processor
3 PCI slots
1 PCI NIC Card
250 GB SATA Hard Drive
2 GB DDR Memory
3 x 5.25" & 2 x 3.5" Bays
DVD/CDRW Combo Drive
3.5" Floppy
Built in AGP Video Card
Integrated 10/100 NIC and Sound
300 watt Power Supply
Keyboard
Mouse
Assembled in the USA

Optional Hardware:

Internal IDE Zip Drive
CD Writer
(Hardware Specifications may change without notice)