Massive Subscribers Simulation
on 3G Network Infrastructure
4th, Dec 2017
Welcome to December 2017 issue of GL's Newsletter providing information and insight into our enhanced UMTS IuCS and IuH Interface Emulator referred to as MAPS™ UMTS IuCS and IuH Interface Emulator. The emulator is enhanced to simulate more than 20,000 subscribers to easily stress or load test 3G network. Additionally, along with various other call scenarios, the application also supports SMS over active Mobile-Mobile Voice Call, and Handover (Relocation) procedures.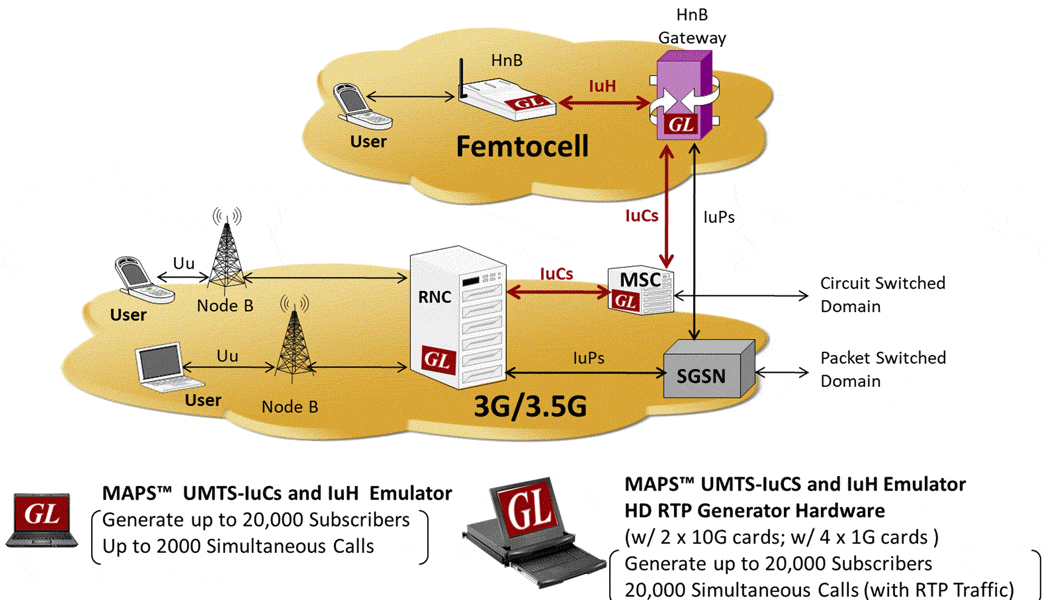 Enhancements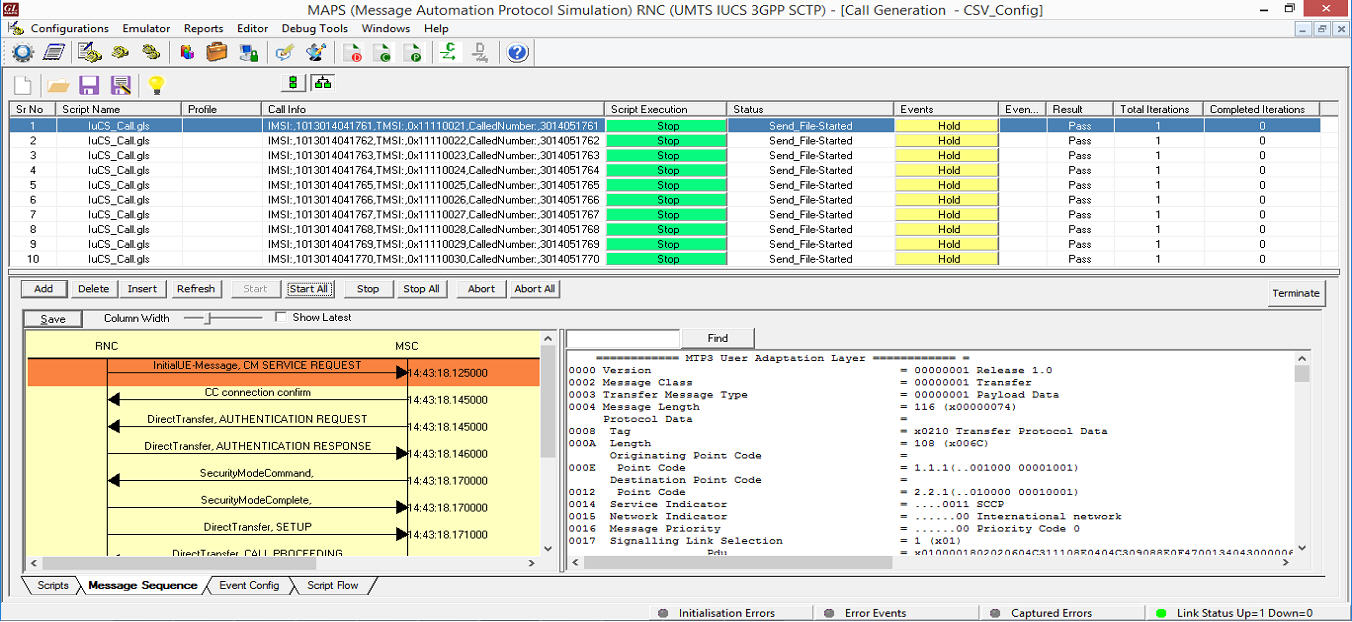 Bulk UE Simulation with CSV based Profiles
In real time scenario, there exists huge number of subscribers with unique UE parameters. GL's MAPS™ tool supports bulk call generation to stress and load test the network with number of subscriber profiles. Each profile can have unique parameters to simulate different real-time scenarios. However, creating and maintaining massive number of XML based subscriber profiles with unique mobile identifiers such as IMSI, TMSI, MSISDN and traffic parameters is not feasible. Therefore, recent enhancements were introduced to MAPS™ UMTS IuCS and IuH test tools to include subscriber profiles in CSV file format. The CSV database system used within MAPS™ is a simple Excel® file that can dynamically generate up to 20,000 numbers of subscribers with unique identifiers (IMSI, TMSI, MSISDN) and other key parameters in sequential order.
MAPS™ also includes option to configure the ratio of SMS and Voice calls out of Total number of Calls. Considering 100% Total Calls, MAPS™ will generate SMS calls and MO Voice calls as per the defined ratio. For example, if the configured SMS call Ratio = 30% in Testbed, then during bulk call simulation, MAPS™ generates 30% SMS calls and remaining 70% of total calls generated will be MO Voice calls.
---
Call Simulation
Call Generation option allows the user to simulate outgoing communications where an outgoing call is initiated by sending call control messages using proper scripts and profiles. The profile allows necessary parameters of call control messages to be changed during runtime. Messages are exchanged between the MAPS™ and the DUT. MAPS™ application acts as either the Caller or resides at the network terminal acting as Callee.
Call generated from other entity can be automatically detected in call reception window by pre-setting the required scripts in the Incoming Call Handler window.
---
IuCs interface - SMS over Active Mobile-Mobile Voice Call
The application allows you to simulate a simultaneous SMS call while an UE is on active mobile-to-mobile voice call with another UE. Additionally, both Source RNC and Target RNC can be simulated within single testbed demonstrating Handover (Relocation) procedure for a UE in CONNECTED state carrying both the control signaling and the user data.

In the above test setup, initially, both the UE1 and UE2 profiles are configured at RNC for Location Update procedure. Once both the UEs are registered with the network, Mobile Originating call is initiated from UE1 (MSProfile0005) following which the Mobile Terminating call is initiated automatically from MSC towards UE2 (MSProfile0055), which can be observed in the RNC Call Reception window, thus completing the mobile-to-mobile voice call. You can then initiate an SMS call by applying the "Send SMS" user event at either UE1 or UE2 to simulate an SMS call while the original mobile-to-mobile voice call is still active.
Normally, the SMS will be sent to the called number. However, user can send SMS to any other number during the same voice call by configuring "Other User MSISDN Number" in RNC profiles prior to starting call simulation process.
---
IuCs interface - Handover Procedure
The application handles Handover (Relocation) Procedures for a UE in CONNECTED state carrying both the control signaling and the user data. Both Source RNC and Target RNC are simulated within single testbed demonstrating Relocation procedure to move the connection between the Radio Access Network (RAN) and the Core Network (CN) for the source RNC to the RAN for the target RNC.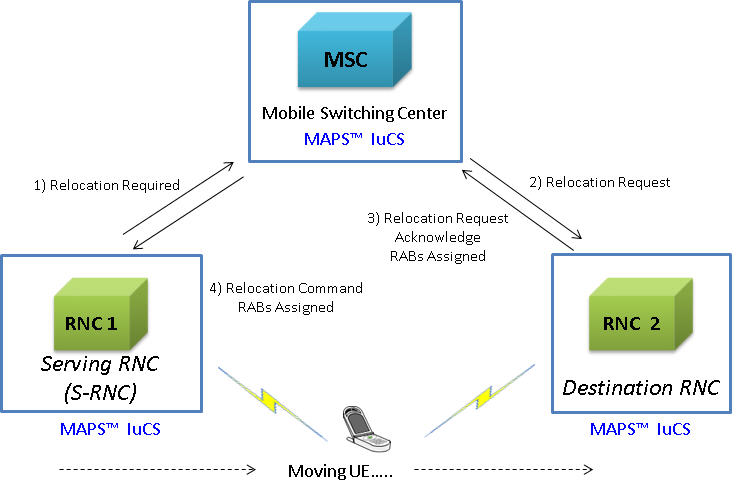 The following screenshot depicts end-to-end procedure simulation, you may observe the Relocate Required request messages sent from RNC1 to MSC and from MSC to RNC2.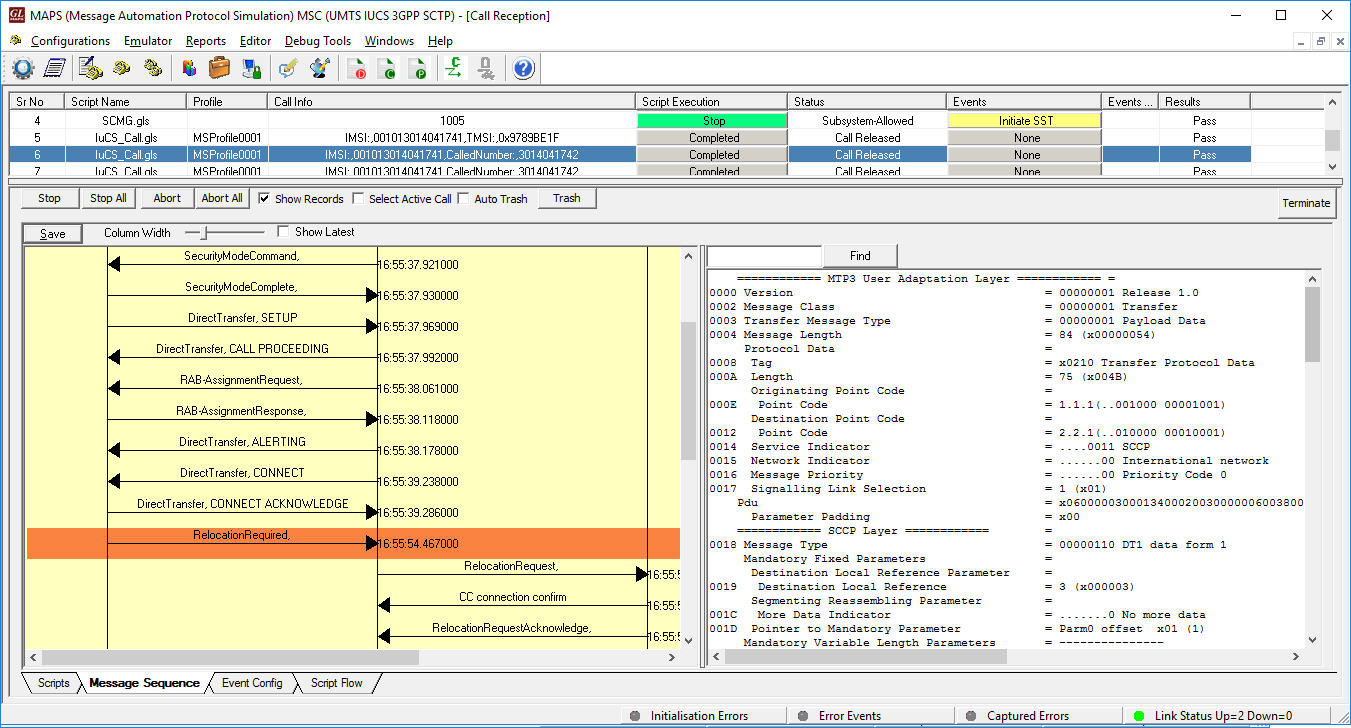 ---
Important Features
Simulates RNC, MSC, Home HnB and Home HN GW entities
User controlled access to Mobility Management, Session Management, RANAP, and DTAP messages
Supports RAB Assignment, Authentication, TMSI Reallocation, Encryption, and other procedures
Ready scripts for Mobile Originating Voice/SMS Call, Mobile Terminating Voice/SMS Call, Location Updating, and Handover procedures for quick testing
Supports sending SMS over an ongoing voice call
Automated call generation and call reception
Massive UE simulation with related information access directly from Database, or CSV files
RTP traffic simulation supports the following actions for almost all Standard Codec.

Transmitting Voice Files
Transmitting DTMF, MF Digits, and Single and Dual Tones
Recording Voice Files
Monitoring Single and Dual Tones, DTMF, and MF digits
Loopback, Talk using Microphone, Play to Speaker

Provides fault insertion, and erroneous call flows testing capability
Impairments can be applied to messages to simulate error conditions
Supports RTP traffic over Iu-UP protocol and also over normal RTP sessions (requires additional licenses)
Supported Codecs: AMR & AMR-WB
Supports customization of call flows and message templates using Script editor and Message editor
Provides protocol trace with full message decoding, and graphical ladder diagrams of call flow with time stamp
Protocol independent software architecture
Provides call statistics and associated captured events and error events during call simulation

Back to Newsletter Index Page