GL Announces High-Density 16 ports T1 E1 Analysis Hardware
Welcome to another August 2014 issue of GL's Newsletter providing information and insight into our latest T1 E1 Analysis Hardware tScan16™ (16 T1 E1 Rx only ports) boards.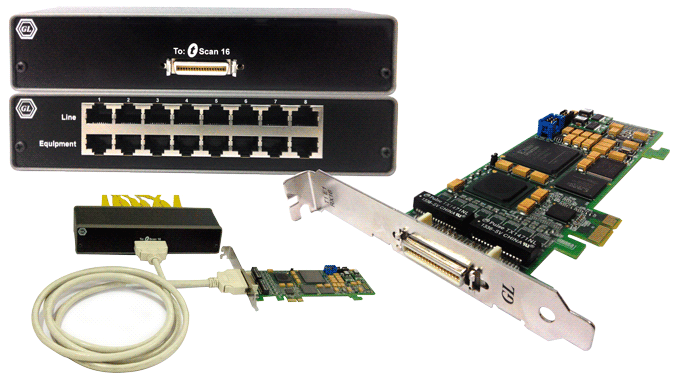 Overview
GL's tScan16™ is a high-density T1 E1 board with 16 ports and the newer PCIe (x1) bus interface. The sixteen T1 E1 ports are Receive-only ports optimized for high performance voice and data capture, monitoring, and analysis requirements.
tScan16™ extends the family of GL's T1 E1 platforms with greater density, increased ports, and reduced power.
---
Main Features
Software selectable 16-Rx Only T1 or E1 interfaces
PCI Express x1 Lane/Board
Convenient High Density Cabling
Monitor T1 E1 line conditions such as frame errors, bipolar violations, alarms, frequency, and power level.
Most all "Rx Applications" are available with tScan16™
Analysis of ISDN, SS7, Frame Relay and Multilink Frame Relay, PPP and Multilink PPP, HDLC, and many more protocols
Comprehensive analysis of Voice, Data, Fax, Protocols, and Digital signals, including Echo and Voice Quality testing
Call Recording, Analysis, and Monitoring for hundreds to thousands of calls in one platform
Compatible with Windows® 7 and 8 Operating System and GL's user friendly real-time software
---
Comparison and advantages of the new tScan16™ over Quad/Octal T1 E1 Boards is given in the following table.
Feature
tScan16™ T1 E1 Boards
Quad, Octal T1 E1 Boards
Number of Ports
16 (Rx only)
31x16 = 496 timeslots for E1
24x16 = 384 timeslots for T1
4, 8
Board Height
Standard PCIe board or 2U
Standard PCIe board
PC Bus
PCIe v1.1 x1
PCIe v1.1 x1
Adapter Board
High-Density 16 Receive Only RJ-45 Ports on the Main Board
Breakout board with MDR 36-Pin Connector (3M Mini D Ribbon cable) to interface with Main Board
Quad: none; Octal: 4 port daughterboard
Connectors
RJ-45
with Inline Monitoring
RJ-45
Termination modes
Terminate and Monitor
(on main board)
Terminate, Bridge, Monitor
Interface modes
Not Applicable
Normal Mode, Cross-port and Through Mode
---
T1 E1 Monitoring (Receive) Applications in tScan16™
Basic Applications
Byte Values & Binary Byte Values
Signaling bits, Power Level, DC Offset and Frequency
Multi-frames, and Real-time Multi-frames
T1 E1 Data as Real-time Bitmap
Timeslot Window
ASCII Timeslot Display
Oscilloscope & Power Spectral
Audio Monitoring & Active Voice Level
BERT
Windows Client / Server
Manual, Automated Record Files
Optional Applications
Protocol Analysis: ISDN, HDLC, SS7, GSM, GPRS, UMTS, Frame Relay, ATM, PPP, TRAU, T1 Facility Data Link , E1 Maintenance Data Link (Sa HDLC, and SSM) and more
WCS Modules: Rx files, digits, Multi-channel BERT, DSP operations, Dynamic DSP capability
Capture & Analysis : DTMF / MF / MFCR2, Digits, Tones, Voice, Modem, Raw Data
Call Data Records
Voice Band Analysis Software
Multi-Channel BERT
Protocol Identifier
Signaling Transitions Recording
Real-time Strip Chart
Real-time Multichannel Audio Bridge
Multiplex / Demultiplex Software
Network Surveillance, Voice Quality Testing

Back to Newsletter Index Page