Newsletter: GL Enhanced Direct T1 E1 Access for SONET SDH
Welcome to a March 2015 issue of GL's Newsletter providing information and insight into our enhanced OC3/12 and STM1/4 Analysis and Emulation Platform referred to as LightSpeed1000™. Among its many features is direct access to any or all T1s E1s (84 T1s = 4,032 DS0s, or 63 E1s = 3,906 DS0s) inside the OC-3 STM-1 as seen below.
This compact approach saves power, cost, space, and cables.
Overview
GL's
LightSpeed1000™
comes with all the necessary software for capturing, monitoring, emulation, and protocol analysis over SONET-SDH links, with a price tag that compares very favorably with similar test instruments at 3 times the price. It supports both
Channelized
and
Unchannelized
modes. 2 out of the 4 ports are meant for SONET/SDH Unchannelized and unframed data. The remaining 2 ports can be either SONET/SDH or GigE (future) ports meant for Channelized T1 E1.
The LightSpeed1000™ Card can be installed in a 1U PC appliance or in a portable enclosure as shown below.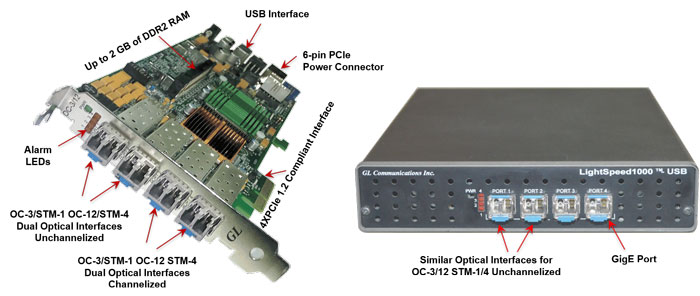 GL's
LightSpeed1000™ in Channelized Mode provides simplicity and permits direct DS0 level access to hundreds of T1s and E1s
within OC-3 STM-1
, and in the near future all the E3s and T3s constituting the OC-3 and STM-1. This platform with its unique architecture eliminates the requirement for external multiplexing hardware and hundreds of cables and connectors. Multiple, interdependent streams of any user-defined capacity can be generated internally, analyzed, and monitored in real-time. For more information on the application, the user can refer to the
LightSpeed1000™ in Channelized Mode
webpage.
Other Features
Multiple cards per system (PCIe card only) for super high capacity monitoring and test system
High performance PCIe x4 interface with optimized DMA to perform Rx and Tx packets to/from PC memory
Hardware based precise time-stamping of cells with 10 nsec resolution, 1 ppm accuracy
Software selectable OC-3 / OC-12, or STM-1 / STM-4 for Unchannelized ATM, POS or Transparent Traffic, and Channelized T1, E1, T3, E3 traffic
API Toolkit to develop user specific applications
Applications for Direct T1 E1 within SONET SDH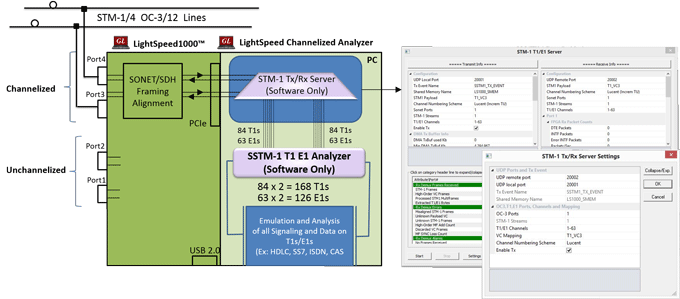 | | |
| --- | --- |
| T1 E1 and DS0 Analysis Applications | T1 E1 and DS0 Emulation Applications |
| Protocol Analysis - ISDN, SS7, GSM, GSM Abis, CDMA, PPP/ML-PPP, Frame Relay, ATM, HDLC, MTP2, LPAD etc. | Protocol Emulation - MAPS™ ISDN, MAPS™ SS7, MAPS™ GSM, MAPS™ MAP |
| Protocol Identifier | PPP/ML-PPP, TRAU, Frame Relay, IMA etc |
| Call Capture and Analysis (CCA) | Traffic Classifier |
| Packet Data Analysis (PDA): IP over PPP | |
For more information on the features available, please refer to the
OC3/12 and STM1/4 Analysis and Emulation Card
web page, or give us a call.

Back to Latest News Page