Central Office Switching Simulator
13th, Sep 2019
Welcome to the September 2019 issue of GL Communications' Newsletter providing insight into our latest product release,
MAPS™ Central Office Switching Simulator
- which provides a single solution for testing traffic and signaling across
PSTN
,
IP
and
TDM
networks in one platform.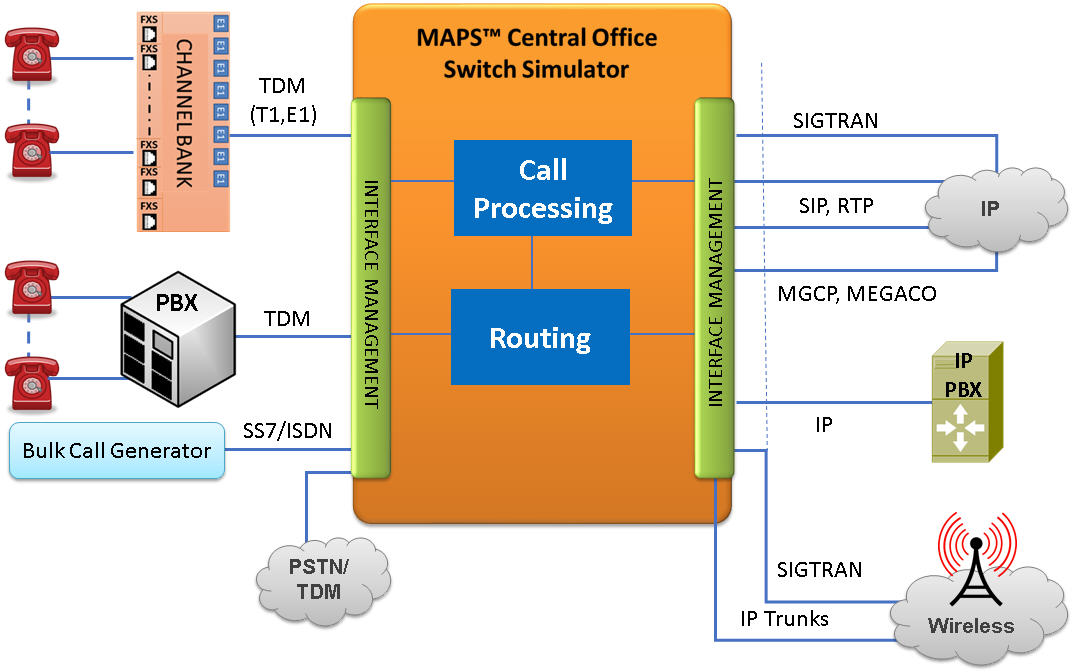 MAPS™ (Message Automation and Protocol Simulation) Central Office Switching Simulator converts a PC (portable, tower, rackmount) into a digital central office switch simulator, PBX and switch, complete with T1, E1, POTS, and IP interfaces.
MAPS™ Central Office Switching Simulator is ideal for simulating and testing advanced telecom infrastructure including PBX, switches, gateways, and transmission systems. The simulator performs complex switching functions for routing PSTN to TDM calls while providing voice/data throughput and protocol conversion during call switching. MAPS™ can emulate both ends (or one end) of a complex switching network, and the switching equipment itself such as the SS7 SSP for routing TDM calls to/from local PSTN telephone exchange.
All signaling and traffic actions are easily controlled via scripts and provides all the flexibility required from a telephony test equipment.
The Central Office Switching Simulator can also be used to verify all PSTN, IP and T1/E1 signaling protocols over different transport within the network infrastructure. These protocols include T1/E1 CAS, PRI ISDN, SS7, and IP protocols. It can also generate traffic such as digits, tones, voice files, fax, and more.
---
Analog - ISUP Call Conversion Functionality
The MAPS™ Central Office Switching Simulator can be configured as a high-density switch, which supports large volumes of various traffic including voice, fax, modem, and tones.
Being a self-contained system with capabilities to easily communicate with external networks, the MAPS™ Central Office Switching Simulator can switch calls originating from PSTN network to SS7 and vice versa.
The following screenshot depicts MAPS™ Central Office Switching Simulator configured to switch and route incoming SS7 calls to analog (FXO) terminal. MAPS™ CO receives the called number in the SS7 Initial Address Message and uses the Called Party Number to identify the subscriber on the FXO side and routes the call on the associated timeslot/trunk towards FXO.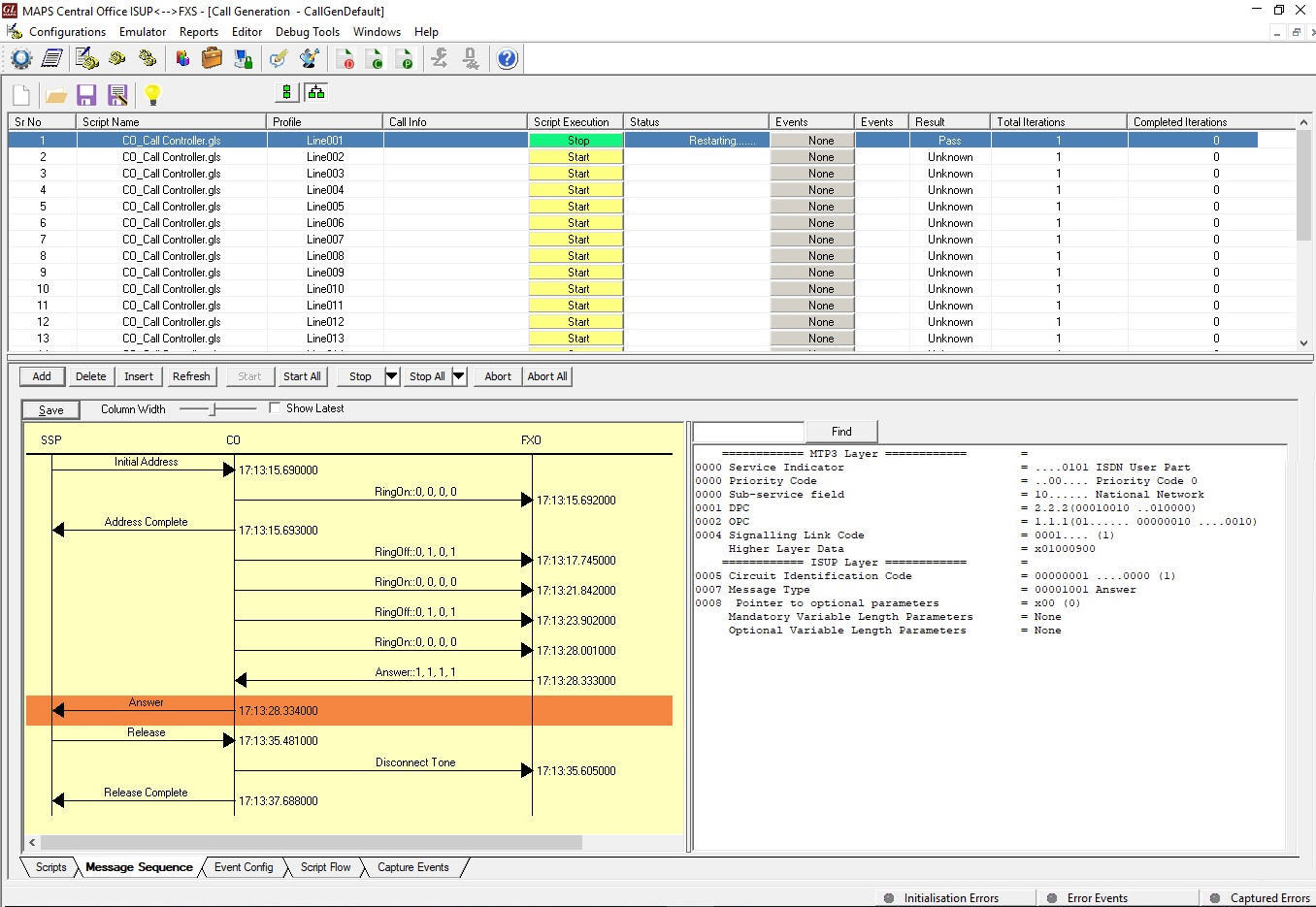 The following screenshot depicts MAPS™ Central Office Switching Simulator configured to switch and route incoming analog calls to SS7 system. Each FXS line is configured with a calling number (ANI) and is associated with the timeslot/trunk. When the PSTN call is received, MAPS™ CO forwards the received dialed number to SS7 system and switches the incoming analog call based on the number dialed (called/calling number).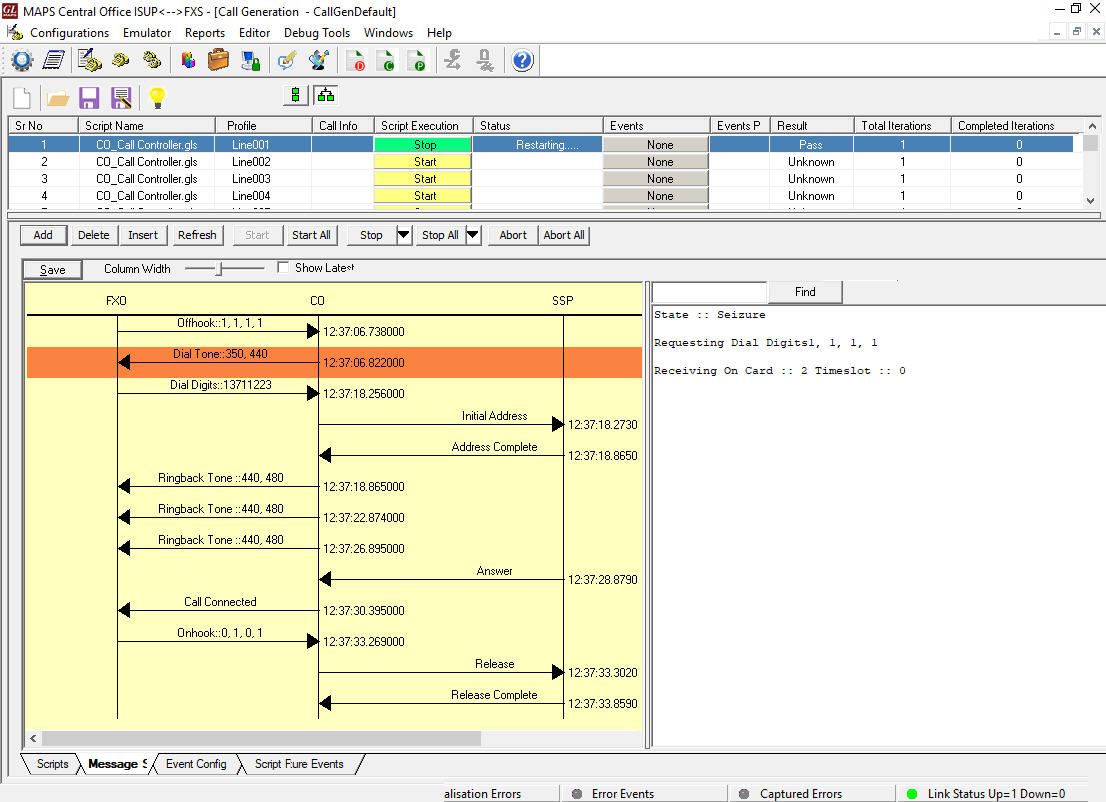 ---
Features
A single-box system to test central office, PBX, gateways, analog/ IP networks
Provides complete network infrastructure for PSTN, IP, digital T1/E1 trunks, SS7, ISDN, and POTS (Plain Old Telephone System)
Call switching/routing among TDM-PSTN networks with protocol conversion capability
Automatic bulk call generation/reception for load testing
Automate call establishment and traffic generation / detection process through scripts
Monitor voice quality using PESQ (ITU-T P.862.1/2), POLQA (ITU-T P.863)
Call status/graphs, link status, message statistics, capture events, error events, user-defined call statistics and graphs
APIs and CLI access through multiple command-line based clients (Java, VBScripts, TCL, and Python)
Unlimited number of remote client user access using remote controller client-server module
For detailed information refer to MAPS™ Central Office Switching Simulator webpage.
Please review the above and give us a call if you are interested in the above product/software or for any other applications listed in our website. We would be happy to discuss your testing needs and we look forward to hearing from you.

Warm Regards,
Shelley Sharma
Phone: 301-670-4784 x114
Email: info@gl.com

Back to Newsletter Index Page