GL Announces CAP Protocol Emulator
Welcome to another July, 2013 issue of GL Communications' Newsletter providing information and insight into our latest product MAPS™ CAP Protocol Emulator - CAMEL Application Part Emulation using MAPS™ Platform.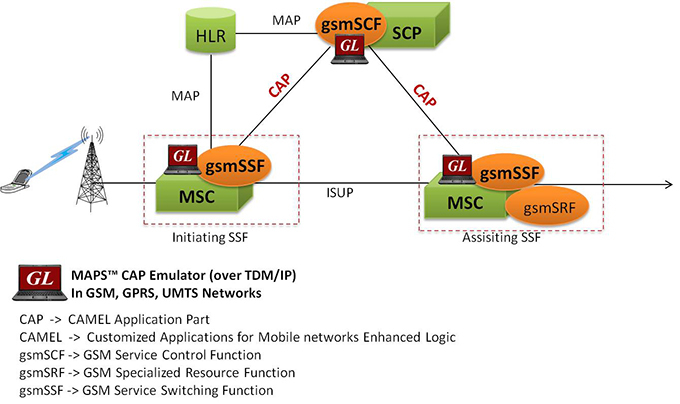 Overview
Traditional telecommunications networks usually limited to placing and receiving calls are now supporting enhanced Intelligent services as prepaid calling, tele-voting, number portability, call transfer, and so on.
Such enhanced Intelligent Network (IN) services were standardized by the ITU-T standards body. Various standards have been defined for IN protocol. CAMEL is one such standard. The IN protocol of CAMEL, called as CAMEL Application Part (CAP) has been adopted in GSM, and 3G networks. The capability of CAMEL Application Part (CAP) is defined by means of 'operations', which means one entity, starts a procedure in the peer entity.
The Service Control Point (SCP) is the main entity that control IN services. The Service Control Function (SCF) is a functional entity that resides in 'Service Control Point' (SCP). The Service Switching Function (SSF) entity resides in MSC and interrogates HLR as part of call handling. The CAP information flow is defined between functional entities such as Service Control Function (SCF) and Service Switching Function (SSF) distributed across the GSM, GPRS, and UMTS networks. An MSC or GMSC may also contain a Specialized Resource Function (SRF) which provides the capability of user interaction with a subscriber, for example play voice announcements or collect DTMF tones from the user.
GL's Message Automation & Protocol Simulation (MAPS™) is a multi-protocol, multi-technology platform used for the emulation of a variety of communication protocols over IP, TDM, and Wireless networks. Recently, CAMEL (Customized Applications for Mobile networks Enhanced Logic) Application Part (CAP) protocol emulation capability has been added over TDM and IP stack.
GL's MAPS™ CAP Emulator over TDM or IP can emulate CAP (CAMEL Application Part) supplementary services such as unified messaging, prepaid, and toll-free (Freephone). These services are available in TDM or IP based GSM, GPRS, UMTS networks.
---
Supported Protocol Stacks
Over TDM
---
Supported Procedures
Apply Charging for calls (GSM Sessions) Procedure - Specifies the charging information for the call control duration over established GSM call sessions. Contents are Network Operator specific.


Establish Temporary Connection Procedure - Creates a connection between an initiating SSF and an assisting SSF as part of a service assist procedure. This operation can also be used to create a connection between a SSF and a SRF, for the case where the SRF exists in a separately addressable Physical Entity.


Connect To Resource Procedure - SCF uses this operation to connect a call segment from the SSF to a specialized resource. After successful connection to the SRF, the interaction with the parties in the call segment can take place.


Toll Free Procedures - Toll-free, Freecall, Freephone service is where the service providers are charged for the calls, instead of the calling party.


Apply Charging for Data (GPRS sessions) Procedure (supported over IP only) - Specifies the charging for the data transfer over establish PDP context (data channel between the user and the network).
---
Main Features
CAP protocol over TDM (E1 T1) or IP simulation over GSM, GPRS, UMTS networks
Emulator can be configured as SCF and SSF entities to emulate the CAMEL services
User-friendly GUI for configuring CAP protocol layers
Access to all MTP3, M3UA, M2PA, SCCP, and CAP protocol fields such as Routing Number, Called Party Number and more
Customizable ready scripts for Apply Charging for calls, Apply Charging GPRS for data, Toll Free service, Establish Temporary Connection, Connect To Resource procedures
Logging of all messages in real-time
Save and load configurations
Supported on Windows® operating systems
---
Call Generation
---
Call Reception
Call generated from other entity can be automatically detected in call reception window by pre-setting the required scripts in the Incoming Call Handler window.
The screenshot below shows MAPS™ CAP configured to act as SCF and to respond to the incoming messages from the SSF.
---
Call Statistics

Back to Newsletter Index Page