Datacom Analyzer
Datacom Analyzer Software Ver 6.23 is Now Available! Download it here
---
Overview

Data Communications refers to the transmission of digital information over a communication channel. The data transmission types include either parallel or serial type transfer. When data transmission is required over long haul, it is feasible to use serial type transfer as it allows high data rates with cost efficiency. Serialized data can be of asynchronous or synchronous in nature.
Different transmission mediums have evolved over the years for transmitting data signals, either electrically, optically, or as radio waves. The selection of the transmission medium largely depend on the distance over which data signals needs to transferred, data rates, cost, and reliability.
GL's Datacom Analyzer/Emulator is an optional board available with GL's tProbe™ T1 E1 Analyzer USB Unit. The portable tProbe™ T1 E1 and Datacom Analyzer is designed for test and verification of data communications equipment and circuits – specifically serial interfaces that provide clock, data, and control signals. These are commonly encountered in military links, satellite circuits, WAN, and data modem interfaces. Software selectable modes are provided to emulate DTE, DCE and non-intrusive monitoring for both synchronous (sync), and asynchronous (async) modes. Interface standards X.21, V.24, V.35, RS-449, RS-485, EIA-530 and EIA-530A are supported. Also supported are line codings such as Manchester. Various cables are provided for these interfaces to make testing convenient.
For detailed list of datacom cables refer to Datacom Board – Cables.
---
Main Features
Supported Line interfaces - V.24, V.35, X.21, RS-449, RS-485, EIA-530 and EIA-530A
Sync BER from 300 b/s to 16.384Mbps
Async BER from 300 b/s to 115.2Kbps
DTE or DCE emulation mode
SYNC clock source and sense selection
Frequency measurement
Handshaking signals control and monitoring
---
Typical Application
Bidirectional monitoring with Y-adapter cable
Monitor control leads, frequency
DTE/DCE emulation for end-to-end testing of data networks, bidirectional monitoring for a greater level of troubleshooting for data networks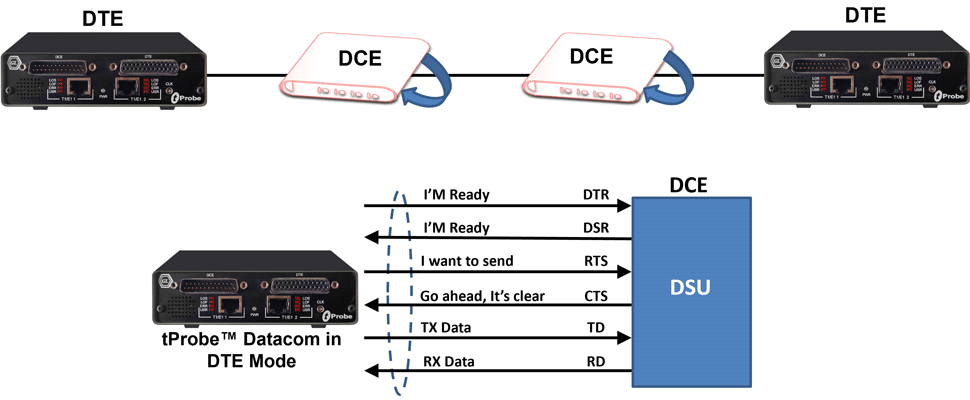 DTE Emulation Mode


DCE Emulation Mode
Verifying end-to-end transmission through DCE or DTE




Monitoring Data Communication Lines
---
Supported Datacom Interfaces
RS232C
It is a standard interface for serial data for connecting DTE to DCE computer serial ports.
RS-423
It is a higher speed unbalanced interface similar to RS-232C. The Datacom board supports this with RS-232C interface setting.
RS-449
It is a high speed serial data communication interface. This interface used unbalanced or pairs of signals to transmit and receive clock and data. This interface typically uses a 37 pin connector.
RS-422/RS-485
It is similar to the RS-449 standard with changes only to the logic levels. This is sometimes used with a multi drop configuration of up to 10 receivers with 1 transmitter. Difficult to setup but can fill low cost reliable data communications.
V.35
It is another high speed serial data communication interface. This interface also uses unbalanced or pair of signals to transmit and receive clock and data. This interface typically uses a 35 pin connector.
RS-530
It is another high speed serial data communication interface. It is a common interface used to replace a 25 pin connector instead of using the RS-449 DB-37 or V.35 connectors.
ASYNC Configuration
Configuration functionality allows to configure various Tx/Rx parameters such as Data Bits, Parity Bits, and Stop Bits.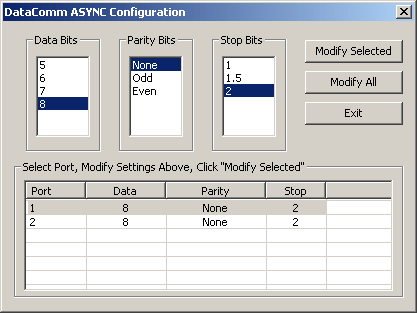 Datacom Async Configuration
---
Loopback Types
No Loopback - This option disables any existing loopback conditions.
Outward Loopback - In this configuration the data sent from the CSU are received by the Datacom interface and are immediately retransmitted to the CSU.
Diagnostic (Input + Output) Loopback - Loops the internal transmit clock and data to the internal receive clock and data along with looping the external clock and data back to the incoming device.
Cross-port Loopback - It takes the Rx data from the DTE and places it on the Rx of the DCE. It also takes Rx data from the DCE and places it on the Tx of the DTE.
---
Monitoring of Control Signals and Frequency
Displays the following signal activity on the Datacom DCE and DTE interfaces along with the frequency measurements for each port.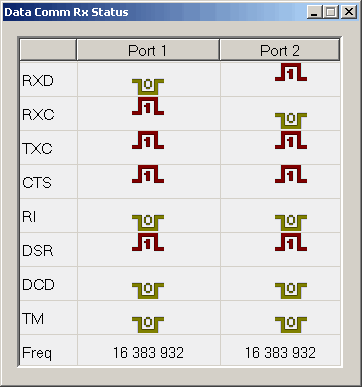 Monitoring Datacom Line Status
RXD: (Received Data)
This is the serial encoded data received by a DTE from a DCE which has in turn received from another source.

RXC: (Receive Complete)
The RXC bit will be set to HIGH(1) when data has been received and is available in the buffer.

TXC: (Transmit Complete)
The TXC bit is set to HIGH(1) when a transmission is completed and there is no other data to send.

CTS: (Clear to Send)
This is set true by a DCE to allow the DTE to transmit data. The DCE would use its CTS to prevent any transmission by the distant DTE. This is called hardware flow control or hardware handshaking.

RI: (Ring Indicator)
This signal is used for auto answer applications. DCE raises when incoming call detected used for auto answer applications.

DSR: (Data Set Ready)
This should be set true by a DCE whenever it is powered on. It can be read by the DTE to determine that the DCE is on line. In data acquisition application is generally false.

DCD: (Data Carrier Detect)
This is set true by a DCE when it detects the data carrier signal on the Datacom line.

Frequency
Displays operating Frequency in Hertz.

Monitoring Multiframes
This application permits viewing unframed data on a Datacom port. Approximately 2 seconds of data is captured for viewing. For Datacom systems, 16 frames are displayed per multiframe.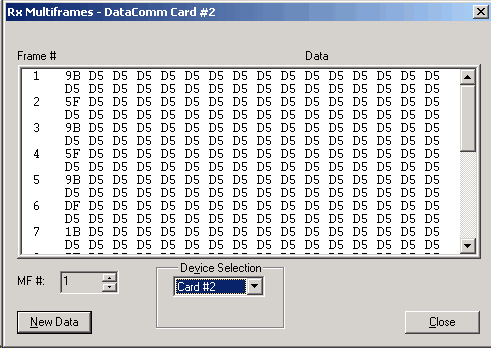 Monitoring Multiframes
---
Intrusive Test Applications
Bit Error Rate Test
The Bit Error Rate Test (BERT) application generates/detects Pseudo Random Bit Sequence (PRBS) for testing performance of data communication circuits.
Precision Delay Measurement
Precision Delay Measurement measures the Round Trip Delay of a system. Sending a BER pattern with the insertion of an error bit and timing the reception of the error bit do the Round Trip Delay measurement. Measurement is precise and accurate to the microsecond level. A delay up to 8 seconds can be measured
Rx to Tx Loop back
This application is used in conjunction with a Bit Error Rate Test to verify the operation of Cards and Laptop units.
Error Insertion
The Error Insertion application permits inserting single, fixed, automatic, random, and burst error into the incoming or outgoing bit stream.
---
Optional Applications
Record/Playback Applications
Record from multiple cards
This application permits capture of data being transmitted on (any one or both) Datacom analyzer to a file.
Automated Record Playback
The 'Automated Record/Playback (ARP)' application is an extremely versatile and rugged application incorporated in Datacom analyzer that makes it very easy for the user to run several transmit or receive operation tasks simultaneously.
Automated Continuous Capture
Automated Continuous Capture (ACC) allows users to capture different types of data (*.ala, *.ula, *.pcm, *.wav, *.ber) continuously into different files. Instead of capturing data from a card in one big block, it is possible to capture seamless chunks of data in files of the specified size, or specified time limit of capture.

Protocol Analyzers and Emulators
Protocol Analysis
GL's protocol analyzers can be used to diagnose signaling problems quickly and effectively by analyzing traffic on multi-protocol signaling networks. It monitors signaling interactions in fixed, access and wireless networks. It analyzes multiple protocols like HDLC, Frame Relay, and PPP.
---
Screenshots
HDLC Protocol Analysis over Serial Data Lines HDLC Protocol Analysis Application
Frame Relay Protocol Analysis over Serial Data Lines
PPP Protocol Analysis over Serial Data Lines
Playback from File
Record from multiple cards
Automated Record Playback
Automated Continuous Capture
Error Insertion
Precision Delay Measurement
Rx to Tx Loop back
Bit Error Rate Test
---
Buyer's Guide
Please Note: The XX in the Item No. refers to the hardware platform, listed at the bottom of the Buyer's Guide, which the software will be running on. Therefore, XX can either be ETA or EEA (Octal/Quad Boards), PTA or PEA (tProbe Units), UTA or UEA (USB Units), HUT or HUE (Universal Cards), and HDT or HDE (HD cards) depending upon the hardware.
*Specifications are subjected to change