Simulation & Analysis
Network Traffic Characteristics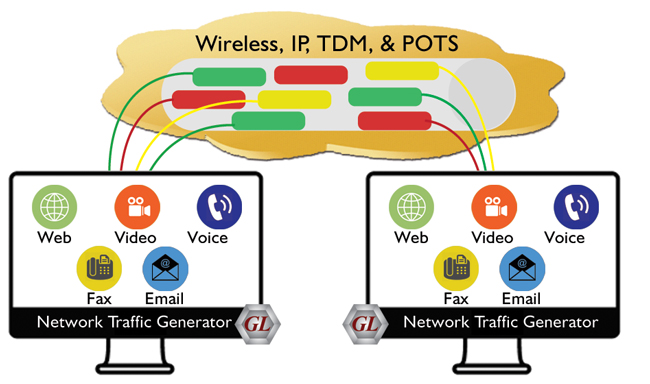 Optimizing networks performance and improving utilization requires a detail understanding of usage behaviour, signaling, and traffic characteristics on the network. GL offers a variety of test tools to simulate real-time traffic conditions on network. One generate traffic at network layer – control its protocols and load generation patterns, or generate traffic on end-to-end devices independent of underlying network, with either of the methods supporting a variety of traffic sources.
Probes for all network types – Wireless (2G, 3G, VoLTE, 4G, and WiFi), IP, T1 E1, and POTS
Simulate thousands of virtual users (UEs) with signaling and traffic characteristics
Complete automation for call establishment and traffic generation / detection process
Traffic Generators at Network Layer (b/w Nodes within Network Infrastructure) -

Control Signaling and Traffic Patterns
Useful to estimate implications of traffic on the network performance
Data Traffic, Video, Voice, SMS, Fax, Digits, and Tones
Data Testing –TCP/IP, UDP/IP, VoIP (SIP, RTP, RTCP), HTTP
Packet payload from file - HDL, PCAP
Video Playback over IP –H.263 & H.264
Audio – almost all industry standard codec supported
Fax Testing over TDM and IP (Pass-thro & T.38)
Load Test Network with different Distribution Patterns (uniform, ramp, sawtooth, fixed, normal, step, and step-sawtooth)
Measure - Delay, Jitter, Packet Loss, Voice Quality (MOS, E-Model)

For more information, please visit https://www.gl.com/traffic-simulation.html


Traffic Generators at Application Layer (on End Devices) –

Tests are independent of under-lying network
Control over the intrinsic properties of the media source and the codec
Data Testing – HTTP, TCP, UDP, VoIP (SIP, RTP, RTCP), Route, FTP, DNS, SMS, Email, Fax
Video Testing – Vary Codec, Bandwidth, Frame Rate, Latency, GoP Structure and Resolution (H.261, H.263, H.263+, H.264, MPEG, MPEG-2, MPEG-4)
Audio – almost all industry standard codec supported
Test Voice, Video, and Data Quality of Smartphones, Handset Phones, Military Radios in dynamic tactical environments, or any device supporting audio.
Measure - Delay, Jitter, Packet Loss, Audio/Video Quality, Voice Quality (POLQA, PESQ, MOS, E-Model)

For more information, please visit - https://www.gl.com/voice-video-data-quality-test-solutions.html