Press Release: GL Announces UMTS IuCS Interface Emulation over ATM
Gaithersburg, Maryland, USA - August 18, 2014 - GL Communications Inc., announced today its enhanced MAPS™ UMTS IuCS Interface Emulation over ATM.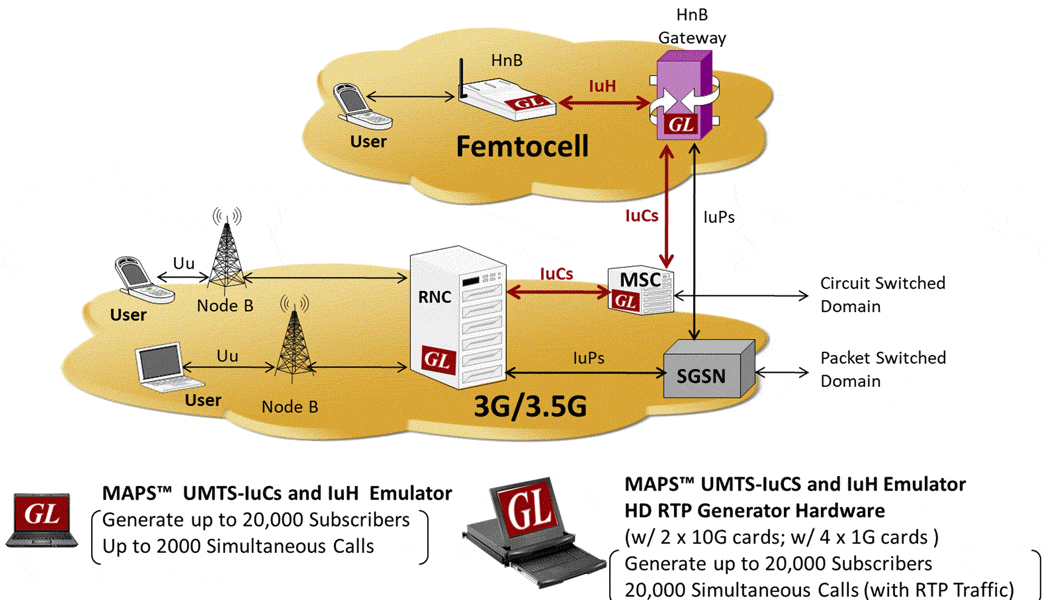 Speaking to reporters, Mr. Karthik Ramalingam, Senior Manager for Product Development of the company said, "Universal Mobile Telecommunications System (UMTS) is a 3rd generation mobile technology that can support greater data rates for voice, video, and data transmission to mobile users. The underlying transport layer for UMTS can be Asynchronous Transfer Mode (ATM), or Internet Protocol (IP).
GL's LightSpeed1000™ hardware platform with quad optical ports supports simulation of UMTS IuCS interface over ATM layer using MAPS™ UMTS IuCS ATM software. It supports wire-speed processing on OC-3/12 and STM-1/4 for functions such as recording, playback, protocol simulation, and analysis of Unchannelized ATM, PoS. The hardware can also be easily configured / programmed for delaying of ATM Cells or PPP packets."
He added, "MAPS™ UMTS IuCS ATM can emulate the RNC (Radio Network Controller) and the MSC (Mobile Switching Center) nodes by generating RANAP, ALCAP, and DTAP signaling messages over SSCOP. It includes ready-scripts to simulate all IuCS signaling procedures such as Location Update, Call Control MO (Mobile Originating), Mobile Terminating (MT) and SMS procedures.
The application gives the users the unlimited ability to edit messages and control scenarios (message sequence). "Message sequences" are generated through scripts. "Messages" are created using message templates."
Mr. Ramalingam further added, "MAPS™ IuCS ATM uses SSCOP server for establishing SSCOP links over which RANAP and ALCAP signaling will be carried for making calls. SSCOP Server is a GL's WCS based server module that provides SSCOP, AAL5 and AAL2 layer services.
MAPS™ IuCS ATM internally uses AAL2 Traffic Generator for traffic generation on a successfully established call. Various traffic types like Tone, Digits and File playback are supported."
---
Summary of Features
Simulates RNC, and MSC entities in IuCS interface
Generates and processes all Mobility Management, Session Management, RANAP, ALCAP, and DTAP messages
User controlled access to RANAP, ALCAP, and DTAP messages
SSCOP Server (WCS based server module) provides SSCOP, AAL5 and AAL2 layer services
Ready scripts for all the IuCS signaling procedures such as Mobile Originating, Mobile Terminating, Location Updating ,SMS and HandOver procedures for quick testing
Supports RAB Assignment, Authentication, TMSI Reallocation, Encryption, and other Call Control procedures
Supports traffic types like send and receive tones, digits, and files
General MAPS™ Features
Script based and protocol independent software architecture
Easy script builder for quick-testing to advance testing
Customization of call flow and messages
Protocol trace with full message decoding, and graphical ladder diagrams of the call flow with time stamp
Auto generate and respond to signaling messages
Automated Load /Stress Testing
Call Statistics, Capture Events, Error Events, and Link Status
Command Line Interface (requires additional license)
Traffic Handling Capabilities (requires additional license)
Scheduler and pre-saved configuration files for automated testing
Option to send reports to database accessible via web interface
Centralized control of multiple MAPS™ applications remotely from single client application

Back to Press Releases Index Page