GL Enhances T1 E1 Emulation / Analyzer Products & Software
Gaithersburg, Maryland, USA – April 11, 2016 - GL Communications Inc., announced today its enhanced T1 E1 Analyzer products and Software - now Version 10.3.23.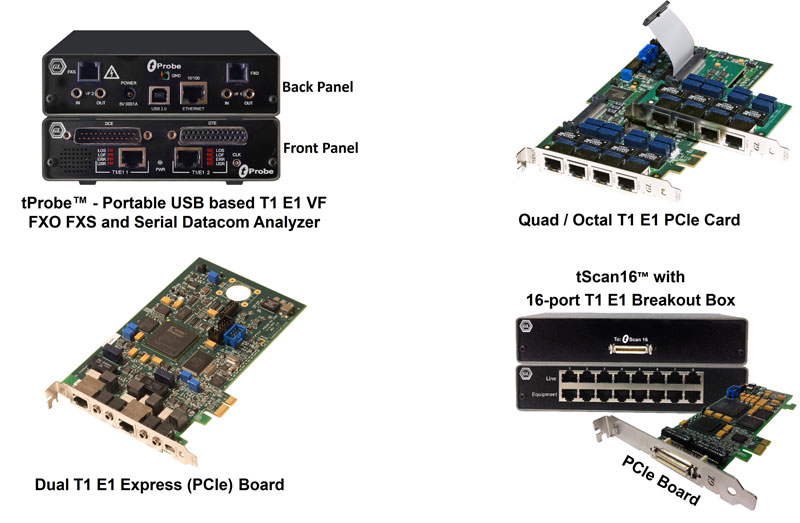 Speaking to the media, Mr. Vijay Kulkarni, the CEO of the company said, "Our T1 E1 Analysis suite of products continues to provide the most comprehensive analysis and emulation capability of any product on the market. Any traffic over T1 E1 lines including voice, fax, modem, signaling, mobile, IP, VoIP, ATM, and more is addressed."
He explained new applications introduced, "Our newly introduced MAPS™ APS is a high capacity Analog 2-wire Bulk Call Generator used to test a Central Office (CO), PBX, ATAs, Gateway or other telecommunications equipment, which provide local loop interfaces. It supports up to 192 independent FXO ports per 1U MAPS™ APS Server (includes 1 Octal T1 card) and multiple APSCB-48 units. More can be achieved by simply scaling the system with a 4U MAPS™ APS Server (includes 2 Octal T1 Cards) and proportionately add more APSCB-48 units to support up to 384 analog ports.
Physical Layer Analysis is a new T1 E1 protocol analyzer and it is now a part of Special Applications. It will monitor physical layer alarms such as Sync Loss, Carrier Loss, Blue Alarm, Yellow Alarm, AIS, and Error Counters such as Frequency (Hz), Level (dBdsx) for every specified Time Period in Seconds on the selected T1 E1 Port.
Mr. Kulkarni further added, "There are enhancements introduced to the existing products: The T1 E1 Error Insertion applications' maximum error insertion rate for logic errors has been increased from 0.01 to 1.0
WCS task commands now check for successful task thread creation, rather than just assuming success. If the task thread cannot be created, the command is negatively acknowledged (NAK).
The enhanced Multichannel Audio-Bridge application now comes with channel configuration option that is provided as Drop Down menu. Default channel configuration is set to Mono. This can be changed to Stereo with Left and Right Channels. Now support for Linear 16 bit PCM, 16k codec is also added. Stream Selection configuration option has been removed and the same is moved to the main GUI. Each device entry can be dynamically configured as Insert or Drop device. For INSERT action, only Mono mode option is provided. Additionally, the Audio-Monitor window now includes maximize, resize and scrolling options.
There are also significant enhancements introduced to Protocol Analyzers and MAPS™ based Protocol Emulators functions."
He added, "GL offers now the following important optional applications: Pulse & Jitter Generation/Measurement, Real-Time Multichannel Audio Bridge, DTMF/MF/MF-R2 Detector and Generator Software, Signaling Bits Recorder Software, Basic Client/Server Scripted Controller Software, Dual VF Tx Rx (Only for tProbe™) previously called Simplified Audio Client as part of its basic applications, that means, users no longer need to pay for additional license to use the aforementioned applications and this in turn benefits significantly in terms of cost and adds tremendous value to the T1 E1 Analyzer software capability.

Back to Press Releases Index Page