GL Announces T1 E1 Emulation / Analyzer Products and Software
Gaithersburg, Maryland, USA - June 29, 2014 - GL Communications Inc., announced today the release of its enhanced T1 E1 Emulation and Analyzer software now it is version 9.5.5.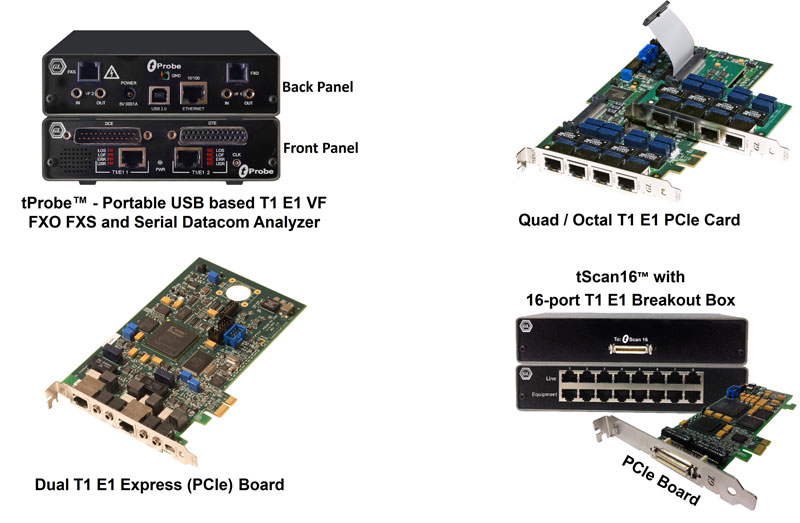 Speaking to the media, Mr.Vijay Kulkarni, CEO of the company said, 'T1 E1 carriers are used extensively throughout the world for carrying large volumes of call containing both voice and data. Their popularity can be attributed to their high reliability, manageability and flexibility. The available digitized channels, 24 for T1 and 32 for E1 can be used for carrying voice and/or data. Further, the carriers can be used separately or they can be combined in order to provide higher transmission bandwidth."
He added, "There are a number of enhancements introduced to the existing T1 E1 applications and one of the significant enhancements is the optional application advantage i.e. many optional applications that were offered at an additional cost (license) earlier are now part of the basic software and are absolutely free. This means, customers to get lot more value to their money spent on GL's T1 E1 Analyzer purchase. The important optional applications Included with the basic software are: Pulse Mask, Jitter Measurement and Generation, Multichannel Audio Bridge, a-law and µ–law Encoding Software, Capture and Transmit Dialed Digits, Signaling Bits Transitions, Real-time Strip Chart, Sample Traffic Files."
Mr. Kulkarni explained, "Significant changes are also introduced to T1 Tx Rx Configurations. "Tx settings" are removed from the configuration window. The driver installation process is changed drastically to resolve the installation issues on Windows® 8.1.
As an alternative to GL's API, the UDP Multi-frame Streaming (UMS) Architecture is implemented to extend the access to raw data on GL's T1 E1 interface. This new architecture provides very simple and cost effective application development solutions, wherein, the client applications can be developed in any language. The data streams in T1 E1 are converted by the UDP server to UDP datagrams and streamed to specified UDP port. At the receiving end the client applications can listen to UDP streams and convert the data packets back to T1 E1 frames. Significant changes introduced to Error Insertion Application to allow it to work consistently under the following scenarios: Cross port Tx, Framed, Cross port Normal, Framed Cross port Tx, Unframed Cross port Normal, and Unframed.
One of the important enhancements introduced to Jitter Generation application is options now clearly identified as Jitter Mask Configuration and Jitter Sweep Configuration. The Jitter Mask Configuration provides actual masks from standards as preset values and the application also provides a "Custom Mask" option to edit the values per user requirements.
The enhancement to API includes enhanced VF checking, enhanced VF functionality, Updated API toolkit documentation.
And enhancements are also introduced to windows Client Server (WCS) applications including WCS Fax Simulator, WCS LAPD Server, WCS HDLC Tx Rx .
MAPS™ framework enhanced with new tree view display option for Message Editor. There is now support provided for RTP Pass-through Fax Simulation and now TDM FAX simulation provides detailed report such as Fax Status, Error Events, the same made available in the message sequence or the ladder diagrams feature of all IP based MAPS™ applications.
MAPS™ CAS application has been enhanced with message sequence for all CAS protocol scripts. Now Included support for Analog Centralized Automated Message Accounting (CAMA) protocol simulation in MAPS™ CAS and CAMA is a special analogue trunk originally developed for long-distance billing but now mainly used for emergency call services (911 and E911 services).
MAPS™ FXO FXS application enhanced to handle new FXO-FXS responses (Caller ID Detection, Continuous monitoring of Voltage and Current, High and Low Voltage/Currents Triggers ). Now Call Reception and Incoming Call Handler windows disabled and Corrected configuration in FXO/FXS T1 which was pointing to E1.
For MAPS™ SS7 Conformance, scripts within MAPS™ ISUP conformance folder now encrypted and also updated Circuit Identification Code (CIC) handling.
MAPS™ ISDN application is enhanced with ISDN NFAS Type selection and configurations corrected for ISDN NFAS. Also CIC handling procedure updated and Terminal Endpoint Identifier (TEI) made user configurable in ISDN.
MAPS™ IUP enhanced with updated enveloped ISUP procedure and along with CIC handling procedures.
MAPS™ MAP enhanced to provide support for simulation of SGSN and GGSN nodes, and Gf, Gr, and Gc interfaces added to MAP Protocol.
Profile Help updated for MAPS™ SS7, MAPS™ ISDN, MAPS™ IUP, MAPS™ INAP, MAPS™ CAMEL, MAPS™ MAP and MAPS™ GSM Abis protocols.
The enhancements introduced to Protocol Analyzer functions Includes default Protocol Configuration Files (ACF) for all protocol analyzers. All the ACF files now available under ACF samples folder in the T1 E1 installation directory. All protocol analyzers now include a new feature 'Aggregate Summary Columns' that helps users combine one or more native summary columns into one virtual column.
There are also enhancements introduced to the individual protocols viz., SS7 Analyzer, CDMA2000 (A3A7) Analyzer, UMTS Analyzer, GSM Analyzer, TRAU and PPP Analyzer. And enhancements are also introduced to offline and remote protocol analyzers as well. Enhancements to NetSurveyorWeb™ GSM system include supports for unicode standard for multi-language decoding of SMS - The system provides to view SMS in all languages. The application now supports concatenation of the SMS based on Sequence Number to allow lengthy SMS data to be decoded properly and more."

Back to Press Releases Index Page