Press Release: GL Enhances T1 E1 Analyzer Products and Software Ver 7.5.10
Gaithersburg, Maryland, USA – June 17, 2012 – GL Communications Inc. announced today the release of its enhanced T1 E1 Analyzer Software and Hardware and now it's Version 7.5.10.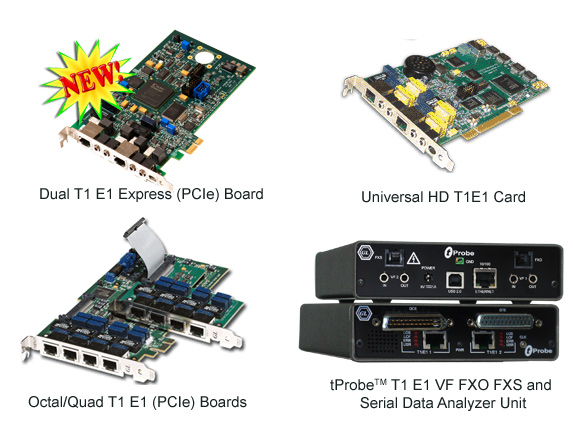 Speaking to the media, Mr. Vijay Kulkarni, CEO of the company said, "Our T1 E1 Analysis suite of products continues to provide the most comprehensive analysis and emulation capability of any product on the market. Any traffic over T1 E1 lines including voice, fax, modem, signaling, mobile, IP, VoIP, ATM, and more is addressed."
He explained, "Our new hardware introduced Dual T1 E1 Express (PCIe) Cards are high-density boards with newer PCIe bus interface. These cards are identical to the portable tProbe™ units, except for FXO FXS and Datacom functionality. In addition to the other basic T1 E1 line signals monitoring applications, the Dual T1 E1 Express (PCIe) Boards also support enhanced VF drop and insert capabilities with software selectable VF Tx and Rx impedances (135Ω, 150 Ω, 600 Ω, 900 Ω, or High), Pulse Mask Compliance Testing, Jitter Generation and Measurement applications.
The new application Jitter Generation allows the user to generate a jittered output T1 E1 signal with user-selected jitter frequency and amplitude. It is suitable for testing jitter tolerance and compliance with standards such as G.823.
GL's Message Automation & Protocol Simulation (MAPS™) is a multi-protocol, multi-technology platform used for the emulation of a variety of communication protocols over IP, TDM, and Wireless networks. Now CAP (CAMEL Application Part) emulation capability has been added. CAMEL stands for Customized Applications for Mobile networks Enhanced Logic. It can emulate CAP IN services such as unified messaging, prepaid, toll-free, and fraud control. These services are available in TDM based GSM, GPRS and UMTS networks.
Another new application MAPS™ FXO FXS is an advanced test tool that supports emulation of functions of Foreign Exchange Subscriber (FXS) by analog phone lines and Foreign Exchange Office (FXO) by phones using the FXO and FXS ports on a tProbe™. MAPS™ provides a facility to place call/answer incoming call on both FXO and FXS ports, and automate the entire testing process using scripts.
MAPS™ scripting architecture is event-driven and provides the flexibility to validate the signals being exchanged during a call setup. MAPS™ also includes features to handle different types of traffic like tones, digits (DTMF, MF, MFR2F, MFR2B), voice files, fax, and more. Data width of the traffic being sent/ received over the FXO/FXS ports can be extended up to 16 bits to improve signal to noise performance."
Mr. Kulkarni further added, "There are comprehensive enhancements introduced to some of our existing applications and to name a few:T1 E1 Analyzer software, tProbe™ application, Datacom Analyzer, Windows Client Server, Protocol Analyzers and MAPSTM platform applications."
---
About GL Communications Inc.,
GL Communications is a global provider of telecom test and measurement solutions. GL's solutions are used to verify the quality and reliability of Wireless (4G LTE, 3G, 2G), SONET/SDH, Ethernet/IP, TDM, and PSTN networks.

Contact:
Shelley Sharma
Phone: 301-670-4784
E-mail: info@gl.com
Media Contact: pressrelease@gl.com

Back to Press Releases Index Page