GL Enhances Quad Port Ethernet Tester
Gaithersburg, Maryland, USA - December 28, 2022 - GL Communications Inc., a global leader in telecom test and measurement solutions, addressed the press regarding their enhanced Quad Port Ethernet Tester – PacketExpert™ 1G.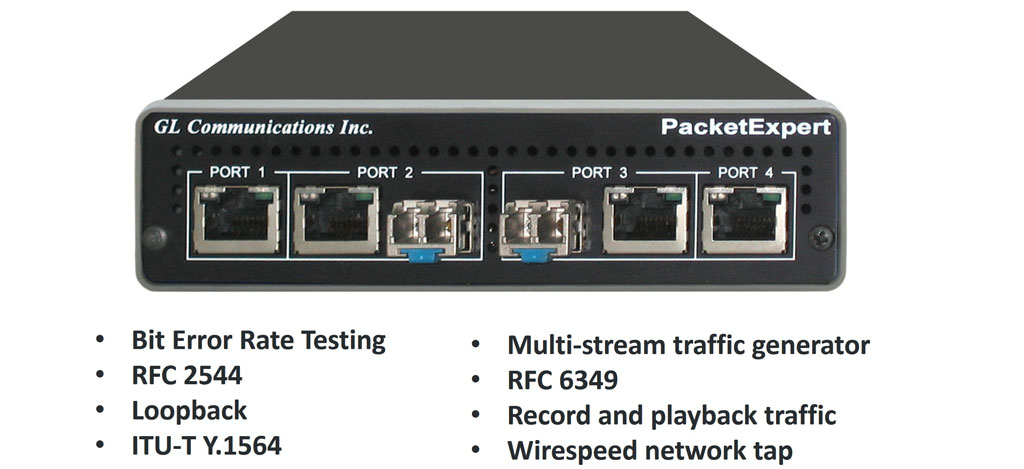 ---
Overview
"PacketExpert™ is a portable Ethernet / VLAN / MPLS / IP / UDP tester. Each port provides independent testing at wire speed. It can conduct Bit Error Rate Testing, RFC 2544, Loopback, Packet Recording and Playback, Multi-stream UDP/TCP traffic generation and ITU-T Y.1564 testing for verifying service level agreements. GL can also provide supporting SFPs and cables for a ready to use test solution.," said Vijay Kulkarni, CEO of GL Communications.
Main Features
Wirespeed Bit Error Rate Testing (BERT)
User configurable traffic rates and frame sizes
RFC 2544 - Throughput, latency, frame loss, and back-to-back performance tests
Available in Portable or Rackmount configurations. Rack-based variants provide up to 12 or 24 ports housing multiple PacketExpert™ devices
Easily control multiple devices and ports from a single Graphical User Interface
Automation, remote operation, and multi-site connectivity using C# and Python clients
Supports both smart loopback (auto layer detection) and user-defined layer-wise loopback capabilities for incoming traffic
Can function as a wirespeed Ethernet tap to capture and filter real world traffic, generate triggers based on filters, and transmit filtered/aggregated/modified packets for deep packet inspection
Wirespeed Capture and Playback testing provides Packet Capture, Filter, Aggregate, and Storage features
Supports industry standards PRBS patterns 29, 211-1, 215-1, 220-1, 223-1, 229-1, and 231-1, and constant patterns like all ones, all zeroes, alternate ones-zeroes and user-defined test patterns ranging between 1 to 32 bits
Provides various vital measurements such as Bit Error Rate, Bit Error Count, Sync Loss Count, Sync Loss Seconds, and Error Free Seconds
Recent Enhancements
BERT:

Option to disable Auto-negotiation for 1000Base-T (1000 Mbps Electrical)
Added additional 1000Base-T Interface parameters when Auto Negotiation is disabled
Enhanced to support burst mode traffic generation ability

Packet Recording and Playback applications:

Multi-device support capability

RFC 2544:

Added measured Latency display for both Store/Forward and Bit Forward methods

ITU-T Y.1564 testing:

Multi-device support capability

Client Application Programming Interface (API)s:

Added new APIs for ports with 1000BaseT forced speed parameters, starting/stopping BERT on multiple ports together

Back to Press Releases Index Page