GL Enhances PacketExpert™ with WAN Impairment Emulation
Gaithersburg, Maryland, USA – June 24, 2012 – GL Communications Inc. announced today the release of its enhanced PacketExpert™ with IPLinkSim™ or IP WAN Impairment Emulation.
Speaking to the media, Mr. Jagdish Vadalia a Senior Manager for Product Development of the company said," Generally the applications intended to work on different networks such as enterprise networks, storage, cloud services, web services, ftp, audio/video streaming, require testing with the realistic network conditions prior to live deployment.
IP WAN Link Emulators help to test the performance of such network-dependent applications with user-defined bandwidth values, latency, background traffic, and packet loss rates."
He explained, "Simply connect PacketExpert™ unit in series with the existing optical or electrical link and introduce any impairment type to test the various applications in the lab prior to live deployment. Our new IPLinkSim™ application can simulate all network impairment conditions of real world networks such as network latency, network delay variation (jitter), bandwidth, congestion, packet loss, packet FCS errors, packet bit errors and more.

WAN Link Emulation is provided essentially by bandwidth control within IPLinkSim™, which mimics slower WAN links like RS232, DSL, Modem, T1, E1, T3, E3, and others. This feature allows testing applications running on PCs which normally have 100/1000 Mbps interface but access to the outside internet or intranet over WAN is slower. It offers an efficient and economical way to emulate terrestrial, wireless, Internet, satellite, or private network links.
Mr. Vadalia added, "IPLinkSim™ as a bridge is easy for any test configuration. Packet reordering and duplication conditions are easily configured. It is possible to easily monitor traffic thru IPLinkSim™ as a visual display, including throughput graphs, and link statistics. When functioning as a bridge, PacketExpert™ is not limited to emulating only IP networks, but can also emulate any type of network (regardless of network layer protocol) as long as the traffic is encapsulated in Ethernet. In addition to standard IP, PacketExpert™ with IPLinkSim™ can be used with IPv6, IPX, AppleTalk, SCPS, and proprietary network and transport layer protocols."
He added, "Each PacketExpert™-IPLinkSim™ unit emulates a bi-directional IP WAN link. A variety of real world impairments are supported to accurately emulate real world conditions. These include Bandwidth Throttling (to emulate various WAN technologies like T1,T3 etc.), Network Latency (to emulate delay characteristics of real world links like satellite), Network Delay Variation (Jitter), Packet Drop, Packet Reordering, Packet Duplication, Logic and FCS ErrorInsertion, and Background Traffic (to emulate congestion).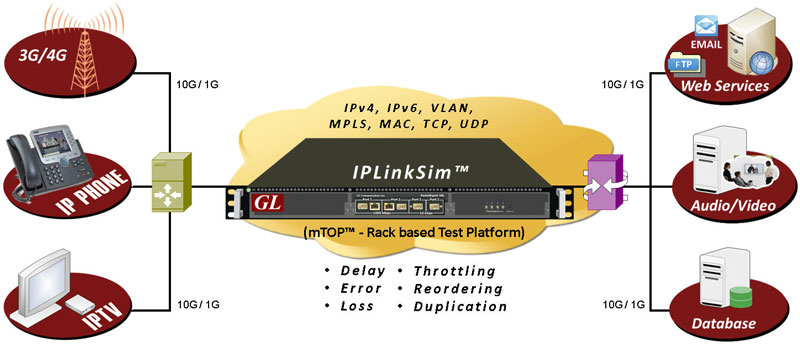 ---
Important Features:
Emulates 1 bi-directional (2 ports) WAN Link per PacketExpert™ unit. User selectable or auto negotiated 10/100/1000 Mbps electrical or 1000 Mbps optical interface
Precise bandwidth control from 10 Kbps upto 1 Gbps, emulating a wide variety of WAN technologies
Delay from 1 ms up to 8 seconds - perfect for satellite delay modeling
Jitter emulation

Constant
uniform distribution
normal distribution

Precise logic error insertion within packet
Congestion emulation through background traffic simulation
Other impairments like packet loss, duplication and reordering allow precise emulation of real world conditions
Traffic monitor for visibility into traffic flow through link
Command Line Interface for automated testing and remote accessibility

Back to Press Releases Index Page