Press Release : GL Announces High Density 1 & 10 GigE Ethernet Test Solutions
Gaithersburg, Maryland, USA – April 3, 2017 - GL Communications Inc., announced today the release of its High Density Ethernet Test Solutions using GL's HD-PacketExpert™.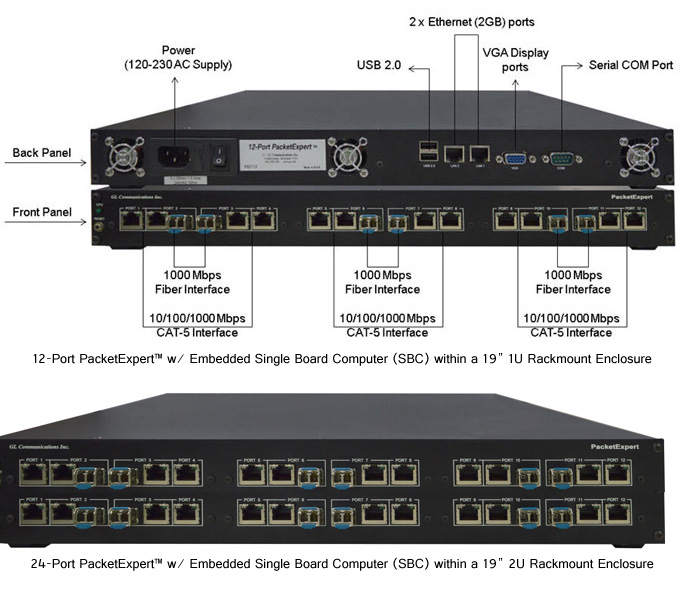 Speaking to the press, Mr. Jagdish Vadalia, a Senior Manager for Product Development of the company said, "GL's High Density GigE and 10 GigE Ethernet Test Unit - HD-PacketExpert™ offers high densities of 12 or 24 GigE or 10 GigE Ports for testing GigE and 10 GigE switches, routers and networks."
He added, "This multi-device hardware unit incorporates all the features of a Single Wirespeed Quad Port 1 and 10 GigE PacketExpert™ units. It combines a Single Board Computer (SBC) with Windows® OS, remote accessibility via Ethernet Remote Desktop, and user-friendly GUI or CLI for test automation. Each of the 12 or 24 GigE or 10 GigE Ports of the device supports auto‐negotiation and flow control."
Mr. Vadalia further explained, "The chassis of the unit comprises of both electrical and optical (fiber) interfaces. The Electrical Ports can operate up to 10/100/1000 Mbps line rates in Full Duplex mode, while Optical Ports can operate up to 1 GigE or 10 GigE line rate in Full Duplex mode. User defined Packet Size, Packet Rate, QoS for MAC, VLAN, IP, MPLS makes it a versatile tool to test any Ethernet based networking equipment or end to end Networks.
The HD-PacketExpert™ can be easily deployed and securely fixed to an equipment rack, and provides extraordinary scalability to test Switches, Routers and Networks end-to-end.
---
Key Features
High density Ethernet Ports with 12 or 24 Ports. Stack multiple HD-PacketExpert™ devices to handle large number of Ports
Selective-Port and Smart Loopback
Wire-speed BERT, RFC 2544, Multi Stream Traffic Generator and Analyzer
Layer 1, Framed Ethernet (Layer 2), Stacked MPLS (Layer 2.5), IP (Layer 3), and UDP (Layer 4)
User selectable Electrical and/or Optical interface for half of the Ports allows mixed technology testing
Generate and capture Ethernet traffic on Electrical (up to 10/100/1000 Mbps) and Optical (1 Gbps or 10 Gbps) interfaces
All interfaces can run simultaneously and independently
Rack mountable
Detailed per-stream statistics like Throughput, Packet Loss, Delay and Jitter helps gain insights into network performance
Command line Interface (CLI) to access all the functionalities remotely such as using TCL (Tool Command Language) and MAPS™ CLI Client/Server architecture
Real-time results are presented per Port and all-Port basis in both tabular as well as graphical formats. Detailed test result reports for each of the simultaneous tests in PDF and CSV file formats
---
Important Application
Test multiport Switches/Routers with simultaneous Bit Error Rate Test (BERT) for long‐term integrity testing
Perform long term service integrity testing prior to deploying Carrier Ethernet Networks with long term high density BERT testing
Testing Multi-Protocol Label Switching (MPLS), Q-in-Q (Stacked VLAN) enabled Networks
End to end testing of network paths, and network devices like Ethernet Switches/Router for QoS parameters
In-depth troubleshooting of the Carrier network in the event of network failures or impairments
SLA Benchmark Testing with RFC2544 Tests
Smart Loopback mode for single‐ended testing scenarios
Flood the test network with full wirespeed simultaneous Ethernet/IP streams (up to 96 streams from 6 Ports), and measure the IP performance metrics like Packet Loss, Delay and Jitter

Back to Press Releases Index Page